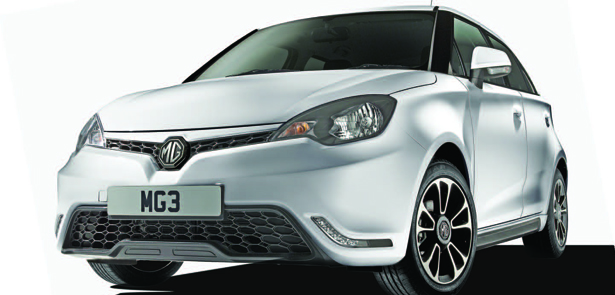 It's back to the future for local dealer WH Brand, when it starts selling MGs again from January – including the exciting new MG3 model. RICHARD GUNN takes a look
The company, based in Whaplode Drove near Spalding, currently sells Chevrolets, but, as sales manager Adam Brand explains: 'We were MG Rover dealers for many years, and still have lots of customers who own older MGs.' In fact, such is the enthusiasm for MG products in the local area, thanks to WH Brand's reputation for customer service and support, that Adam even took one order for the MG3 before the dealer had been officially appointed. 'A customer with an MG ZS and an MG F rang us and said he was really interested in buying an MG3 because he had read so many good reports about the car,' continued Adam. 'He went on to place an order for an MG3 3Form Sport in White on the Tiles even before all the formalities on our MG franchise were complete.'
The small 1.5-litre MG3 is really creating a great deal of buzz with press and public alike
The MG3 is the latest offering from MG as it continues its revival in Britain. It joins the MG6 – which WH Brand will also be selling – as part of an expanding range that will soon encompass an SUV as well as a mid-sized hatchback. However, it's the small 1.5-litre MG3 that is really creating a great deal of buzz with press and public alike at the moment, thanks to being cheap to buy and own and tremendous fun to drive, in the true spirit of MG's sporting roots.
'It's exciting times and I can't wait to show the new cars off'
'You can also personalise it so much, for example with graphics,' says Adam. 'It's aimed at those who are interested in cars like the Mini, Citroen DS3 and Fiat 500, but who don't want to spend £15,000 or so.' And with prices ranging from £8339 to £9999 for the top-of-the range variant with all the options on it, plus a low insurance band of Group 4, Adam feels it's also ideal for younger drivers as well.
'It's exciting times and I can't wait to show the new cars off. I've driven both the MG3 and MG6 and they are superb cars offering great value for money.' The dealership will have demonstrator examples of both the MG3 and MG6 for anybody keen to take a test drive and find out for themselves.
WH Brand, which was established in 1925, is situated 13 miles north of Peterborough. It can be found at 77 Broadgate, Whaplode Drove, Lincolnshire, PE12 0TN, 01406 330265 or see www.whbrand.co.uk for details.
For more on the MG range, see www.mg.co.uk
Leave a Reply