American Express – Chevrolet Camaro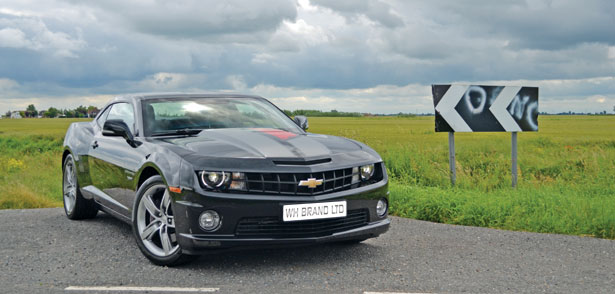 American cars aren't a common sight in the UK. However, with Chevrolet officially importing one if its classic muscle cars, this is set to change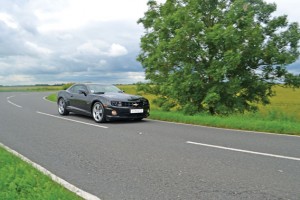 The muscle car is as American as apple pie, the Super Bowl and an ailing economy. In fact, it's their Americaness that is one of the reasons they've never been officially sold in the UK. They've always been too large and too powerful to be relevant over here. Until now. Specially appointed Chevrolet dealers – of which there are only four so far in the UK and one of these is WH Brand near Spalding – are offering the latest incarnation of the Camaro.
Like 911 in Europe, the Camaro name is one of the most evocative in American sports cars. The first model went on sale in 1966 and it, along with the likes of the Ford Thunderbird and Plymouth Roadrunner, would go on to define the muscle car movement.
Four generations were produced until 2002 when the car was dropped. However, with interest in retro styled cars growing, this fifth generation was launched in 2009. With it being a huge success in the States, the British importer for the manufacturer decided to bring the car here. There are two models available – a coupe and a convertible.
The black coupe I've come to experience looks slightly incongruous sat amongst the dealership's humble hatchbacks and saloons that's Chevrolet's usual fare in Europe, but there's no denying the Camaro is a great looking car. Not pretty maybe, but it definitely has presence – see those quad headlights in the mirror and you'd automatically move over. Its angular styling is also the right mix between retro and contemporary – the low roof line and narrow window graphics all nod towards to the classic Camaro of the Sixties yet it's still very much a car for the 21st century. It is huge though. At two metres wide, it fills the quiet Fen Land roads like a fat kid fills the queue at McDonalds.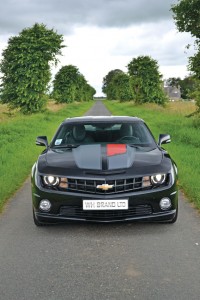 American cars don't have a reputation for a fabulous interior quality. Every model from across the pond I've ever driven has felt like a 1988 Vauxhall Astra, mainly thanks to brittle, shiny plastics. This Camaro though, breaks the mould. Admittedly it's not up to Porsche 911 standards, but its strong, well built and very comfortable, even having two seats in the rear for kids. Like the exterior, it has some fabulous retro touches such as the four dials in the centre console that includes a gearbox oil temperature gauge. Lord knows why anyone would need to know such a thing, but it gives the car more of a hot-rodding spirit.
Muscle cars get their name due to the size of their engine – they have to be big, powerful and as environmentally friendly as tyre fire. In which case, the Camaro fits the bill. With a 6.1-litre V8 that pumps out 425bhp, it's huge lump with huge performance figures (and at 20mpg, poor economy figures. But you don't buy a car like this wanting to save the planet). It can reach 62mph in 5.2 seconds and has a top speed of 155mph. These are almost identical figures to European sports cars such as the Jaguar XK, Porsche 911 Carrera 3.4 and the Mercedes-Benz SL500.
And yet, while those cars cost between £65,000 and £80,000, this manual Camaro is £35,000 and the automatic version is £5,000 more. If you overlook the fact it only comes with left hand drive (which, apart from overtaking on narrow roads, really isn't an issue) it makes this genuine, fully paid up member of the muscle car club great value.
There are, though, some areas where its low price is evident. But it's not the sound. Like all the best V8s, a huge, deep thunder emanates from below the bonnet when you really nail it. Think Brian Blessed gargling gravel and you'd be close.
And neither is it due to speed. It's incredibly fast; a gentle squeeze of the throttle pedal forces the car forward with the same force as a tornado. The acceleration is instantaneous, that massive engine wasting no time in transferring all of that power to the rear wheels and the speed suddenly rising quickly and effortlessly.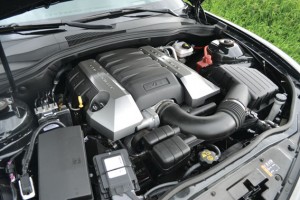 No, the reason it feels its sticker price is a lack of finesse. It's fast, yes, but it doesn't do it with any elegance. Unlike the Jaguar XK, for example, a car whose power can be finely controlled, The Camaro's acceleration is brutal and delivered in huge dollops. The six-speed gearbox isn't the easiest to use and isn't a smooth, slick unit that slips into gear like a knife in butter. Instead it can be stiff and takes a little effort especially at speed. But it feels strong and more than capable of keeping up with the engine's huge power.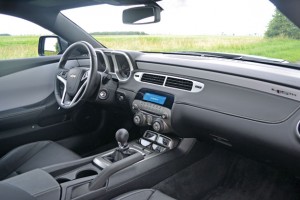 Unlike a lit of American cars that are as much fun to drive as bowl of jelly (or jello as our American cousins would say), there aren't any issues with the Camaro's ride. With firm suspension and plenty of rear grip, corners can be taken at high speed with no worries about it snapping and leaving you pointing the wrong way. But neither is it bone jarringly stiff. Instead, the ride feels supple and comfortable enough to be used regularly.
Yet it doesn't have the composure of an European rival and the aforementioned XK is far more comfortable and easier to drive. This is mainly due to its aluminum construction that makes it light and nimble. The steel-bodied Camaro, by comparison, feels like a truck and I felt like a ferry captain navigating it around the narrow Fenland roads.
But that's not to say this pure slice of Americana isn't relevant for the UK market. It's well built, has a great equipment list (including air con and leather as standard) and is fun to drive. But more importantly, the muscle car's low price tag means it suits our ailing economy just as much as the American's.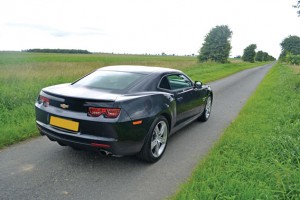 Verdict 13/20
The Camaro is a huge car with a huge personality. It's fast, powerful and looks like a muscle car. Obviously it's left hand drive set up won't suit anyone, but if you're looking for a unusual sports car that's different from the rest yet costs no different from a mid-range BMW 3-Series, the Camaro really does tick all the right boxes.
Chevrolet Camaro
Price: £35,025
Engine: 6162cc, V8
Power: 425bhp @ 5900rpm
Torque: 419lb ft @ 4600rpm
0-62mph: 5.2 secs
Top Speed: 155mph
Transmission: six-speed manual
Economy: 20mpg
C02: 329g/km
VED: Band M (£475)
Manufacturer
Dealer
W H Brand Ltd
77 Broadgate
Whaplode Drove
Nr. Spalding
PE12 OTN
01406 330265
Leave a Reply