Little Wonder – Abarth 500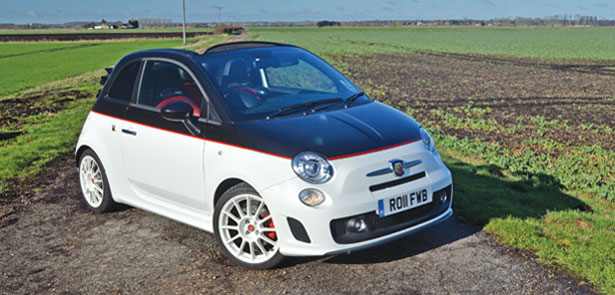 It may be small, but the Abarth 500 packs quite a punch. We take one for a spin to see whether it can be kept under control
The world's smallest revolver is the Swiss Mini Gun. At just 5.5cm long it's the same size as a Rubiks Cube and yet it's still highly effective, firing its equally tiny bullets at 270mph. Small yet powerful, shooting one must be the same as driving the Abarth 500. Although a minnow of a car, it's incredibly fast, incredibly responsive and not to be disregarded due to its size.
For those of you who don't know, Abarth isn't what Northerners use to bathe in but the name Fiat uses for its performance models. Started in 1949 by racecar manufacturer, Carlo Abarth, it began its long association with Fiat in 1952. It would tune most of the firm's existing cars – such as the original 500 – with great effect as well as produce its own Fiat-based models. It was bought by the Italian giant in 1971 and ran the company's competition arm. The Abarth name also continued to signify Fiat's fast models until the Eighties when it was quietly dropped (although its famous scorpion badge was used on several but mediocre hot hatches of the Nineties). After lying dormant for 20 years, Fiat revived the name in 2007, first with the Punto and then the 500.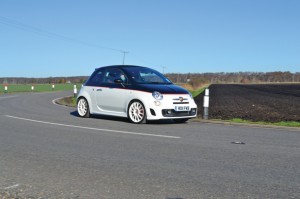 Bearing in mind Abarth's strong and successful history in competition, any car that uses the name needs to have more than just a racing stripe. It needs to be genuinely fast, fabulous to drive and feel as different from the standard model as the Swiss Mini Gun does from an electric toothbrush
The 500 meets all of these criteria. To begin with, it looks great. It's lower than the standard car, wears 17in alloys, has a deeper front bumper and rear splitter plus slightly wider arches all of which turns the normally sweet looking 500 into the motoring equivalent of a street fight.
We have the convertible version -– the 500C – on test here, although it's hard to see the difference between this and the hardtop. This is because unlike the Mini convertible, the 500C isn't a full ragtop since only the very top of the roof folds back leaving the doorframes and overall shape of the car intact. But bearing in mind how pretty the car is, that's no bad thing.
Inside it's very different from the normal car with very dramatic red and black leather upholstered sports seats that look and feel like they belong in a Porsche. Yet despite the 500C's tiny size, interior room is better than you'd think. Although the car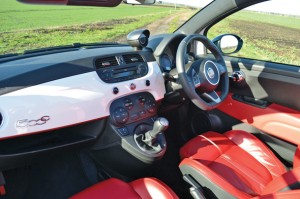 isn't very wide, meaning travelling in one is an intimate affair for all occupants, the rear has enough room for two adults to sit in relative comfort. That's relative to being trampled by a rhino, but it does make the car a genuine four-seater and not a two-seater with room for luggage.
Yet despite its sporting pretensions, the Abarth 500 is still based on a small city car, meaning its basic interior can feel low rent in a few places. This is mainly due to some hard and scratchy plastics dotted around the cabin. Cost can't be blamed though since the Abarth 500C starts at £16,865 while this hotter Esseesse model (which gives an extra 20bhp and stiffer suspension) is another £2,500. That's Renaultsport Clio money.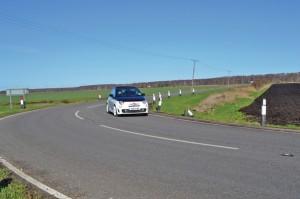 Yet I reckon it's worth it. It may be smaller than the aforementioned French car, but the Abarth still means business which is obvious from the moment you turn the key. It may have a tiny 1.4-engine, but its exhaust note is a deep burble, sounding like it belongs to a Ferrari rather than a tiny Fiat. And thanks to its supercharger helping to create a monstrous 160bhp, its performance backs up the noise. With a 0-62mph time of just 7.4 seconds, it accelerates like a greyhound leaving its trap, the power delivery being instant and brutal yet also easy to access – even a gentle tickle of the throttle pedal makes the car accelerate hard and fast. The engine is fizzy and likes to be driven hard, meaning it will scream all the way up to 5,500rpm before the standard five-speed manual gearbox needs to be changed up. And that's just nipping to the shops.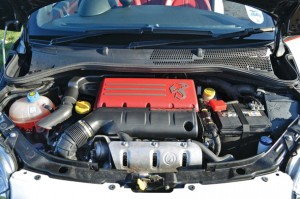 It is a car that always needs to be driven like your trousers are permanently on fire.
The ride can be on the harsh side, though, with even the tiniest pebble being magnified to such an extent it feels like you've driven over Peterborough Cathedral. Yet the pay off is one of the best handling small cars on the market today. There's so much grip, especially at the front, it will rip your face off due to the high G forces this little car creates. Even turning into a corner at kamikaze speeds doesn't evoke the malady most front wheel drive cars suffer from, understeer (where the front slides forward despite the steering wheel being turned). Instead it holds onto the tarmac like it owes it money, never losing adhesion even for a second. Marry that to hardly any body roll and sharp, responsive steering and very little can beat it on a winding road in teams of speed or fun.
All of this means you shouldn't judge a book by its cover, or disregard anything because of its size. So in the same way you should respect the Swiss Mini Gun if you find yourself looking down its tiny barrel, so you should with the Abarth 500.
Verdict: 15/20
The Abarth 500C is great piece of automotive fun – I had a permanent smile on my face for the week I tested it. Although thanks to its harsh ride and constantly buzzy engine, it's not the easiest cars to drive for simple errands but seeing it sat on your drive looking like it's ready to pounce and the punch it gives as you accelerate hard more than makes up for any downfalls.
Reader Reviews
Maddy Hudson,
34, Yaxley
Although there's no denying it looks great and I love the fact it's a convertible, the 500C is a little too fast and bumpy for me.
Darren Lee, 45,
Orton Southgate
It's a great car but a bit small. It's also expensive – for the same price as the Abarth 500C I could buy a nearly new Volkswagen Golf GTi.
Sarah Zielinski,
46, Yaxley
What an amazing car the Abarth is. It's really fast, has amazing handling and looks fabulous. And I can't believe how much room it has.
Abarth 500C Essesse
Price: £19,356
Engine: 1368cc, four-cylinder, supercharged
Top Speed: 127mph
0-62mph: 7.4 secs
Power: 160bhp
Torque: 152lb ft
CO2: 155g/km
VED rating: G (£165)
Economy: 52.3mpg
Manufacturer
Dealer
Abarth Rockingham
Cockerell Road,
Corby, Northamptonshire,
NN17 5DU
Tel: 01536 268991
Leave a Reply