Midwinter recipe: Leek and smoked cheese macaroni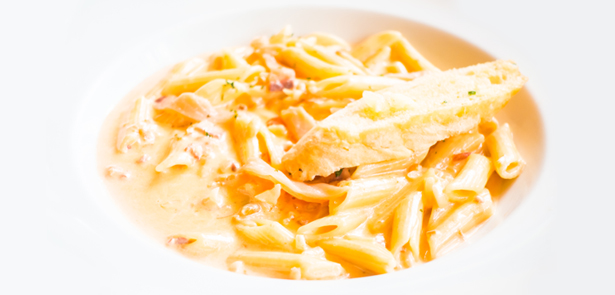 Got the midwinter blues? What you need is a bowl of something warming and totally delicious! Leek and smoked cheese macaroni
SERVES 4
An invigorating winter dinner, this goes well with salad or a generous helping of wilted greens. Make more than you need, as it freezes well either before or after it's baked.
Ingredients:
● 400g macaroni
● drizzle of olive oil
● 40g butter ● 4 small leeks (about 400g), washed and shredded
● 4 heaped tbsp. plain flour
● 800ml milk
● 200g smoked Cheddar, grated, plus extra for topping
● 2 tsp Dijon mustard, or to taste
● 4 tbsp breadcrumbs (optional)
● salt and pepper
Method:
1 Heat the oven to 200°C/Gas 6. Boil the macaroni in a pan of salted water until nearly cooked, which should take about eight minutes. It should be slightly too al dente to eat. Drain and toss in a little olive oil to stop it sticking together.
2 While the pasta is cooking, melt the butter in a small pan on a low heat. Add the leeks and cook gently until soft, for around seven minutes, stirring now and then.
3 Add the flour and stir over a low heat for two minutes, then gradually stir in the milk (a whisk helps to avoid any lumps). Add the cheese and heat gently, stirring, to thicken the sauce and melt the cheese. Season to taste with mustard, salt and pepper. 4 Combine the pasta with the leek mixture and transfer to a baking dish. Sprinkle over a little more cheese and the breadcrumbs, if using, and bake for about 20 minutes, until golden on top.
Two top tweaks
● Add some leftover cooked chicken or fried bacon pieces to the leek mixture before baking.
● For extra veg, stir through some blanched and chopped kale, cabbage, spinach, chard or broccoli.
EAT FRESH!
Enjoy fresh, seasonal food delivered to your door with Riverford Organic's veggies and fruit, meat and more. Explore the full range – and more recipes – at www.riverford.co.uk or call 01803 227227.
Image: www.freepik.com/free-photo/macaroni-and-cheese_951995
Leave a Reply