Melanie Richards Hair Boutique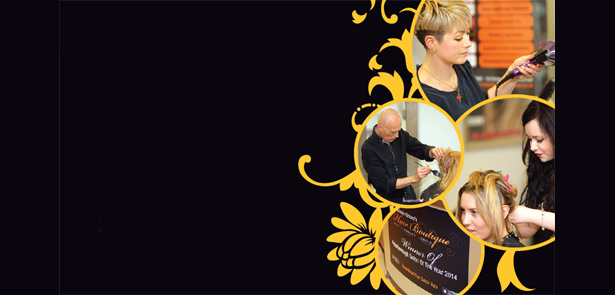 A large, luxurious salon located in the city centre, Melanie Richard's Hair Boutique offers and hair extensions, tanning and nails as well as cuts and colours. We spoke to Richard, the manager, about how the team prepare for the run-up to the party season…
WHAT'S ON-TREND RIGHT NOW, AND HOW WILL MELANIE RICHARD'S HAIR BOUTIQUE BE HELPING CUSTOMERS GET AN UP-TO-DATE LOOK FOR CHRISTMAS?
We're using a technique called balayage quite a bit at the moment, which is a freehand technique rather than done using foil, giving a more natural effect. Colour is blended through from the top and concentrates towards the ends of the hair. If you have it done with lighter shades it gives a real sun-lightened effect. People are going back to more of a natural look, as well as seeking a look that's more personalised – balayage is tailored, more than highlights, to suit your hair; highlights are more uniform. Curls are popular now, too, rather than dead straight hair.
HOW DO YOU AND THE REST OF THE TEAM PREPARE FOR CHRISTMAS?
It's always very busy, and of course we do a lot of hair up and party hair. We also work a lot with colour, people want flashes of colour that they wouldn't normally have: pinks, lilacs, pale blues and even pale greens. These wash out in about six to eight washes. People are more adventurous and try new things – which makes things more interesting for us!
CAN PEOPLE TAKE THE MELANIE RICHARD'S HAIR BOUTIQUE EXPERIENCE HOME WITH THEM?
It's a very good time of year to get gift sets: shampoos, conditioners and so forth – buying like this normally means you get the products a lot cheaper than if you bought them individually. We'd ask what kind of hair the person has, what style she wears it in, and we can guide customers towards the right products. We also stock ghd styling equipment which make really popular gifts.
MELANIE RICHARDS HAIR BOUTIQUE
100 Bridge Street, Peterborough PE1 1DY
01733 553 600
melanierichards-hairboutique.co.uk
Leave a Reply