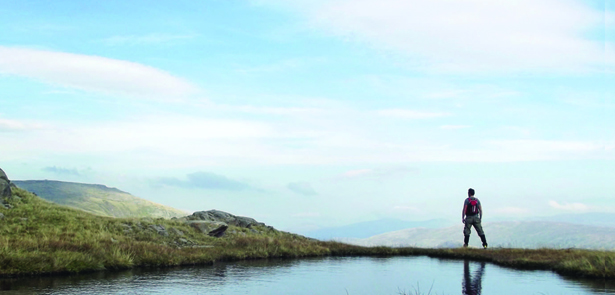 Ever wondered who's next to you in the gym? If you're in Vivacity Premier Fitness in Hampton, it could well be Darren Grigas, who is training to take part in the Marathon des Sables in April 2015. Known as 'the toughest footrace on earth', it's a six-day, 156 mile run across the Sahara, in 50 degree heat, with all food and equipment on your back – yet so far, Darren has only ever run one official marathon. Toby Venables talked to him
HOW DID YOU START RUNNING?
I used to run as a teenager but after a broken foot incident I stopped and didn't get back into it until around four years ago. I'd had a car accident which injured my back, and the best medicine was to keep active, so I started running again – I was about 33 then. After a while it became addictive, wanting to go a little bit faster, a little bit further… You do get a natural high from it, but it's a much better addiction than most things! It energises you.
HOW DID A HEALTHY ADDICTION LEAD TO THE MARATHON DES SABLES?
I've always been good at sports, but I've never really pushed myself at one thing. And I thought: 'If you're aiming for something bigger, why not just aim for the very top?' Part of it was seeing if I had the discipline to take on the training for it, because it takes over your life. And it was doing something a bit epic, that would make my kids proud and make me proud – something very few people on the planet have or ever will have done.
WHAT IS YOUR TRAINING LIKE?
It's intensified a lot in the past few months… Up until May I was only running around 30 miles a month. Then after registering for the MdS I increased it to 100 miles by July and by September, I ran my first marathon nice and slow, and did around 200 miles that month. Now I'm up to about 50+ miles a week. I've taken on a chap to coach me who has done the Marathon des Sables 11 times now – Rory Coleman, who I had seen on a TV programme following Olympic gold medallist James Cracknell when he did the desert run. Rory holds 9 Guinness World Records and he's so far done 863 marathons so he really knows his stuff… Until then I had kind of winged it, doing a couple of half marathons, the Burghley Rat Race, which is a 20 mile obstacle course, and Man vs Mountain, which is 20 miles up and over the summit of Snowdon. That was awesome – but quite a challenge… To get ready for those I thought: 'I'll just keep running, then see what I can do on the day'. But you can only wing it so far. With Marathon des Sables, it's 50+ degree heat, six back-to-back marathons over sand and rock, with limited water and having to carry all your food and equipment. So I got Rory on board. I ran a marathon with him in Cardiff, which was a nice leisurely run which he said 'is how you need to run the desert…'
ARE YOU TREATING MARATHON DES SABLES AS A RACE, OR ARE YOU JUST LOOKING TO COMPLETE IT?
A bit of both… It's quite scary when you look at how many people fail. This year alone of the 1,029 entrants, 112 did not finish. That's quite a lot, considering they would have spent at least six months to a year training and many are already experienced marathon runners. Around 20 of those were out of the game on the first day. One didn't make it past the first checkpoint at just 9 miles! Of the many that needed medical help for heatstroke, dehydration and blisters on top of blisters, one poor chap fell into a coma for a week with organ failure. It's staged, so you do a stage each day then get all the rest you can to be ready to go again. The very fastest will do a stage in four or five hours; many will be more like ten to twelve. Overall time is how they measure it, and the fastest very elite runners come in at around 21 hours, only about 45 make it in under 30 hours, then times spread right up to more than 75 hours total, but just completing it at all is an achievement in itself. Rory told me that if I finish in the top 500 or in under 40 hours, then I've had a really good run so that's enough to impress the boss. But even though I'm quite a novice in comparison having only run one marathon, whereas others have done dozens, or are triathletes – I can't help but be lured by the higher positions. In my head making the top 200 would make me a very happy man – and I'm even looking at that 30 hour mark as a pie-in-the-sky target, although I suspect that'll be way out of my reach when the burning reality hits. Whether I am physically capable of going at that pace, in those conditions, I don't know. But a massive amount of it is mental preparation, mental strength as well as knowing your body's limits.
WHAT ARE THOSE CONDITIONS?
About 20-30% will be sand – not just flat sand, but dunes, some of which are 300 feet high and go on for miles. The rest is a lot of rugged, sharp rock. There are also climbs. On the longest day, which is about 50 miles, there's a climb which is about as big as Snowdon at around 1000m, followed by another climb about the size of Scafell Pike, then after that another Scafell Pike. That's after running 60-70 miles on the previous three days. The hardest thing to prepare for is the heat. I was out running in the summer when it was hitting close to 30 degrees, but it's difficult to imagine another 20 degrees on top of that… There are places where you can train in a heat chamber, but also, I've got an outbuilding where I am going to set up some heat lamps and a treadmill, to work out how to manage the extra intensity nutrition and hydration.
AND YOU HAVE TO CARRY A 7KG PACK…
The weight of your pack depends what you load into it but typically 7-9kg is likely once all packed. You have water checkpoints, dotted along to top up from your rations but you carry everything else – your sleeping bag and all your food for the week. You've also got first aid kit, distress flare, anti-venom… There are a few nasty things that could bite and kill you.
YOU'RE ALSO RAISING MONEY FOR ANNA'S HOPE. WHY THAT PARTICULAR CHARITY?
Since I can remember, my family have fund-raised and supported childhood cancer charities since suffering our own losses to Leukaemia in childhood. But we've also seen the good that it can do when a cousin was successfully treated and is thankfully still with us today in his forties. I wanted to do something that was close to home literally in the Peterborough region, and for a smaller charity. Because it's a smaller charity, I think the £10,000 I hope to raise means more. It would be so rewarding to see the difference it can make to people who need it most.
To sponsor Darren's run, visit www.justgiving.com/DarrenGrigas
To find out more about Anna's Hope – a local charity dedicated to helping children suffering from brain tumours and their effects – visit www.annas-hope.co.uk
You can also follow Darren's blog at www.vivacity-peterborough.com/DarrenGrigas
For information on Vivacity Premier Fitness and other Vivacity gyms, visit www.vivacity-peterborough.com/sports  
DARREN'S OUTDOOR TRAINING SCHEDULE AND GYM SESSIONS AT VIVACITY PREMIER FITNESS

MONDAY – Gym session – Upper and lower body plus core strength. 'The one day when I don't have to run, which is a treat.'
TUESDAY – Power Hour. 'Four minutes at a sub 8 minute mile pace on the treadmill, then one minute at a much faster rate. Then keep repeating that for an hour.'
WEDNESDAY – Gym session, and slow ten mile run. (about 90 minutes)
THURSDAY – 5k sprint. 'The long, slow runs are great, but this one hurts!'
FRIDAY – Gym session plus hill runs. 'As you're probably aware, around Peterborough there aren't many hills… But there's one up near Chesterton which is quite steep, so I go up and down that eight times – around 3.5 miles.'
SATURDAY – Slow 10 mile run
SUNDAY – Slow 20 mile run
Leave a Reply