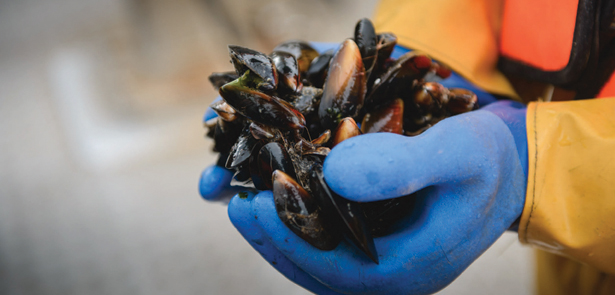 Loch Fyne is a brand with a lot of history behind it. What started out as one man's hobby at the side of the road on the west coast of Scotland has turned into one of Britain's much loved restaurant brands
Johnny Noble ventured up to Scotland after purchasing the Ardkinglas estate back in 1978. Costs of the structural works began to mount and it looked like the investment would be lost. One evening, whilst drinking his favourite whisky, he wandered down the side of the Loch and happened across some broken shells. Curious, he called his good friend Andrew Lane, who was a marine biologist, to come and have a look at to identify what had created said shells.
Upon investigation they found oysters growing perfectly in the Loch and, once properly cleaned and treated, had the untasted before balance of sweetness and saltiness all in one. From this point onwards they began developing the Loch and the growing conditions of the oysters and began to sell their products locally. Little did they know back then that their little venture would turn into a brand that is known and loved across the globe! Loch Fyne restaurant in Elton has been part of the wider brand since the early days.
It was opened in 1990 along with one in Nottingham and, is the second longest surviving Loch Fyne restaurant to date. Situated off of the A605 in the Old Dairy belonging to Elton estate, the restaurant is full of character with its old wooden beams, original cow stalls that have been converted into seating and a rustic wooden floor to finish the authentic feel.
Outside there are two beautiful courtyard areas that offer al fresco dining during the warmer summer months. Despite a short drive of around 15 minutes from Peterborough and 20 from Stamford there's plenty of free parking, and the warm welcome and legendary fare make it well worth the visit. The menu features a wide variety of superb fresh fish and seafood dishes, but a selection of meat and vegetarian options is available too, so there really is a dish for all tastebuds. The restaurant offers several different promotional menus throughout the week including a lunch set menu that runs from 12pm until 6pm every day apart from Sunday, as well as the fantastic mussel madness offer that runs every Tuesday (subject to availability).
Loch Fyne also runs its breakfast menu from 9am until 1pm on Saturdays and Sundays. With Father's day just around the corner look out for some more fantastic offers that weekend. You can keep up to date with all the activities by following on Facebook or Instagram, and there is also a Friends of Loch Fyne scheme that you can sign up to via the website, which gives you 10% off your food Sunday through until Thursday and 5% off your food Friday and Saturday along with a bounty of other great offers.
● For bookings or enquiries call 01832280298, email or visit the website www.lochfyneseafoodandgrill.co.uk/locations/elton
Leave a Reply