A Licence to Thrill this Christmas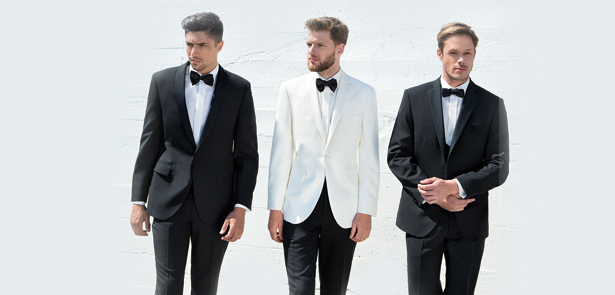 If you're in the mood to shake and stir things up this Christmas, then stride out in style (before swinging round with pointy gun fingers) in a dinner suit...
Trends are moving away from casual and smart-casual, and these days nothing less than perfect grooming for a special occasion – such as a formal Christmas party or ball – will do. Sparkling white cuffs, ink-black dinner jacket, bow tie, cummerbund and patent black shoes all show you mean business, and know how to dress like a gentleman.
If you want to take elegance and flair to the next level, an ivory dinner jacket is definitely the way to go. Think Daniel Craig as Bond, Humphrey Bogart as Rick Blaine in Casablanca, or Harrison Ford as Indy in the nightclub in The Temple of Doom!
Fortunately you don't need to be a spy, a maverick archaeologist or own a bar in Africa to get the look; neither do you have to spend money on an outfit that, to be fair, you probably won't wear every day. Pop along to Vow, and you'll be able hire an extremely high-quality, properly fitted dinner suit and – just because it's Christmas – the Vow team are offering extended hire as standard over the festive period (13 December to 7 January). For those looking to invest in some really beautiful formalwear, Vow also sell slim-cut black dinner suits.
If you do want to mix things up a bit and go for an edgier look, Vow also have slim-fitted midnight blue dinner suits (with black lapels and black piping down the side of each leg) available to buy. Worn with a crisp white shirt and a brightly coloured bow tie, this look is sure to turn a few heads!
To arrange a fitting for your Christmas formalwear hire or buy, contact Vow on 01780 783607. For more details, visit www.vowbridal.co.uk
Black dinner suit packages available to hire: includes jacket, trousers, pleated batwing collared dress shirt, bow tie and cummerbund; with upgrade: patent shoes (to top off the look!). Different coloured bow ties available.
Vow Bridal Gallery
26-30 London Rd, Wansford, Peterborough PE8 6JE
Leave a Reply