Learn to swim at Peterborough pools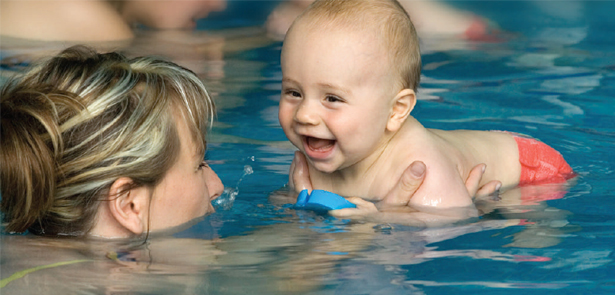 Learning to swim is one of the most important and fun life skills you can learn. Aligned with the Amateur Swimming Association (ASA) national syllabus for aquatics Vivacity's Swim Academy covers all ages, and aims to take non-swimmers from their first splash to being competent, confident swimmers. The Moment talks to Vivacity Swim Coordinator and swimming instructor Sarah Snodgrass about the programme  
WHAT IS SWIM ACADEMY ALL ABOUT? 
The Swim Academy provides a safe and fun environment to get the children of Peterborough swimming. We also support school swimming, which is part of the curriculum – so, if parents want to get their children more active in a fun setting whilst furthering their child's swimming abilities, this is a great chance to do just that.
HOW YOUNG DO YOU START?
Our Ducklings baby sessions start just after their jabs at about three months old – right the way through to Stage 10, which is competitive swimming, and we also offer Rookie Lifeguarding instruction. There's no set age for the stages – they relate to ability and confidence levels rather than age – but very often they roughly match the age of the child.
YOU TEACH ADULTS, TOO. WHAT KINDS OF PEOPLE COME TO YOU AT THAT STAGE?
An incredible one in five adults cannot swim, and by and large it's people who just missed out at school. We offer friendly adult classes where we look at building water-confidence as well as technique. Learning to swim in later life offers so many benefits – being able to swim with your children, enjoying seaside holidays and replacing fear with confidence.
ARE THERE ADVANTAGES TO STARTING AT A VERY YOUNG AGE?
Definitely – the earlier the better. It's partly about educating the parents in the very early stages, but also just about encouraging water confidence. There's lots of fun, games and singing in the baby and toddler sessions – we're not really expecting them to swim at that point – but before they get to school we've got them swimming a little bit, which is a huge benefit. A lot of children swim for the very first time at school, but that can be quite daunting. Also, sometimes, it isn't in the culture to swim – so mum can't swim, and dad can't swim, and sometimes fear of the water can come from the parents. But you can see those parents visibly relax when they realise their children are in good hands.
HOW IS IT STRUCTURED, AND HOW DO YOU KEEP CHIDLREN INTERESTED?
It's a whole pathway, so each stage is building on the previous one and preparing for the next – an ongoing journey. There's continual assessment, and children collect badges, stickers and certificates as they progress. It's all digital, so instructors use tablets at the poolside for real-time assessment. Every time a child achieves a target it triggers various awards at each stage, which spurs them on to keep improving. Every child also gets a different coloured swim cap at each stage, rather like a judo belt – we know at a glance what the ability of the swimmer is. The ASA advocate Stage 7 is a good general stage to get to – beyond that you're really into proficient swimming, where children can specialise in different areas.
WHAT AREAS CAN YOU SPECIALISE IN?
Beyond Stage 7 it branches out, so we have competitive swimming, water polo, lifesaving and also diving – there is a great diving club that runs at the Regional Pool for people who want to take it to the next level.
PETERBOROUGH HAS BECOME A PRETTY GREAT PLACE FOR COMPETITIVE SWIMMERS…
Yes, CoPS (City of Peterborough Swimming Club) are now one of the top ten clubs in the country and we work quite closely with our colleagues there. It is a fantastic club for children who love swimming, they start trialling from about Stage 8, and particularly talented children are often invited to join.
Join Peterborough's most popular swim school!
The Swim Academy is available at Jack Hunt Pool & Gym, the Regional Fitness & Swimming Centre and Vivacity Premier Fitness. An online application lets you monitor your child's progress with options for the next stage in the swim journey.
With a new, easy direct debit scheme you can also receive these FREE additional benefits:
■ FREE swim cap and all badges and certificates at every stage
■ FREE swimming at the Regional Pool, Jack Hunt Pool AND the Peterborough Lido in summer*
■ PLUS 10% off all swimming merchandise
■ For more information or to book, call your local Vivacity Swim Academy centre on 01733 864 000 or email
■ You can also complete an online application form atwww.vivacity-peterborough.com/swimacademy
*Each child must be accompanied by a paying adult
Leave a Reply