Keep warm in your conservatory this winter!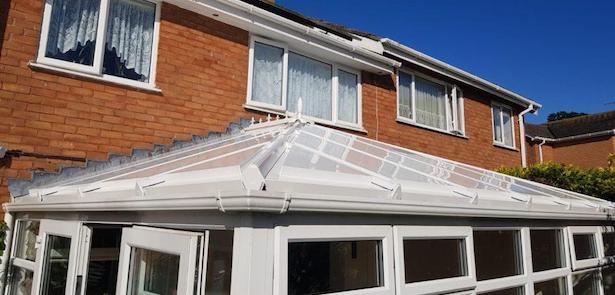 Here at Green Space Conservatory Roofs, we help our customers to enjoy their conservatory all year round – whatever the weather.
Winter is here and for many of us, one of the great joys of the colder months is sitting in the conservatory, making the most of the lovely room that overlooks the garden. However, in reality, the majority of conservatories are just too cold to sit in and enjoy in the winter without keeping the heating on or a few extra layers of clothing. Likewise, in the summer months, as soon as the sun comes out, these rooms morph into an oven making them just too hot to enjoy.
We are conservatory conversion specialists. We transform your conservatory from an unusable space to a room that can be enjoyed all year round, and we can usually complete this in less than a day!  A room that was too cold to sit in at breakfast, could be a warm and cosy dining room by dinner time.
How do we do that?
In 2010 the planning laws were relaxed and in the majority of cases, you can now fit a solid roof to your conservatory without planning permission. This means better insulation, keeping the room warmer in the winter and cooler in the summer, and a room that you can use all year round.
We replace conservatory roofs with roof panels that are lightweight and offer eight times better insulation than a polycarbonate roof. With U-values of 0.29, they will keep your conservatory at a comfortable temperature all year round meaning that even at the height of summer, you will be able to enjoy sitting in your conservatory.
What's more, the panels are manufactured to measure off site, so installation generally takes less than a day, and we always aim to ensure that your roof conversion is as non-disruptive as possible. We are the sole supplier of this system in the South, our system is compatible with most conservatories, old and new – plus it comes with a ten year guarantee.
"I can honestly say that the Green Space roof has totally transformed a pretty useless conservatory into a useful additional room….come cold winter or hot summers day." Wendy Thomas, Wareham

Key Benefits of having a Green Space roof installed:

Warmer in winter
Cooler in summer
Quieter in bad weather
Usable all year
10 year guarantee
Installed in just 1 day
Less glare
No more faded furniture
---
Free quotation
Green Space UK Ltd offer a free, no obligation quotation service where they give customers an exact price for the complete upgrade. As the panels are bespoke to your framework, we need exact measurements to work out an accurate price. This includes measuring the shapes of your existing panels, as well as the depths of your existing rafters. We also check your current framework to assess its suitability for the conservatory roof panel replacement.
Not every conservatory is suitable – to find out if yours is, give us a call for free on 0800 0803202 and one of our friendly team will be more than happy to help.
All appointments are carried out in line with the Government guidelines for safe practice during the COVID pandemic.
Leave a Reply