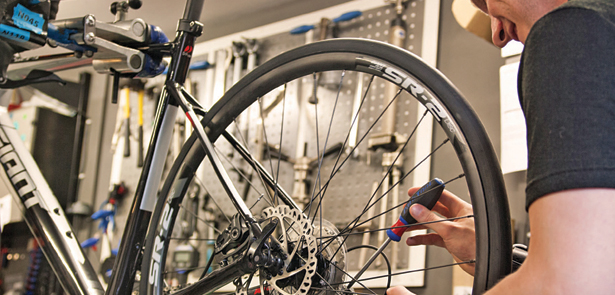 The team at Rutland Cycling in Peterborough offers some top tips to keep your bike rolling this summer
Summer is finally with us! The warm weather is a fantastic excuse to dig out your trusty bicycle and get back out on two wheels. The health benefits of cycling are well documented and there's really no more pleasurable experience than cruising around in the sun, wind in your hair, reliving those youthful days spent messing around on bikes. It's worth checking your bike over and learning how to fix up a broken-down bicycle before another summer of riding.
Thankfully, most of the work needed to keep you rolling is pretty straightforward and there's plenty you can do at home to ensure your bike works perfectly from the off.
● Tyre pressures: Use a pump to check your tyre pressure before every ride. This will reduce your chances of a puncture.
● Gears: Have a short ride around your start point, slowly going through your entire gear range to check for signs of damage or wear. If you can't seem to get into the correct gear or there's a metallic clicking sound then your gear cables may have become stretched or your derailleur misaligned. Gears can be fixed by adjusting the limiting screws in the derailleur.
● Brakes: Pull on the levers and check that the brakes are stopping the wheel – without any rubbing or resistance when the brakes are not depressed. If there is resistance, realign your brakes or bring it into your local workshop.
● Bolts/Fastenings: Using an allen/torque key, tighten all of the bolts and fastenings around your bike. Focus especially on the bolts around the headset and the quick release/Thru-axle through your wheel as these areas experience the most force and so are the most likely to fail.
● Cleaning/Lubrication: A clean bike is a happy bike! Use a bike-specific cleaner, or simply warm water and a sponge to clean off dirt and debris regularly. This will make your bike ride smoothly, help components last longer and mean you're less likely to suffer serious mechanical failure. Furthermore, it's important to lubricate your chain after every ride to ensure the longevity of your drive train and prevent chain wear.
Maintenance classes
Fancy being able to do some repairs yourself at home? Rutland Cycling offers regular Maintenance Classes where you'll learn skills including:
● Fix a Puncture. Learn how to replace tubes, including pro tips and techniques.
● Fix a Broken Chain. Learn how to replace a chain pin, fit a quick link and check chain length.
● Cleaning. Learn how to clean and lube effectively in addition to cable maintenance and other moving parts.
● Safety 'M Check'. Learn how to ensure your bike is always safe to ride before you set out.
Our Workshop If you're not confident enough to carry out your own repairs, every Rutland Cycling store has a dedicated, Cytech-trained workshop team that will be happy to help you with any problem with your bike – from a simple tyre change to a full strip down and service.
RUTLAND CYCLING
Ham Lane, Orton Meadows, Peterborough PE2 5UU. 01733 371013, www. rutlandcycling.com Visit www.rutlandcycling.com/events to find out more about all our rides and events during the summer months.
Leave a Reply