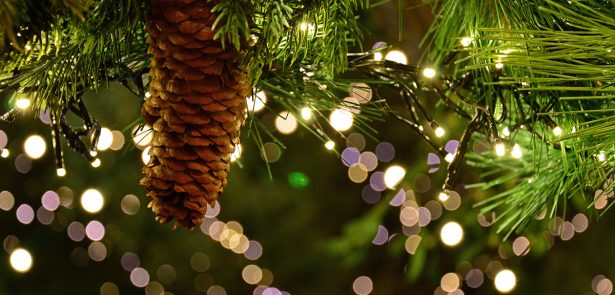 Step into Christmas and get your skates on – the Ferry Meadows ice rink, Christmas market and vintage fun fair will get you into the festive spirit.
Experience the magic of Christmas at Nene Park this winter. Ferry Meadows has been transformed for the festive season, with an open-air ice rink, mini Christmas market and vintage fun fair, festooned with twinkling lights and festive garlands. The fun is already underway and continues right up until 2 January – plenty of time to gather family and friends and celebrate this special time of year.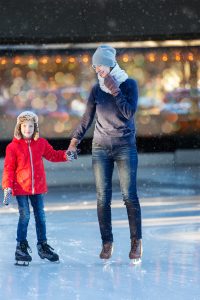 Take to the rink
Park visitors can glide into the festive season on the eco-friendly synthetic ice rink – a first for Nene Park. Open daily throughout the season, the rink's synthetic surface is scientifically engineered to allow skaters to glide just as smoothly as if on real ice, whilst having minimal impact on the environment. Suitable for ages four and above, prices start from just £6 per skating session and include a certificate for each child as a memento of their time on the ice.
Skating is the perfect activity to get you and your family and friends into the Christmas spirit, with proceeds from the ice rink going straight back into maintaining our beautiful Park for all the community to enjoy. Free car parking is included with every session, providing an affordable-as-possible family-friendly Christmas experience in the idyllic Park setting.
Shop the market
The mini Christmas market, full of delicious food and drink, adds to the festivities at Ferry Meadows. Sample a warming mulled wine or perhaps an indulgent hot chocolate. Sate your appetite with a traditional Bratwürst, followed by a mouth-watering selection of sweet treats. You'll also discover unique gifts and have the chance to support local community groups.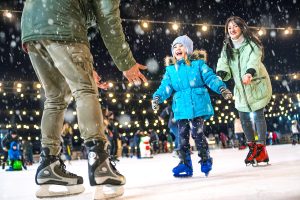 Continue your shopping in the Ferry Meadows Gift and Farm Shop, full of unique Christmas decorations and exciting gift ideas for your loved ones, alongside a new range of festive Farm Shop produce from premium local suppliers. See box, overleaf, for more on the Shop.
Vintage fun
Then there's the exciting vintage fun fair, and rides on the Christmas-themed miniature railway. Lots more entertainment is guaranteed, alongside a variety of children's crafts and activities, including letter-writing to Father Christmas and sharing Christmas wishes on the Nene Park wishing tree. The Park's fundraising Christmas stars are available again this year – get yours from the Visitor Centre or as a craft activity. Once you're done, hang your star up in the Park for everyone to enjoy.
Christmas at Ferry Meadows is open daily until 2 January, except Christmas Day. Opening hours are 4pm-8pm weekdays, and 10am-8pm at weekends and during the school Christmas holidays. To find out more or to book your skating sessions online, please visit www.nenepark.org.uk/christmas
Book now!
Book your skating tickets online at www.nenepark.org.uk/christmas
Christmas shopping sorted
Are you a festive forward-planner or a last- minute panicker? Whatever your Christmas shopping style, the Ferry Meadows Gift and Farm Shop has got you covered! With a wide range of locally sourced gifts, festive foods and stocking fillers, there is something for everyone this Christmas.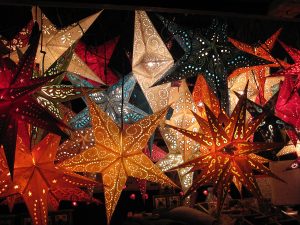 Gifts galore will keep all the family entertained. Why not make a Christmas wreath together from the festively fragranced Jormaepourri range, or bake a gingerbread house from the Baked In range of goodies? Browse from a thoughtful selection of kid's toys and games, as well as children's books from Willsow, which are made with special handmade paper embedded with real vegetable and herb seeds to plant and grow when you've finished reading the story! Mums and dads can also find plenty to fill their stockings from the Multum Gin Pravo gin gift set from Rutland, to a traditional LillyPuds Christmas Pudding and brandy butter! And don't miss the new range of beautiful wooden and slate homeware from Selbrae House.
The Farm Shop section groans under the weight of yummy treats, perfect for festive snacking or a little indulgence (go on, you deserve it!). Indulge in Christmas sweets and chocolates from the Cambridge Confectionary Company, hot chocolate bombes from Gnaw, or have a savoury bite to eat with pigs in blankets crisps from Mackie's. Children and adults alike will love the handmade chocolate- coated fudge from Fudged Up in Grantham – a perfect treat at three for £5. And don't forget, there's nowhere better for the finest-quality fresh lamb, born and reared on the Nene Park Rural Estate.
Pop in and have a browse on your next visit to Ferry Meadows. Every purchase makes a real difference because all profits are ploughed back into maintaining our beautiful Nene Park!
The Ferry Meadows Gift and Farm Shop is open daily from 10am to 8pm, then from 3 January 9am to 4pm.
Be a shining star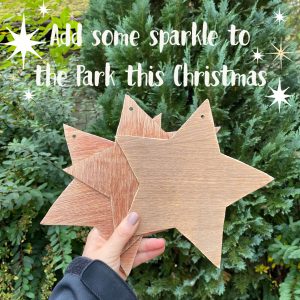 Christmas Stars
Returning for a second year is Nene Park's Christmas Stars! Help add a little Christmas sparkle to Ferry Meadows by decorating a star that will then go on display outside the Visitor Centre, Gift and Farm Shop. This is your chance to make a difference this Christmas and support your local greenspace. Suggested minimum donation of £2 per star.
How to take part:
Donate and collect a star from the Visitor Centre. Take your star home to decorate. Get creative: paint, string, tinsel, glitter – just remember your star will be hung up outside.
Bring your star back to the Visitor Centre and a member of staff will hang it up for you, for all Park visitors to admire!
Or you can come along to one our crafty drop-in sessions in the Park, where you can decorate a star and see it hung up straight away. There is no need to book, just turn up within any of the times below – keep an eye out on social media and our website for further details.
19 December, 10am-11am
20 December, 10am-11am
21 December, 10am-11am
Corporate and community groups
If you would like to purchase a greater number of stars for a group, please get in touch with Fundraising Officer Lucy Thornton-Reid:
Nene Park Trust is proud of the work they do, and grateful to everyone who supports them to make it all possible. Thank you!
This Christmas, Nene Park Trust is shining a light on the positive effects greenspaces have on the community, to remind everyone how important it is to look after them, so they are here to enjoy forever. Follow along with their social media during December with #TheNatureEffect and let them know about the positive effects nature has had on you.
Leave a Reply