Hyundai IONIQ: batteries included!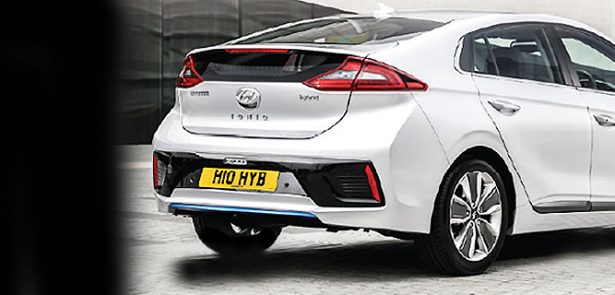 The all-new Hyundai IONIQ is the first car in the world to offer a choice of three electrified powertrains, making lowto zero-emission mobility accessible to everyone. Local dealership Smiths Hyundai is proud to be supplying both the hybrid and fully electric versions
The Hyundai IONIQ represents a first in motoring, with a line-up consisting of the IONIQ Hybrid, the IONIQ Electric and the IONIQ Plug-in. This trinity of electric mobility aims to deliver an uncompromising design and driving experience, the latest connectivity and safety features, all within an industry-leading warranty-package. The IONIQ is a major milestone in Hyundai's drive towards more sustainable motoring, extending the company's range of low-to-zero emission vehicles, which already includes the world's first mass-produced fuel-cell electric vehicle, the ix35 Fuel Cell. Smiths Hyundai is the local dealership for the hybrid and electric powertrains, with the plug-in version due to follow later in the year.
Hybrid power
The IONIQ Hybrid features the new Kappa 1.6 GDI, direct injection petrol, four-cylinder engine, delivering 105 PS and 147 Nm of torque. The engine combines with the smooth-shifting six-speed double clutch transmission for a more dynamic driving experience. The mated electric motor enables pure electric driving and delivers instant torque up to a maximum of 170 Nm. Powered by a lithium-ion-polymer battery with 1.56 kWh capacity, the electric motor can deliver a powerful 32 kW.
Drivers of the IONIQ Hybrid can select either SPORT or ECO mode. The SPORT function holds lower gears longer and combines power from both the engine and electric motor to reward the driver with maximised performance. In ECO mode, the six-speed dual-clutch transmission optimises gear selection for fuel economy, shifting up earlier to higher gears to achieve class-leading fuel economy.
Electric efficiency
The IONIQ Electric offers pure electric driving via its 28 kWh lithium-ion polymer battery, which gives an impressive maximum range of 174 miles with power consumption from as low as 18.5kWh/100 miles. The instantly available maximum torque of 295 Nm is delivered by the electric motor with a maximum output of 88 kW (120 PS) through the Single Speed Reducer transmission, accelerating the car up to 102 miles per hour. The Single Speed Reducer transmission automatically and seamlessly accelerates the car, with SPORT, NORMAL and ECO modes to choose from.
Additionally, the IONIQ Electric features paddles mounted at the steering wheel to adjust the regenerative braking in four stages according to the driver's needs during deceleration and braking. Also featured is an electronic parking brake at the driver's fingertips. Charging the IONIQ Electric battery to 80% only takes just 33 minutes using a 50 kWDC fast charger. An In-Cable Control Box also allows drivers to charge their IONIQ through a regular household AC power socket.
Aerodynamic and smart
The engineers at Hyundai have been busy creating a car that balances design with comfort and convenience. The IONIQ line-up starts with a classleading aerodynamic silhouette, which has won a prestigious 2016 Red Dot Design Award. The car's sleek, coupe-like silhouette and its simple, carefully wrought contours assist airflow around the exterior. Applications like front wheel air curtains, a rear spoiler and diffuser, side sill mouldings and a closed wheel design all contribute towards the car's high aerodynamic efficiency. To provide a comfortable interior climate without using unnecessary amounts of energy, the IONIQ's climate control can be switched to an efficient operation mode. Thanks to maximum use of the inside air when air-conditioning or heating, ventilation losses are minimised and the overall efficiency of the system only increases. The dual-zone climate control can even be set to 'driver only' mode, reducing the load of the air-conditioning and heating.
A Hyundai-first and a key characteristic of the IONIQ is its use of recycled or ecologically sensitive materials. For example, the interior door covers are made of natural plastic combined with powdered wood and volcanic stone. Raw materials extracted from sugar cane are partly applied on the headlining and carpet, helping to improve air quality inside the car and the recyclability of vehicle parts when it finally reaches its end of life. Paint with renewable ingredients extracted from soybean oil achieves lustrous metallic colours on some of the components.
Fully connected
The driver experience inside the IONIQ takes a step up thanks to a long list of connectivity features such as Android Auto, Apple CarPlay, TomTom live services and wireless smartphone charging. The IONIQ is the first Hyundai model in Europe to be equipped with a high-resolution seven-inch TFT information cluster. With stunning resolution, it displays all types of gauges (speedometer, ECO, state of charge, fuel etc.) Depending on the selected drive mode background colour and gauges adapt to provide the most important and useful information. In SPORT mode, for example, the display changes into a revolving digital speedometer that is surrounded by an analogue style tachometer, showing the engine's rpm on red coloured ground. Entry-level hybrids feature a Premium audio system with five-inch capacitive LCD touch screen with integrated dynamic rear-view camera, Bluetooth connectivity and My Music functionality. Higher specification hybrid models and all electric cars feature as standard the optional new-generation navigation system with eight-inch capacitive touch screen in combination with Infinity premium surround sound system complete with eight speakers, subwoofer and external amplifier.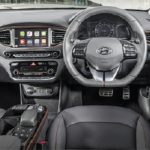 Drivers wanting to connect their smartphones with the eight-inch navigation system can take advantage of both Apple CarPlay and Android Auto. This allows users to connect their devices to deliver and control music, telephone or navigation functions on screen, while remaining focused on the road. The navigation system comes with a seven-year free subscription to TomTom LIVE services.
Driver experience
The driving performance of the IONIQ is among the best in its segment. Damping in the floor panels, thicker window glass and noise cancelling film on the windscreen all help to make for a quieter and more comfortable ride. Responsiveness and feedback from the steering system is clear and precise, with an increased steering gear ratio that helps to compound a sporty and responsive feel while reinforcing the car's uncompromised driving experience. Braking force is optimised to get the most out of the regenerative braking system, helping the IONIQ to maintain a healthy state of charge. An Integrated Brake Assist Unit and Pressure Source Unit further ensure ultra-low friction for maximum energy recuperation and efficiency. Low rolling resistance Michelin tyres only contribute towards the drive for efficiency. The multi-link suspension system of IONIQ Hybrid has been adapted in order to work most efficiently with low rolling resistance tires.
Safe and sound
Featuring 53% Advanced High Strength Steel, the chassis of the IONIQ benefits from excellent rigidity and safety, with high impact energy absorption and minimised distortion to protect passengers in the event of a collision. Safety is high on the IONIQ's tick list, with features including Blind Spot Detection working alongside Lane Change Assist and Rear Cross Traffic Alert to warn the driver of any surrounding vehicles, passengers or other objects. A Lane Departure Warning System and Lane Keeping Assist System are invaluable on longer journeys, alerting the driver if unsafe movements are made while the car is driving over 37mph. Autonomous Emergency Braking alerts drivers to emergency situations, braking autonomously if required.
Using front radar and camera sensors, it operates in three stages, initially warning the driver visually and acoustically, it controls the brake according to the collision danger stage, and applies maximum braking force right before the moment of collision. When a vehicle or pedestrian is sensed in front of the car, the system is activated. Using front radar sensors, Smart Cruise Control allows a constant speed and distance to be maintained from the vehicle ahead without depressing the accelerator or brake pedals, making those longer journeys significantly more comfortable. The Electric model takes this a step further by providing Advanced Smart Cruise Control, which supports an automatic stop/start function as well. A Tyre Pressure Monitoring System ensures tires are always properly inflated.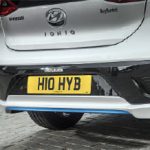 Sleek design
The front of the IONIQ Hybrid is characterised by its Bi-xenon headlights embraced by C-shaped LED positioning lamps, with entry-level versions featuring spherical projector-type headlamps. Contrasting colours at the base of the bumper add an individual character with seven exterior colours to choose from: Phantom Black, Polar White and Platinum Silver, along with Iron Grey, Marina Blue, Phoenix Orange and Demitasse Brown. An elegant blue or silver character line below the front and rear bumpers complete a sophisticated look. It's the front of the IONIQ Electric that sets it apart: without the motor's need for cooling, the grille gives way to a clean, sleek surface in True Grey or Shine Grey with Polar White exterior colour. The electric version also features LED front headlamps and rear combination lamps with a unique pattern. The electric spirit of the car is underscored by a copper-coloured character line below the front and rear bumpers. These accents are in silver for the Marina Blue, Phoenix Orange and Blazing Yellow exterior colour options.
Peace of mind
All of the IONIQ models come with the ultimate peace of mind of an industry-leading warranty package consisting of Hyundai's five-year unlimited mileage warranty for the vehicle and an eight-year, 125,000 mile warranty for the high-voltage battery. With this combination of style, economy and performance, more of us could be switching onto electric motoring sooner than we think.
Smiths Hyundai
Smiths Hyundai, Bretton Way, Bretton, Peterborough PE3 8YL.
01733 907664
www.smithsmotorgroup.co.uk
Leave a Reply