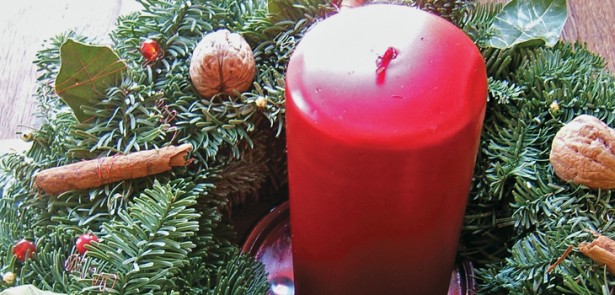 Christmas wreaths add cheer and charm to front doors and tabletops. It's easy to make your own using garden plants and some added extras.
Start by creating a base to the wreath using two wire coat hangers fashioned into loops. Wire these together then cover with floral tape. Now weave branches of greenery into the wires, securing them into place using floral wire. Overlap the greenery as you go to form a dense, tight finish. Once completely covered, tie in your decorations with more floral wire or stick them on with hot glue.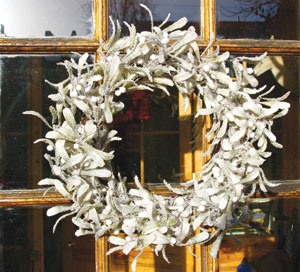 Keep it simple
Weave greenery from one plant into a ring – here mistletoe – to create a simple yet handsome wreath. Try spraying your wreath with festive snow spray or similar to really make a statement.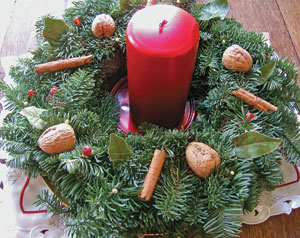 Festive flavours
Decorate a simple wreath of spruce sprigs by tying into position Christmas edibles such as cinnamon sticks, walnuts and candy sticks. Use fine wire to secure the decorations into place.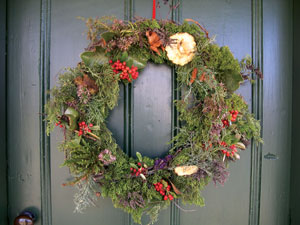 Mix it up
Evergreen foliage from conifers, heather and ivy form the backdrop to this stunning wreath. Highlights of winter berries, dried fruit and flowers give a calming and warming finish.

Thirsty work
For something completely different, how about putting together a themed wreath? This one uses beer bottle tops – any excuse to start the Christmas celebrations early!
TOP TIP
Add a further touch of class to door-adorning wreaths by tying on a colour-coordinated bow. Red is the festive colour of choice
Leave a Reply