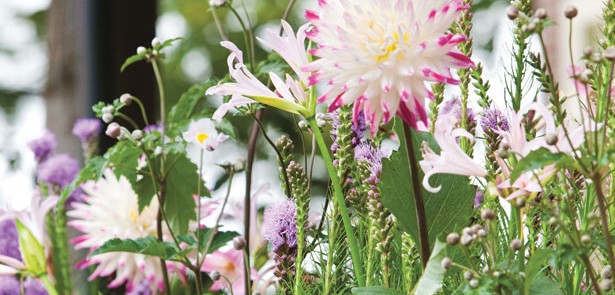 Bring a burst of colour to your garden with summer-flowering bulbs. Benedict Vanheems explains how to plant them now for a season-long floral celebration
This time of year is definitely the most exciting period for the gardener, as long nights and cold, damp days begin to give way to the gentle warmth of spring. It's a wonderfully positive moment of transition, full of anticipation and hope for what lies ahead.
Just before the trees and shrubs finally burst into leaf come the magnificent displays of springtime bulbs – snowdrops and crocuses are followed by daffodils and tulips, each contributing their own cheer and promise. But their floriferous display is a signal to start planning for blooms later on in the year. Get ahead now and you'll have yourself a head-turning smorgasbord of nodding trumpets, delicate bells and dreamy spires in every colour of the rainbow, all summer long. While many bedding plants can be planted in a few weeks' time, now's your chance to plan for summer-flowering bulbs, which are beginning to turn up in local garden centres.
Create a riot of colour with summer favourites such as dahlias, begonias and lilies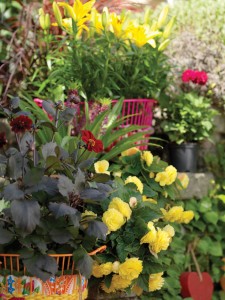 Role call
The selection of summer bulbs available to buy will leave you spoilt for choice; some of my favourites are shown on page 42. Another source of inspiration and ideas is the website of the International Flower Bulb Centre (www.flowerbulbs.co.uk) where you will find all manner of tips and display recipes.
Buying bulbs is a fun job as you begin to visualise the display you'll put together. To be sure of the best result, pick fresh, dry bulbs and choose only those that feel firm to the touch and are free of mould. The general rule is the bigger the bulb the bigger the blooms, so big really is best in this instance.
Most bulbs need a sunny spot in the garden, in soil that is free-draining to prevent the bulbs from rotting. Plant them as soon after buying as possible but only once the soil has warmed up – mid March into early April is ideal. Improve the soil before planting by digging in some compost and if your soil is clay-based then consider forking in some coarse sand to further aid drainage. Plant your bulbs with the pointed end facing upwards, cover them over and then gently firm the soil back. Different bulbs will have different planting depths, but as a rule plant bulbs between two and three times their height and space them two to three times their width apart.
Pots of promise
Bulbs are excellent container plants as many of the bulbs are tender and will need to be stored in a frost-free place over winter. Pots of showy subjects such as canna, begonia and gladioli will thrive on a sun-trap patio where the warmth reflected back from surrounding walls and paving will guarantee stunning results.
Aim for a mix of varieties to extend the season right into autumn
You can use any quality, peat-free multi-purpose compost for this. Plant the bulbs at the required depth and keep pots well watered over the summer. Use pots in scale with the bulbs you are planting – bulbs 'lost' in an over-sized container will not be able to take up all the moisture they need and will then be vulnerable to rotting, particularly early on in the season. Arrange pots in a creative fashion and aim for a mix of varieties to extend the season right into autumn (agapanthus and nerine are fantastic for end-of-season colour).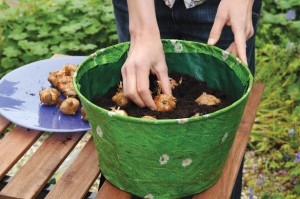 Lifting bulbs
Some summer-flowering bulbs can stay in the ground over winter but most need lifting up and bringing inside for the colder months. Cannas, dahlias, begonias and other tender plants would be killed off by the penetrating frosts we've experienced this winter, so lift these as soon as the foliage has died back and before frosts become too harsh.
To store lifted bulbs begin by brushing away loose soil and cutting back dead and dying foliage. A light dusting of fungicide will reduce the chances of disease disrupting the winter store, though this isn't essential. After letting the bulbs dry out for a day or two, place them into paper bags or trays of dry sand. Keep them on the cool side over winter but free of frost. A properly insulated shed may be suitable but frost can sometimes reach inside. If in doubt, opt for a garage or unheated spare room.
Go ahead and try some summer-flowering bulbs this year. They won't disappoint with their showy blooms. And what better way to start dreaming of the glorious days of summer than by planting them now?
Leave a Reply