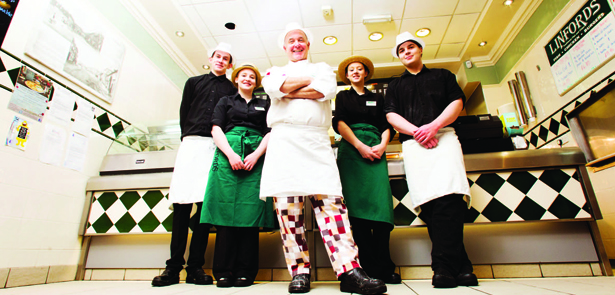 Paul and Pat Linford have been serving up first-rate fish and chips from their chip shop in Market Deeping for quarter of a century. The quality speaks for itself, with connoisseurs of Britain's favourite dish beating a well-worn path to this award-winning establishment
Fish and chips remain the nation's number one meal – and if you're a fan of Blighty's best then you'll be very happy to discover that the Peterborough area boasts among the very best! Linfords Traditional Fish and Chips has consistently been voted one of the best fish and chip shops in the country.
Five-times finalists in the National Fish and Chip Shop Awards, the Market Deeping takeaway and restaurant has also won the National Federation of Fish Friers' Fish and Chip Quality Award, gaining a full five-star rating. Achieving these standards isn't easy – a lot of considered effort goes into it, from the sourcing of the finest ingredients to their preparation and, of course, cooking. Paul and Pat Linford have just celebrated their 25th year at the shop and it seems there are plenty more to come.
'Market Deeping is a nice town to live, work and grow up in,' says Paul. 'We've always loved it here.' Together with their children Paul, Steven and Charlotte and past and present managers the couple has grown the business over the years, earning its hard-won reputation for quality.
Finest fish
Four staples make up the menu at Linfords: cod, haddock, plaice and rock salmon (also known as huss). There's usually an in-season special too, with red snapper proving a recent hit. 'We cook our fish in three different ways,' explains Paul. 'In a traditional golden batter, dusted with flour or steamed. Dusting in flour gives a thinner batter that's increasingly popular. Both batters seal the fish in so that it can steam and give the succulence we're after.' This is the secret to any good fish and chip meal: it is the batter that fries, while the fish inside the batter steams in its own moisture. The result is that perfect balance of crisp, crunchy outside and soft, flaky flesh.
After a quarter of a century Paul and his staff have their fish-frying down to perfection using their own secret batter recipe. Paul is passionate about his craft: 'As with anything we do it's not just about the raw ingredients, it's about having, for example, the water at the right temperature for the batter (about 6 C) or making sure that the batter is neither too thick nor thin. And because batter ages, it's also got to be fresh so it doesn't get a chance to flatten out or become warm. Frying temperatures are also critical; you have to work within a range. So it's all about managing your ingredients to get the best end result.' All the fish cooked at Linfords is sustainably sourced. Linfords' supplier uses rigorous standards that ensures only fish from well-managed stocks are caught. 'This is very important to us. You can buy smaller fish but we've never done that because we don't want to create a market for it. The small fish will grow on to produce the next generation. You've got to leave something for tomorrow.'
Chips with attitude
Like his fish, Paul is particular about the potatoes that go into his chips. Potatoes are supplied from farmers in Lincolnshire and Cambridgeshire then sorted, peeled and chipped on site. For most of the year it is classic, floury Maris Piper that's fried up, with the first early variety Maris Bard filling the six to eight-week gap in early summer. 'Maris Bard tends not to crisp up as well as Maris Piper, but if you know what you're doing you can still get good results,' says Paul. When time allows the chips are blanched in order to produce a fluffier interior. Blanching sees small batches part-cooked at a much lower temperature than normal (around 150 C) until the chips are soft. The part-cooked chips are then re-fried to crisp up and get their golden glow. The softer, fluffier chips make for a luxurious experience. 'There's a lot of steps to the perfect chip – storing, preparing and washing the potatoes, slicing them and then finally frying them. And every step has got to be right, because its' small things that make the difference.'
Gluten-free
Linfords hosts a gluten-free night every Monday from 4-8pm. The fish is cooked in special batter with meticulous attention to detail to avoid cross-contamination with standard batter. This includes using brand new cooking oil and separate utensils to handle the fish. 'It's a popular night. Some people haven't had fish and chips for a number of years and think this is a brilliant idea: 'Great, I can now have fish and chips again!'.' Whether gluten-free, steamed or in standard batter, visitors can also enjoy these perfect fish and chips as a sit-down meal within the 30-seater restaurant. The restaurant is next door to the takeaway and carries an alcohol license so diners can enjoy a glass of wine or a selection of beers with their food. The restaurant can cater for large groups and in summer restaurant-goers can sit outside on the patio area. For nonfish lovers there are well-filled Pukka pies, chicken, sausages and burgers on the menu – though if you've never tried a Linfords fish and chips you're highly likely to be converted!
Linfords Traditional Fish and Chips, 6 Market Place, Market Deeping, PE6 8EA. 01778 347970
www.linfordsfishandchips.co.uk
Leave a Reply