The Wright stuff | Wright Ski & Foot Solutions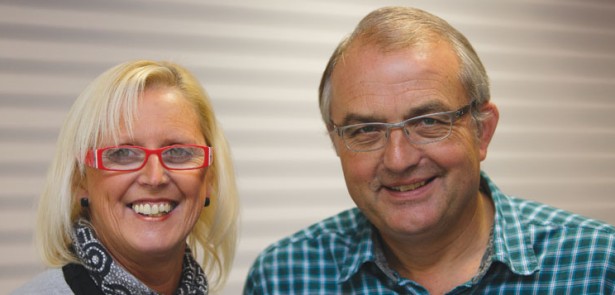 When Leonardo da Vinci described the foot as "the greatest engineering device in the world", he was right. But even someone with the forethought of Da Vinci couldn't have predicted the changes in road surfaces and the developments in footwear that would affect the feet some 600 years in the future.
Modern footwear, particularly sports-specific shoes, has changed dramatically in the last 20 years. Developments in manufacturing techniques and advances in materials have created a wide range of sophisticated products.
It's something that David and Maggie Wright, owners of Wright Ski & Foot Solutions in Lincoln road, understand only too well. Having worked for more than 30 years with foot specialists Conformable, one of Europe's leading foot solutions companies that provides products for both sports and medical applications, Wright Ski & Foot Solutions offers full foot analysis and biomechanical assessment to protect elite sports people from the rigours of their profession or just help us 'ordinary' individuals overcome sore and tired feet.
"We have seen a lot of technical advancements within the industry and have always kept up with the cutting edge of technologies available," says David Wright. "Many of these technologies have been expanded into other areas of our business – the most significant of these being foot solutions.
So why the decision to open a new store?
"There was a definitive need for a specialist independent retailer in the area offering this level of service for foot care and products that need a good level of technical explanation and understanding," explains David.
"Our new store has given us the space to not only continue with skiing and technical products for outdoor pursuits, all products that we are well known for, but enabled us to open a specialist foot clinic within the store."
What does this mean? Wright Ski & Foot Solutions can now make and fit custom orthotics (using vacuum pillows to take a mould of the foot) to offer support and improve biomechanical function in all footwear. "An orthotic foot bed is a supportive insole that we insert into your footwear underneath your foot, usually having removed any liner that was already there so as not to make the shoe any smaller," says Maggie.
"Because everyone's requirements are different and feet are unique we offer a full range of orthotic foot beds in order to fit footwear. These range from full custom moulded solutions to simple off-the-shelf trim-to-fit orthotics. Customers may be looking for improved comfort, performance and balance, or to solve a problem such as a pressure point, blister area or ache.
"Eighty per cent of us will have a foot problem at some time in our life. Foot problems are magnified in ski boots as these do not stretch like a soft shoe and need to be modified around the customers foot shape."
The shop also offers a full custom fit service for skiers when purchasing ski boots with heat moulded shells, heat moulded liners and even foam injected solutions along with a good range of boots from leading suppliers to accommodate different foot shapes, widths and levels of ability. It also has a good range of specialist running, walking and trekking shoes – all of which can be modified with a custom orthotic.
"In fact," says David, "we can modify footwear for customers who have bunions, prominent ankles and lots of other possible abnormalities. We have the equipment to make alterations to any footwear. Whatever problem you are experiencing within your footwear from pain in the ball of the foot to more serious complaints, we believe we'll have a solution."
To contact Wright Ski & Foot Solutions  phone 01733 326091
Leave a Reply