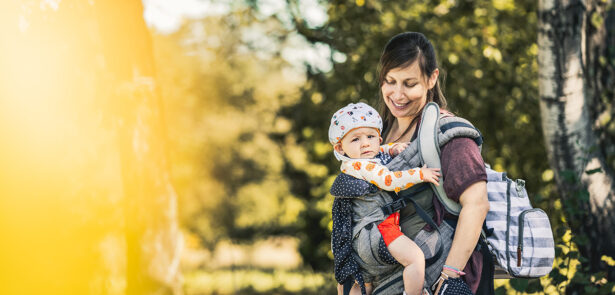 Once you've had a baby, your community midwife, health visitor and GP are there to support you. But who else can help you to feel more like yourself again? The Moment speaks to the women from the Greater Peterborough area who are helping new mums to thrive.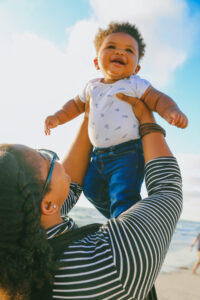 There's no getting around it, it's exhausting being a new parent. You go through many changes; emotionally, physically and as a family unit. Although most of your time is now spent caring for the baby, you will also need support too.
It's important to be honest and open with the people you trust about how you're feeling. Don't try to do it all, and instead accept help where you can from friends and family.
When you're tired, getting some exercise might be the last thing you want to do. But regular gentle activity, such as a daily walk in the fresh air, can help boost your mood. Drink plenty of fluids and stock up on healthy snacks to keep you nourished.
Your mental health is incredibly important during this time of transition, too. You can see friends or go to postnatal groups to share stories and meet other new parents. But if you'd rather nest at home, that's fine too.
Be kind to yourself. Remember that each person's recovery after birth is different, so try not to compare yourself to others.
Nicola Fenton – Fenton's Herbology
Nicola is a Medical Herbalist with a passion for women's health. Her aim is to inspire and empower people to use medicinal plants in their everyday lives to support their wellbeing.
Why might women need support during the postnatal period?
A mum's body has just created a miracle! It has grown a new human, created a new organ to help support it whilst in utero and then has the capability to provide all the nourishment that the baby will need for the first six months of its life, and a little beyond that. Therefore, it's incredibly important that new mums take time to rest and nourish themselves.
When you become a parent, your whole world changes. This time is an incredible period of physical, emotional, psychological and spiritual growth and change. Herbs can support our bodies to heal and also support emotional wellbeing through this incredible, but also at times very challenging, transition into becoming a mother.
We lack sleep, we have social pressures, a mindset that everything should be back to normal after your 6-week check. It's a crazy overhaul but few women will get the attention and support that they need.
How can you help women during this time?
In short, I nourish beautiful new mums back to optimum vitality using herbs as food and medicine! This may be an exhausted mum, an overwhelmed mum, a mum struggling with conflicting emotions and moods, or a mum who wants to recapture that bit of who they were before they became a mum.
What piece of advice can you give to someone who's just had a baby?
Plan for the 4th trimester as much as you are planning for the birth – if not more! I'm expecting my second baby in June, so I will be spending lots of time this time around preparing meals, broths and super nourishing snacks. Create a mindset that your nourishment is as important as your baby's.
Shani Moyses – Strong Mama Fitness
Shani runs 6-week rehabilitation courses for mums. She also holds mum and baby fitness classes to give women a safe space to exercise with their children.
What made you want to get involved with supporting new mums?
I gave birth myself and then realised that women are absolute heroes, walking around the streets like nothing has happened! Anyone who has given birth, in whichever way, will know just how life changing it is. So, I wanted to champion mums for that. I remember saying to the midwife (who was stitching me up after my first child) that we should all be high-fiving each other in the street, because we are incredible.
Why is it important for women to remain active?
There are lots of reasons, the obvious being to improve their long-term health. Strength-based exercise improves bone density and muscle strength, which is so important as we head into our Perimenopausal/Menopausal phase of life from as early as 35 years onwards. Cardio-based exercise improves cardiovascular and respiratory health, reducing the risk of chronic conditions such as heart disease, diabetes and stroke. So, find some form of movement that you love and stick at it!
How do you help women in their postnatal period?
First and foremost, I offer a safe space to come with their baby and to move their beautiful, incredible bodies. No judgement, no expectations of how much they'll do, and after each class we have a cuppa and a chat to help alleviate the stresses we feel as mums. I screen using
a health questionnaire before ladies come to class so I can be sure I'm offering the right modifications (if needed) and I frequently check in with them throughout the class. On the Restore course I tailor the homework throughout, depending on fitness levels, mobility levels, recovery and type of birth. There's never 'one size fits all' when recovering from childbirth.
What piece of advice can you give to someone who's just had a baby?
Nail the fundamentals before starting back into exercise and don't compare yourself to others.
Jen Anker – CPSL Mind
The Perinatal Service at CPSL Mind offers Connecting Mums, Mums Matter and Dads Matter courses, drop-in Mindful Mums groups, and one-to-one support.
How did you get started in your role?
I am a mum of four and struggled with my mental health after my youngest son was born. I accessed the services offered by CPSL Mind. When I was feeling more myself again, I knew that the groups and service had really helped me and made a difference to my life. I wanted to give something back and started by volunteering with the service. I was then lucky enough to get a paid role and am now acting manager in a service that I feel very passionate about.
Why might new mums need extra support?
Having a baby is a massive change in a mum's life; not only being responsible for another life, but the changes it has on your relationships, your emotions and your identity, as well as physical changes to your body, hormone changes and changes in sleep patterns. Many people think it should be a happy and joyful time but the reality for many is far from this. Many people feel ashamed for not feeling 100% happy and excited during their pregnancy or after the birth of their baby. However, it is actually more 'normal' than people realise to have low thoughts, feel anxious or struggle with mental wellbeing during this time.
What help is available?
The main aim of our service is to support and bring mums together who may share similar experiences, to create connections while learning how to manage their own mental health and wellbeing. We spend a lot of time getting to know our mums and supporting them into the right service.
What piece of advice can you give to someone who's just had a baby?
There is no such thing as being a perfect mum. We are all good enough mums; our babies are fed, loved, clothed and provided for, and that is what they need to be able to thrive. Be careful not to put too much pressure on yourself to strive for that perfection.
Lisa-Marie Butler – Breathe in Pilates
Lisa-Marie is a Classical Comprehensive Pilates Instructor and Master Instructor for Peak Pilates®.
What is the benefit of Pilates for women who've had a baby?
There are many benefits to doing exercise after the birth of your baby. Pilates can help you restore a natural feeling of wellbeing, release tension and stress, increase your energy levels, create stronger abdominals in a manner that assists in postnatal recovery and helps your body with posture challenges after childbirth.
Why is the postnatal period a time when a woman might need particular support?
There are many physical, emotional and psychological changes that she goes through – from her body looking and feeling different, to mood changes as hormones drop, routine shifts and changes in relationships. Maybe she has to think about going back to work or is a single parent. It's one of life's most life-changing experiences. Women need to be listened to, feel supported and not be left feeling alone.
What piece of advice can you give to someone who's just had a baby?
Take a little time for you. It's important straight after childbirth that you have rest, to be able to recover. Once you've had this time, then you can start to think of exercises to help regain your energy and fitness levels.
Julie Bickerton – Nomad Therapy
Julie has been supporting women and their families from pregnancy through menopause for 15 years in and around Peterborough and Stamford.
Why might women need support during their postnatal period?
This is a time of great transition, both physically and mentally. With those changes, we can feel really vulnerable. This is why women need community, family and friends to help on a practical and emotional level. There's nothing like getting together with new mums who are going through the same thing. This camaraderie is vital for wellbeing. Also, the vast amount of information on the internet can be overwhelming and confusing. Many women do not have their immediate family around, so a support network is vital.
How do you help women in their postnatal period?
I offer classes and private sessions to help women with their healing immediately after their baby has been born, (whether a vaginal or caesarean birth), guiding them through simple breathwork, yoga-based movement, and the practicalities of surviving the early, blurry days of motherhood. My mum and baby yoga classes focus on strengthening the mother's body after having a baby. Baby Massage helps with bonding and Closing the Bones is a beautiful way of bringing a woman back to 'herself' after birth.
How do you support women's pelvic floor health?
It was my own personal experience (episiotomy, prolapse, incontinence, menopause) which prompted me to not only seek help but to continue my education in women's health. This is still an area of taboo, embarrassment and poor education. I love nothing more than a juicy, honest conversation about pelvic floor health and how breathwork and yoga can have significant improvements on a woman's body. I teach a 6-week pelvic health course (online). It's not just about Kegels!
What piece of advice can you give to someone who's just had a baby?
Drop your expectations of yourself. Let go of the 'shoulds', such as 'I should be doing this or that'. Parent from your heart, not from what others tell you. Finally, do not compare you or your baby to others. Comparison is the thief of joy.
Alison Duff – Calmababy
Calmababy's role is to help support, educate and nurture parents and children as they grow and develop.
How did you get into this area of support?
In the late '90s, I had a corporate banking job in London, while also sidelining as a massage therapist for private clients and athletes. I knew I needed a change from the city and wanted to create a career with a depth of purpose, meaning and kindness.
I decided to develop the massage and touch therapy side of my life more, and enrolled on an Infant Massage Course at Great Ormond St. During that week: I knew that working with postnatal mothers was where I wanted to be, and the idea for the Calmababy Centre was born.
What does Calmababy offer for postnatal mothers?
Firstly, we are a safe, welcoming space for mothers to gather, learn and meet new friends. We offer courses and drop-in sessions covering: infant feeding, sleep, crying, fussing and colic support. As well as baby massage, tummy time and child development, postnatal recovery and yoga, newborn flotation and baby swimming.
Why might new mums need particular support?
The postnatal period is a significant transition for a mother. It is an all-encompassing chapter of life involving emotional, psychological and physical transformations. The way you see yourself changes. Your body and hormones shift. Your relationships change, and society sees you differently. All this happens while you have responsibilities – a tiny human to care for – and everyone expects you to be happy and 'treasure every moment.' Appropriate support from the family, social circles, and broader community is vital for new mothers. They are raising the next generation and deserve support.
What piece of advice can you give to someone who's just had a baby?
Slow down and be gentle with yourself. You are doing the best you can, and that is good enough. Babies need to be seen, heard and understood. They are conscious little beings who effectively communicate their feelings, and we can always trust them.
In the early weeks with your new baby, keep their environment as womb-like as possible. Give them time to adjust slowly to the outside world and protect them from over-stimulation.
Esther Stubbs – Women's Health Physiotherapist
Esther is a specialist in Women's Health Physiotherapy and founder of the Pelvic Power Movement.
What is a women's health physiotherapist?
A women's health physiotherapist specialises in pelvic, vaginal, bladder, bowel and breast problems. We provide therapeutic care to these areas following injury or trauma, which could have occurred due to sporting injuries, trauma, pregnancy, childbirth or menopause. For example: pelvic girdle pain or incontinence, both before, during and after pregnancy.
What issues might you see in new mums?
Pregnancy and childbirth take a huge toll on the body. We often see pelvic floor trauma following childbirth, which can leave women with pelvic floor problems such as stress incontinence, which means urinating during activities such as running and jumping, coughing and sneezing. This can be very distressing for mothers. With little available education, women are left feeling this is normal and don't know that they can seek effective help for these problems. In fact, research shows that 75% of women can resolve their incontinence issues with a physiotherapy pelvic floor strengthening program. Other conditions we frequently see
are diastasis recti (abdominal separation), prolapse, lower back pain, pelvic pain, pelvic girdle pain, bladder and bowel incontinence, and sexual dysfunction.
How do you help women postnatally?
I offer a Mummy MOT, which is a specialist postnatal examination for women following both vaginal and C-section deliveries. It will assess how your posture, pelvic floor muscles and stomach muscles are recovering after childbirth. From this assessment, we can then design a program to help you return to the activities you love with strength and confidence.
For many women, talking to friends and family about their health issues can be embarrassing. The Pelvic Power Movement is a supportive community of more
than 5,000 like-minded women who are looking to resolve their postnatal issues and regain the confidence in their bodies that they deserve.
What piece of advice can you give to someone who's just had a baby?
Take time to heal and rest, don't try and rush back to everything you were achieving before.
Make sure you are eating a varied diet, drinking plenty and resting as much as possible. If you are at all concerned about your recovery, seek professional help.
Leave a Reply