The Perkins Great Eastern Run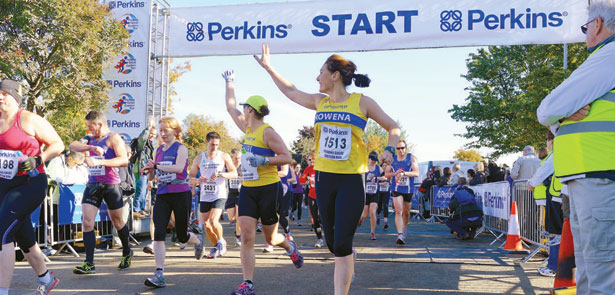 The Perkins Great Eastern Run, which starts and finishes on Peterborough's Embankment, is one of the fastest growing half marathons in the country. It's scheduled for 12 October 2014...
The 2013 race attracted record participants – and this in a year when several races reported a decrease in entry numbers or static takeup at best. Entries to the half marathon were up by 20 per cent from 2012 and the Anna's Hope Fun Run enjoyed a massive 85 per cent boost in sign ups.
For the first time this year, the fun run has Anna's Hope as its official charity. Anna's Hope is a local concern dedicated to the care of children suffering from brain tumours, and a long-time supporter of the event. Peterborough City council also recently announced Children in Need as the new charity partner of the half marathon.
The Peterborough-based company Perkins, which employs more than 2,500 people in the city, has been principal sponsor of the event every year since 2006.
'We're very proud to be associated with the Perkins Great Eastern Run; an event which is an integral part of the city's sporting calendar and which, through the fundraising that so many of the runners undertake, is making a real difference to local and national charities, including Anna's Hope – our own charity partner.'

Annette Ward, Communications Manager, Perkins Engines Company Limited
'It just makes me feel so proud of Peterborough and its community, because you see all ages and all cultures just enjoying it. What we did in 2012 was have the route go through our city centre, which is really unusual for a road race. Not many cities would take that bold step of closing their centres down. But it's really paid off because the commentary we got back from people running it was amazing.'

Annette Joyce, Race Director, Peterborough City Council
For more information on the Perkins Great Eastern Run – including how to take part or get involved as a volunteer – visit www.perkinsgreateasternrun.co.uk
Leave a Reply