Latest Celebrity Fitness Craze Moves the Nation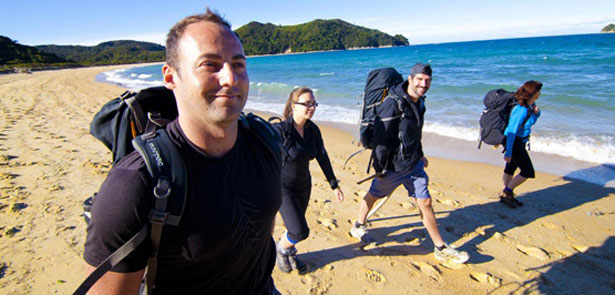 The likes of actress Katherine Heigl, adventurist Ben Fogle and maverick Madonna are trailblazing the latest fitness trend. It doesn't involve celebrity trainers, life coaches or fancy gym equipment. Walking is fast becoming the leisure activity of choice for those in the know
New research by Air New Zealand with YouGov, just out, shows it isn't just celebrities who are getting in on the action. They found more than a quarter (29%) of the adult UK population have been inspired to do more exercise and increase their fitness following the Olympic and Paralympic Games, with walking taking gold as the most popular exercise of choice. The new walking craze isn't all down to the after-glow of Team GB's gold medal glory – tight budgets could also have their role to play. A separate survey among Londoners revealed more than half (53%) walk because it's free!
Do you think you could keep up?
If you're up for the challenge or and fancy a fab trip, Air New Zealand has launched a global search to find Britain's greatest walker for the chance to tackle New Zealand's nine famous Great Walks in just nine weeks. To win a place on this wild adventure, entrants upload either a short YouTube video or a Pinterest board of inspiring images.
Air New Zealand's search for The Great Walker is being run in association with New Zealand's Department of Conservation (DOC) and will see four global winners take on New Zealand's premier DOC tracks; Abel Tasman Coast, Heaphy, Kepler, Lake Waikaremoana, Milford, Rakiura, Routeburn, Tongariro and Whanganui Journey.
The four Great Walkers will fly Air New Zealand to the southern most point of the country to and then make their way north conquering one track each week for nine weeks. Ambassadors will also enjoy other Kiwi outdoor experiences including local wildlife encounters and adventure activities such as mountain biking, canyoning and jet boating.
The group will be joined along the way by Air New Zealand and DOC staff and celebrity guests. Each winner will share their journey with the world via regular blog updates.
Air New Zealand Head of Community James Gibson describes the trip as a once in a lifetime experience.
New Zealand is internationally renowned for its stunning scenery and we're thrilled to be able to offer people the chance to come and see it for themselves. Whether someone is a nature lover, has a curiosity for the great outdoors or fancies themselves as the next Bear Grylls, we want to hear from them
DOC Director Commercial Business Unit Dave Wilks adds
We are looking for 'Great Walkers' with the total package – people with personality, creativity, a knack for blogging and story telling as well a passion for outdoor adventure
Entries for the Great Walker are now open at www.greatwalkernz.com until Monday 22 October, 2012. Entrants will then be shortlisted on the website and four winners chosen as judged by an official judging panel and by the public through the website. The Great Walkers will then travel to New Zealand in February 2013 to complete the epic Kiwi adventure of a lifetime.
For further competition details and to apply, visit www.greatwalkernz.com.
For information on DOC's nine Great Walks, visit www.greatwalks.co.nz.
Leave a Reply