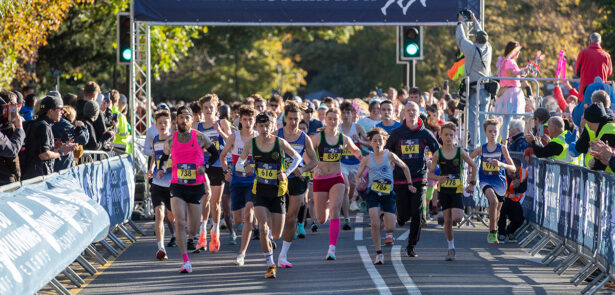 The Great Eastern run is one of the highlights of the sports and fitness calendar – not just in Peterborough, but across the region. We spoke to race director Aaron Murrell to find out more about what goes into keeping such an inspiring event 'running'...
There must be an extraordinary amount of work that goes into something like the Great Eastern Run! Can you tell us a bit about what it's like to pull it together?
Obviously there's a lot of work involved, from liaising with any businesses that might be impacted, to local residents. There's the host venue – The Embankment, we use parts of the Key Theatre, the Lido grounds… So yes, there's so much that goes into just the facilitation; that's before you get into the training sessions that we put on for everyone, ordering of t-shirts, medal suppliers, partners – it's a year-round task putting together an event like this.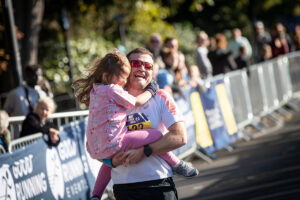 The run takes place in October – can you give us a bit of insight into what those few days before and during are like for everyone in the team?
We have our final training sessions – they finish the week beforehand. These are the free training sessions we organise for the runners, called Get Fit For Great Eastern. Once we've got past that, we have the final check-in meetings with all of our suppliers and partners, our sector leaders and managers. From then, it's answering any final runners' questions about where they need to go or need to park, for example, or if they haven't received their race pack. It's first thing in the morning to last thing at night, and those few days obviously have a lot going on. But it is fantastic, and all worth it once we see how much everyone has enjoyed it – they've got the medal and they've crossed the finish line!
How do you go about finding volunteers? Is this something people can get in touch with you now about getting involved with?
Race Day this year is 15 October, and yes – we're starting the call-out for volunteers! There are a few different ways for people to be involved, and those who do help out get a free race the following year, either at Great Eastern or there are other locations they can choose from. We're encouraging more businesses to get involved with us this year, through group sign-ups for the run itself or via volunteering. We definitely encourage anyone to sign up as early as possible.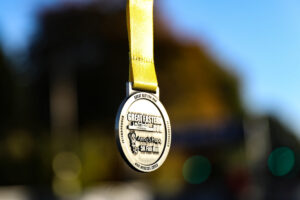 The free training sessions sound really interesting – I imagine this really helps extend the reach of the Run to everyone, by helping people prepare for it properly.
I went along to them for the first time last year, and they really are a fantastic initiative. They're a great way to get involved and to meet new people, and I would definitely say: don't be put off, don't be scared! We break down into different fitness groups, so whether you're just taking on couch-to-5k for the first time, or want to go beyond to the half- marathon, definitely come down to the sessions; by the time you get to the end of the sessions your fitness will be a lot higher. We provide a full training plan, and our training partner Cooper can provide more of a tailored, personalised training for exactly where you're at in your running journey.
It's a great thing to offer to people for free, it's such a fantastic opportunity.
Everyone who joins the sessions is really well supported. The sessions themselves start early July, and we're going to be releasing a lot more details on our socials, so stay tuned for exact dates and locations.
Tell me a bit more about your relationship with your charity partners, because that's a major aspect of the race, isn't it?
There are various charities we're now working with – they have places in the race and the idea is, if you've signed up with them, you fundraise a minimum amount for them and if you can exceed that amount, fantastic! When these kinds of events couldn't take place during Covid, all those charities lost access to a lot of fundraising; when I've had catch-ups with some of our partner charities, you're reminded what a critical element of fundraising things like the Great Eastern Run are.
Our headline charity partner is Thorpe Hall for Sue Ryder. The 5K fun run supports Anna's Hope who, along with everything else they do, run Brainbow – for children and young people with brain tumours. We're really pleased to announce a new charity partner this year as well, Mag Pas Air Ambulances, and there are a lot more charities locally that we're working with this year – Little Miracles, for their facility in Peterborough where they're helping disabled young people; and Nene Park Trust are another newly-announced charity partner this year.
We're actively looking to work with more charities as well this year – you don't have to sign up with one of our designated charities, either; you could support any cause that is close to your heart. Taking part in the Great Eastern Run for a charity is a fantastic way to keep yourself fo- cused, to make sure that you hold yourself accountable, get out, do your training, and get yourself fit for race day.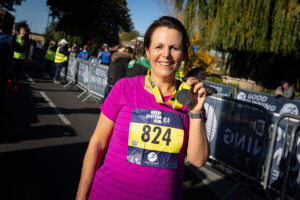 What do you think the public health impact is of the Great Eastern Run?
There's the running in general – a fantastic way of getting involved in running for the first time, or it might be that you're a seasoned runner. Obviously, running also has benefits for mental health as well, and then there's the added benefit of funds raised for health and wellbeing charities, too, which has a positive impact on the wider community in that way.
Get involved!
The Great Eastern Run needs YOU! And your friends. And your family, colleagues – in fact, anyone and everyone who's: looking for a challenge, loves to run, needs a fitness goal but also wants to be supported by health and fitness experts, looking for a perfect team bonding exercise, or keen to raise much- needed funds for a favourite charity!
Organisers are offering block-booking discounts for corporations interested in offering places to staff, and businesses can also support the Great Eastern Run by giving staff the opportunity to sign up for group volunteering.
Visit greateastern.run to find out the best way of getting involved for you, or for you and your group – you could be doing anything from breaking the finish-line ribbon to awarding the medals! Don't forget to follow the Great Eastern Run socials to see updates, announcements and more – @GreatEasternRun (Twitter), greateasternrun (Insta) and facebook.com/GreatEasternRun
If you can't make the Great Eastern Run, event organisers Good Running Events hold a whole host of other races around the country, including Run Sandringham and the Duxford Dash. Check out goodrunningevents.co.uk for more information, or follow them on Facebook, facebook.com/goodrunningevents
Leave a Reply