Yoga bared at Equilibrium Peterborough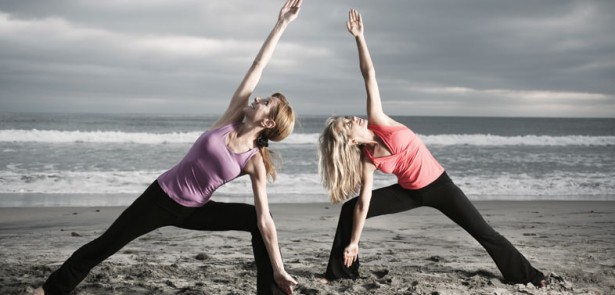 Think yoga is only for New Age individuals? Think again. A visit to Peterborough's only dedicated yoga centre will soon have you shedding those misconceptions, as David Castle found out
"Yoga is for everyone; don't knock it until you've tried it."
So says Sandra Heider, owner of The Equilibrium Yoga and Well-Being Centre, the only dedicated yoga centre in Peterborough. And she's absolutely right: unless you've taken part in one of her sessions, you really have no idea of the physical workout that yoga can deliver, not to mention the calming and stress-releasing influence it can have.
Sandra finds people often have pre conceptions about what yoga is. "A lot of people think yoga is either for middle-aged women or for men dressed in loin cloths on a pole," she says.
"People think it's New Age or a bit hippy-ish, and that there's not much physical activity involved. There is also a perception that it's not for men."
She believes the best way to dispel these preconceptions is for people to come to a class and actually try it out. "It's not just about lying on the floor and chilling out – it can be a very strong physical practice, although there are other styles of yoga that are more gentle. But it can help tone your body and help prevent injuries.
"It's like trying to explain how a pear tastes – unless you try it, you won't really know."
Roughly translated, the word 'yoga' refers to a union between mind, body and spirit. Individuals from all backgrounds and ages practise yoga and you're likely to encounter a huge cross-section of people by attending a class. Yoga is a physical and mental discipline so is actually well-suited to athletes who require psychological and physical discipline to help them achieve training goals. In addition, the low-impact nature of yoga can help reduce the possibility of injury while adding a welcome bit of variety to your training routine.

Because yoga is concerned with the body as a whole, it's particularly good for improving circulation; that in turn will maintain a consistent supply of blood to all areas of the body, helping to provide all those bones, joints and muscles with a lovely fresh dose of oxygen.
Sandra certainly finds that her customers don't all fall into one group. "We have a very mixed spread of ages and sexes – women from 20-70, and young men and older guys. People usually come with a specific goal – perhaps they want to be more flexible or they want to be stronger, or they might want to distress. First and foremost, they come for the physical benefits, but they also come for the emotional ones too, so they feel less stressed and more grounded."
Equilibrium Peterborough is a result of research not just undertaken in London, Edinburgh and Leeds, but also in New York and Berlin. "When I came to Peterborough, there was nothing like this," says Sandra. "Whatever yoga classes there were took place in school or village halls, that were cold and dirty – and where you tended to get kicked out by the caretaker. The idea was borne out of my experience of the centre atmosphere and having a dedicated space."
Equilibrium has three purpose built studios with underfloor heating, changing rooms and a chill out area. It provided yoga mats, blankets and other props. "And you won't be kicked out by a caretaker!," says Sandra. The centre specifically caters for beginners. "Although our open classes encompass all levels including complete beginners, we offer specific courses to enable people to get an experience of learning step-by-step."
And she was very confident that the venture would be a success. "I felt that there were a lot of people interested in yoga. I bought the building and refurbished it, and I just believed it would work. And so far I've been proved right."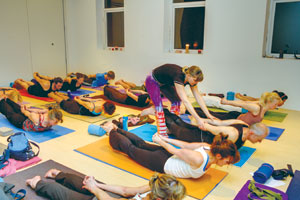 Sandra teaches Forrest and Jivamukti yoga: she describes Forrest yoga as "quite intense, and uses a lot of abdominal muscles. It works on the premise that whatever we experience physically and emotionally gets stored in the body". Jivamukti yoga originates from New York and is based on traditional methods but incorporates funky music and philosophy (see top right for more types of yoga).
Sandra is currently on the programme to mentor other people. "I have trained teachers on continuous education programmes, but there is no actual qualification to do that. It's really by invitation."
And what about the future? "I want to offer more classes and have more teachers," says Sandra. "I also want to open another centre in Huntingdon, and the teacher training will be a main focus for me. As I said before, with yoga, don't knock it until you've tried it."
For more details call 01733 370002,
email or visit www.equilibriumyoga.co.uk
Leave a Reply