Dedication is what you need | Shal Paper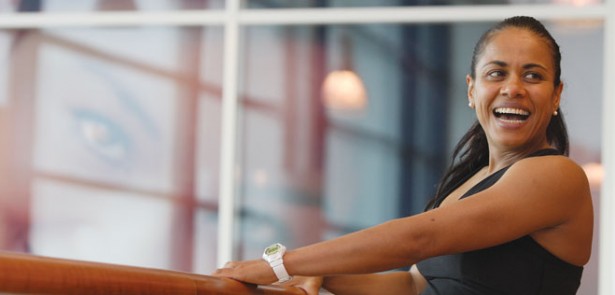 Shal Paper has dedicated her life to sport. Having moved from top-level gymnastics to the competitive world of professional body fitness, she's completed thousands of hours of training to mix it with the best. The Moment caught up with this super-fit woman to find out just what it takes to be one of the world's leading body fitness exponents
As someone who's been into competitive sport since the age of 10, I've met some pretty fit people in my time. But, when it comes to all-round body fitness, there can't be many people fitter than Shal Paper.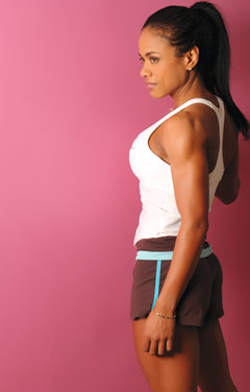 South African-born Shal is one of the world's leading exponents of the sport of body fitness. And let's clear one thing up straight away: this is not body building, it's about body sculpture, as well as strength, suppleness and gymnastic ability.
Put simply, body fitness is not a sport for lightweights or the faint-hearted. It requires years of training and dedication to make it the level at which Shal competes. Every week, Shal completes a variety of rigorous training sessions that would make many people's eyes water – everything from weight training to running, plyometrics to yoga. It's the kind of all-over training regime many of us dream of but few ever achieve.
This dedication has seen the former amateur British Body Fitness Champion take on the best in the world on the American professional circuit – or at least it did until she found out she was pregnant earlier this year. Now in her second trimester, Shal continues to train but has cut the intensity of her programme and has put the competitions on hold until 2012. So it was a perfect time for The Moment to catch up with her!
Shal hasn't always been into body fitness. She originally started as a gymnast, but, by the age of 16, she'd reached the end of her competitive life and was looking for another challenge. Having developed all the attributes of a top-class gymnast – poise, balance, flexibility, strength etc – she went into sports aerobics. "For this, you needed to sculpt your physique, but you also needed to perform a 60 second gymnastics routine," says Shal, who made a successful move to her new sport, winning the South African Championships.
She then moved to the UK, and, with no sports aerobics available, took up the then fledgling sport of body fitness, which again included body sculpting and a 60 second routine. Shal met with immediate success, placing highly in national competitions and was invited to compete in the European Body Fitness Championships. After that, she won the British Championships and then went on to the World Championships, where she finished fifth. More success followed with top five placings in European and World events, which qualified her to gain her 'pro card' and compete against other body fitness professionals in the United States.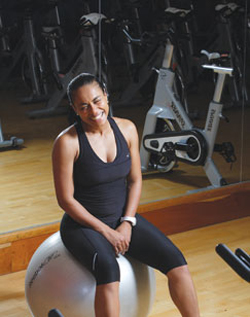 "For me, it's always been about continual improvement," says Shal, who has benefited in her professional career from sponsorship from Met-RX. "When you are competing, it's so expensive, so any sponsorship is welcomed. But for me it was always about the excitement of competition rather than any financial gains."
Shal used to train herself for the body fitness competitions. But she found that when she started to compete in the US, the requirements for the physique were different. "In the US, it's a much softer, more magazine look," she says, "so I started working with a coach in California. For the last two years, I've been improving my positions in competitions but it takes a while to get your name recognized, and it's made more difficult because we have to fly out from the UK to compete."
Typically, Shal will go the US and compete in two shows back-to-back. But she always keeps a firm eye on her fitness and body fat levels. "I set myself a three to four month preparation time, and I always make sure I look to continually improve my performance," she says. "When I got to America, it was so inspiring to see mums in their forties still competing and enjoying it. I find it so motivating to see people clearly loving what they're doing."
With the birth of her first child on the horizon and a milestone birthday (she might not look it, but Shal turns 40 later this year), Shal says her sporting goals are likely to change. "I always said I wanted to run a marathon, so I've set myself the challenge of completing four specific marathons in the next 10 years. I will give my body time to recover from the birth process and then get myself ready to compete in one of my pro shows, and then after that, I want to get into running. I can't do both – so I need to focus on each individually."
It's hardly surprising as training to compete at the top level in body fitness is a pretty rigorous affair. When she's on season, Shal will complete two sessions of aerobic work with one session of weight training, as well as yoga twice a week. When it comes to nutrition, it can be quite complicated. "In general, my lifestyle is quite healthy, but when I'm competing you can't eat things like nuts, too much dairy and obviously processed foods. People ask me 'how can you do that?' but as a gymnast you have to be very disciplined, so for me it's not as much as a challenge."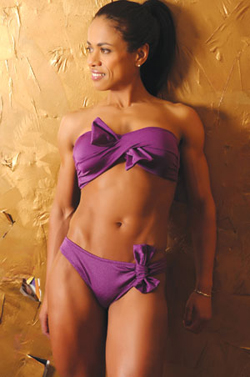 Her morning session will always be something aerobic, such as cycling or running on the treadmill, while the afternoon session might be plyometrics (lots of box jumping, ladder work and bounding to strengthen muscles) or short duration, high intensity speed work. It's tough, but, as Shal is only too aware, you have to work hard at any sport to get to the top.
And what about the future? "If I go back to body fitness, it would probably be in Masters (over 50) competition," says Shal, "but for the time being, I'm enjoying listening to my body and doing what I can. I'm still running every morning and doing my resistance training and yoga. The intensity is not that high, but I'm still doing everything except plyometrics."
Favourite session?
"I like training in general. But my favourite session has to be yoga, because this is time for me to reflect on my goals and balance my body, to enable me to get ready to go again."
And worst?
"When it gets close to a competition, my energy levels are generally quite low because we start cutting down on carbohydrates. So my evening weight session is really hard, because my energy levels are very low. I don't like training in the evening. Also, I'm not a big fan of lunges!"
Shal's top five training tips:
1. Yoga. "I do ashtanga yoga, which is great for my shoulders. Closer to competition, I'd do hatha yoga which is calmer and more about breathing techniques."
2. Weights resistance work
3. Aerobic activity like cycling and running
4. Balance work
5. Relaxation
Leave a Reply