BodyBALANCE | Bannatyne's Health Club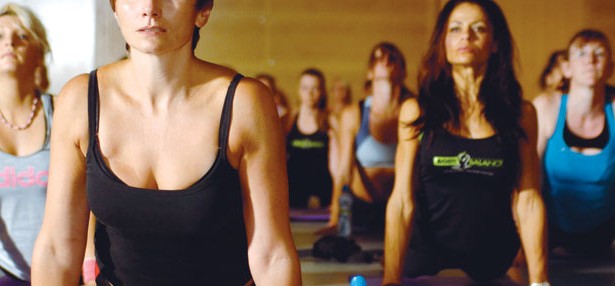 Build flexibility and strength, feel centered and calm
Bring your mind and body into a state of harmony and balance
What is it?
BodyBALANCE is a combined Yoga, Tai Chi, Pilates workout that builds flexibility and strength and leaves you feeling centered and calm. Controlled breathing, concentration and a carefully structured series of stretches, moves and poses to music create a holistic workout that brings the body and mind into a state of harmony and balance. Every three months, Les Mills releases a new BodyBALANCE class with fresh choreography and music.
Where can I do it?
There's a class finder online at www.fitpro.com/bts/classfinder Classes are available at 1,700 public and private gyms across the country.
What kit do I need?
Just comfortable, non-restrictive clothing, similar to what you might wear for the gym or yoga.
How much does it cost?
Prices vary depending on location. Many council run gyms offer classes for less than £5 and various block booking discounts are available. Others, such as Bannatyne Health Club, offer it free as part of gym membership.
Why is it good for runners?
BodyBALANCE is good for runners as it improves core strength and general flexibility. It helps prevent injuries, particularly the hips and lower back, and enables a runner to maintain a good running style for longer. It also helps cardiovascular function by performing controlled movements to a set breathing pattern.
What do users think?
"I started doing BodyBALANCE on the recommendation of a friend. I found it difficult at first as I was stiff from long runs, lack of stretching and some niggling injuries, but I improved rapidly and I can honestly say that my running also improved. I was able to maintain a more upright running style for longer, which is really important during marathons! I also felt I had more lift from my hips.
"I could feel my muscles loosen during the classes. No matter how much stretching you do in the gym, you will never do as much or do it as well as you do in a class like BodyBALANCE. I felt it released a lot of tension from my muscles and got rid of all those horrible pains from long runs.'
In association with Bannatyne's Health Club
www.bannatyne.co.uk
Leave a Reply