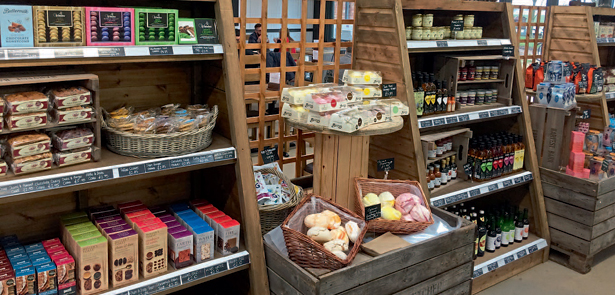 The season of mists and mellow fruitfulness brings a welcome flush of locally grown goodness to Harvest Barn Farm Shop
Autumn is well underway now, with the long days of summer replaced by misty mornings, crisper days and cosy nights by the fire. This is also the traditional time of plenty, with the harvest safely home and stored for the winter ahead. As the seasons change, so does the tasty fare on offer at Harvest Barn Farm Shop at Whitehall Farm, Farcet. The family-run farm shop only opened in January, though Stephen and Lynn Brigg have been farming here since 2007. They're first generation farmers with a passion for both local, quality food and wildlife.
The autumn and winter produce on offer includes a huge range of seasonal vegetables and fruit, grown at Harvest Barn or sourced as locally as possible. Tempting highlights include seasonal squash, beetroot, blackberries, apples from their own orchards, chard, kale and a lot more. There's new-season apple juice, freshly pressed from the orchards to try too. The deli counter is well stocked with seasonal goodies including handmade game and pork pies, a range of local and popular cheeses, a great mix of olives and antipasti, cured meats and bacon, including the brilliant Suffolk Salami and freshly made sausage rolls.
There's an autumn into winter menu in the Harvest Barn Coffee Shop too, with a new range of hot drinks including S'mores hot chocolate, a warming pumpkin spice latte, as well as plenty of freshly made milkshakes to choose from. Grab a bite to eat with delicious handmade cakes and traybakes, warming jacket potatoes and soups or a tasty sandwich, toastie or panini made fresh to order. With Christmas around the corner there's lots to get you into the festive spirit. Sample a tempting range of chocolate goodies, from truffles to chocolate liqueurs, or how about some wonderful mulled wine, flavoured gins or Christmas punch? In fact, Harvest Barn promises to be a one-stop shop for all your Christmas needs.
There'll be Christmas trees on sale, festive wreaths and hampers throughout the season, plus the chance to visit Santa's Grotto from Saturday 15 December. The farm shop's Muddy Boots Farmyard will also be open in good weather, so you can still pop over to see Paco the naughty goat (on his best behaviour for Christmas!) or to explore the new play area.
Harvest Barn Farm Shop, Whitehall Farm, Farcet, PE7 3DR. 01733 219888, www.harvestbarn.co.uk
Leave a Reply