Happy 1st birthday, Soul Happy!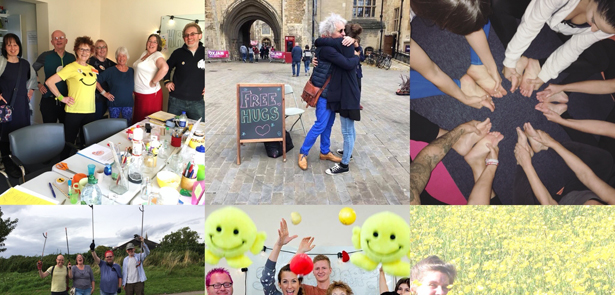 Founder Kim Coley reflects as the award-winning, ethical Peterborough business celebrates its first year
Soul Happy Wellbeing Centre has now been helping the city for a whole year! With what started as just a vision at the beginning of 2017, the tribe has grown with credible action taken taken towards sustainable wellbeing – ending in November with Soul Happy winning Best Small Business 2017 at the Small Business Awards! What a year its been.
What makes Soul Happy different, and how did it come to win Best Small Business so soon?
Our wellbeing centre is a non-profit organisation, so any surplus we make goes straight back into community projects to aid more people to be their best, and to help us create a large wellbeing movement within greater Peterborough. As 'sustainable wellbeing' only comes with a fully integrated approach to all the ups and downs of existence, the Soul Happy Tribe are a collective of people that are on a health and wellbeing mission with the aim of helping others towards true and sustainable wellbeing.
Corporate Social Responsibility (CSR) is such a huge factor for us. We believe giving back is part of who we are, and have created a 'Pay It Forward Tribe' that go out into the city a minimum of one day a month, giving back and carrying out random acts of kindness. These include helping the less fortunate, group litter picks around the city, and free public meditation events to enable people to come together for peace and wellbeing.
We like to make people feel welcome and informed. We offer our visitors a play with some essential oils that work for their senses and a free optional pH test. We also have salt lamps, optional grounding/earthing mats, and a lending library of books on wellbeing.
It's not just people that we care about; it's animals and the planet too. Every organisational step we take, we consider our impact and share best practice, so that we can take that best practice into being a smart business of the future. We are working towards a credible Environmental Management System and environment policies with our recycling, composting, upcycling, and reusing. We buy FCS Certified paper that comes from sustainable and well-managed forests. Even our toilet roll is FCS certified! We buy eco versions of cleaning products, toxic free and organic oils and creams for therapies, and are currently looking at our supply chain and all our core events to make them more low-carbon (veggie and vegan/plant-based). As an official supporter of Peterborough's ambition to be a Fairtrade City, we buy Fairtrade tea, coffee and sugar too.
We aren't afraid to lead by example in these areas. Helping our planet a lot more is essential to human survival – and we actually enjoy striving to work more in harmony with the planet and its people. It's awin-win for all and we enjoy making a difference too, though we can all do a lot more.
We have also been invited to work with businesses, organisations and community groups across the city, and have worked with some of Peterborough's largest employers, all the way through to small networking and voluntary groups, doing talks on the brain and emotions, confidence and self awareness talks, laughter sessions, meditations, massages and reiki tasters, pH tests and more.
And last but not least, in November of 2017 we were recognised for our efforts and won the 'Small Business of the Year' and 'Small Business Owner of the Year' at Peterborough Small Business Awards. We were originally nominated by the public as well as the public vote being 25% of the finalist voting system. For a business that was only 10 months old at the time, this is quite an achievement.
To contact us, you can email or call/text 07814 393099.
Soul Happy Wellbeing Centre, 18 Cowgate (Keebles Alleyway), Peterborough, PE1 1NA
---
A natural way to health with Medical Herbalism
Soul Happy has a another new therapist join its tribe: Helen Shardlow – Medical Herbalist. Helen reveals why Medical Herbalism is such a valued and credible therapy and how it can create better health and wellbeing

What is Herbalism?
Herbalism is the use of plants for creating therapeutic medicines for the treatment of health issues and to enhance well-being. It has been practiced for centuries and remains fully integrated into most health systems throughout the world. Plants are rich in vitamins, minerals and vital micronutrients and they nourish and restore the body's organs to allow them to function optimally, to stimulate the body's own innate healing abilities, to achieve internal balance, harmony and health.
Herbalism compared to Medical Herbalism – what is the difference?
Anybody can practice Herbalism, and most of us do use home herbal remedies for minor ailments, such as insect bites. However, for anything more serious, it is advisable to consult a Medical Herbalist. A qualified Medical Herbalist has studied orthodox medicine and is trained in the same diagnostic skills as a GP. Without the adequate medical training it is easy to misdiagnose or miss a diagnosis altogether. The approach of a Medical Herbalist is to treat the root cause of someone's ill-health and not just their symptoms. They have access to many more herbs than are generally available to the public, from reputable suppliers ensuring their potency and quality, and are able to prescribe herbal remedies to be used alongside other medication and can arrange laboratory diagnostic tests, such as allergy testing.
What does Herbal Medicine treat?
Herbal Medicine can help with all the typical conditions you may otherwise consult your GP for, and is suitable for people of any age, including children. It provides a caring and holistic approach to your health concerns.
Health Talks with Helen Shardlow – Medical Herbalist
Combating stress, fatigue and anxiety naturally
22 Jan, 7.30-8.30pm
Restore your inner well-being and vitality for a renewed you in 2018.
Menopause: breaking the taboo
26 Feb, 7.30-8.30pm
One of the least spoken about and misunderstood events in a women's life. Come along to this empowering talk and break your silent suffering.
Spring clean your body
19 Mar, 7.30-8.30pm
Detoxify the herbal way and bounce into Spring with renewed vigour. Helen Shardlow, will talk you through this time-honoured practice.
To join one of these educational workshops, or to book your consultation please register on Facebook @SoulHappyCentre, or contact Helen 07807 273525, or email  to arrange a consultation or session.  
Leave a Reply