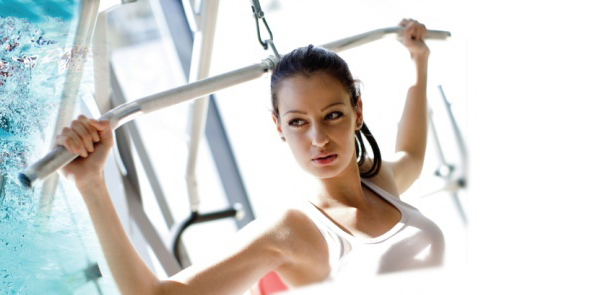 Les Mills® classes at Vivacity  You may have heard of the Les Mills® fitness classes, incorporating incredible choreography, structured classes and a fantastic music soundtrack. Vivacity now offers six amazing classes that can boost your fitness, up your energy levels and leave you brimming with positivity 
With our specially trained Les Mills® instructors and class duration of 30, 45 mins and 1 hour there's something to suit everyone. Here we introduce you to six great classes; BodyPump®, BodyStep®, BodyAttack®, BodyCombat®, BodyJam® and BodyBalance® and how they can help you get fit for the summer.
BodyAttack® – a sports inspired cardio workout
This high-intensity class builds strength and stamina with high-energy interval training combined with athletic aerobic movements and strength and stabilisation exercises. Dynamic instructors and powerful music will get you motivated. Over time you will start to see improvements in your speed, fitness, strength and agility with a great group dynamic that will keep you coming back for more! ■ Full body cardio workout to tone and shape your body ■ Raise your fitness and stamina for high energy sports ■ Improve coordination, agility, strength, core tone and bone health
BodyCombat® – a martial arts inspired cardio class
Go through a series of martial arts inspired moves where all you need is a towel, a water bottle and your inner warrior! You'll learn a series of fight combinations with a focus on speed, power and endurance. The class includes some strength training to condition and sculpt your body and then a final cool down with a good stretch session to relax your hard-worked muscles. ■ Gets you fighting fit and ripped whilst learning martial arts moves ■ Maximises calorie burn during and after your workout ■ Improves heart and lung function, bone density, co-ordination, agility, core strength and power
BodyJam® – enjoy the fun of dance
An addictive fusion of the latest dance styles and hottest new sounds with an emphasis on having fun while experiencing a great workout! Funky instructors teach you to move with attitude to the great music and choreography in this moderate intensity class. Each stage has a 'rehearsal phase' followed by a complete bust-out performance where you can go crazy with the moves you've just learned. Think dance school, loosen up and get ready to jam! ■ Bust some moves and feel the burn ■ Get fit while you burn calories whilst improving your timing and coordination ■ Get hooked on dance and feel the emotional high
BodyBalance® – to stay strong and centred
Enjoy a great mix of Yoga, Tai Chi and Pilates that builds flexibility and body strength and will leave you feeling mentally focused and calm. Controlled breathing, concentration and a carefully structured series of stretches, moves and poses give a holistic workout that brings the body into a state of harmony and balance. This low-intensity workout offers alternatives to every move so you can choose how hard you work and incorporates relaxation and meditation at the end of the class. ■ Improve your joint flexibility, range of movement and your core strength ■ Reduce your stress levels and enjoy a lasting sense of well-being and calm ■ Focus your mind and raise your level of consciousness
Bodypump® – a fast way to get in shape
The ultimate barbell class that will sculpt tone and strengthen your entire body, fast! This fun weights and resistance training class will have you going through a series of moves which incorporate the 'rep effect®' which focuses on low weight loads and high repetition movements to burn fat, gain strength and quickly produce a leaner body. You will get in shape fast as the movements challenge all of your major muscle groups while you squat, press, lift and curl. ■ Improves strength and fitness ■ Protect your bones and joints from injury ■ Shapes and tones body muscles, fast!
Bodystep® – a step-based cardio workout
Basic stepping is at the heart of this class with a full-body cardio workout that will tone your bottom and thighs. We combine basic stepping with moves like burpees, push-ups and weight plate exercises to work the upper body with variations on every move so you can have the option to increase the intensity. This class is led by friendly instructors with a fun chart-based soundtrack guaranteed to leave you feeling liberated and alive! ■ Burns a lot of calories for a leaner body ■ Improves strength, fitness and coordination ■ Improves bone health and increases heart and lung capacity
■ If you would like to try these great Les Mills® classes come along to Vivacity Premier Fitness, the Regional Fitness & Swimming Centre and Hampton Leisure Centre with all fitness classes FREE with a Vivacity gym membership or available as pay-as-you-go.
■ For more information call 01733 864 000 or visit www.vivacity-peterborough.com/classes. Members can book online at www.vivacitypeterborough.com/onlinebookings.
Leave a Reply