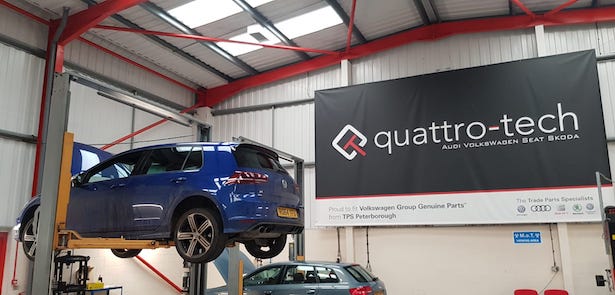 Despite lockdown, the government has not requested that repair garages close, considering them essential in ensuring that vehicles remain reliable and roadworthy. But what has changed – and what do you need to know before you visit? Justin Reason, Head of Operations at Quattro Tech, talks about how the business has adapted and the ways they are ensuring customer safety.
No one wanted to start 2021 in a similar way to 2020 finished, but the announcement of the latest national lockdown clearly impacts on everyone.
While it is not exactly 'business as usual', through all tier restrictions and lockdowns Quattro Tech has remained open as an essential business with safe working practices that protect all Quattro Tech people, staff and customers. Under the latest guidelines and all previous tiers, garages like Quattro Tech are essential in helping keep customer vehicles maintained, serviced and roadworthy, and both Quattro Tech sites in St Ives and Peterborough will remain open to continue to support customer requirements.
Both sites have had the measures below in place since March and will continue to do so until we are able to move beyond the current situation.
Face masks to be worn by all when visiting site
Multiple hand sanitiser stations for use by all onsite.
Rigorous cleaning / sanitising schedule, specific attention to customer touchpoints.
Observing social distancing measures.
Sneeze screens installed to customer-facing desks.
Customer drop off appointment times to reduce customer number on-site at one time.
Contactless process, keys dropped and only touched by either fresh gloves or a fresh cloth with disinfectant.
Keys cleaned on returned, pin pad cleaned before and after use.
Staff PPE, gloves (new gloves for each job), face masks (we will be using washable snoods replaced daily).
Car protection, touchpoints cleaned, interior treatment carried out.
Visits to be appointment only.
No waiting visits, no customer lifts or customer test drives with the team, unless essential.
Our aim has been to provide our team with a working environment that is as safe as we can make it. This then creates a safe customer environment. However, if anyone doesn't feel comfortable visiting QT please talk to the team regarding contactless collection and delivery, especially for all in the most vulnerable categories.
Unlike the first lockdown in March last year there are no plans for an MOT exemption period, so we will continue to send reminders to customers on our system.
Quattro Tech's hours of business currently remain the same and the QT team are keen to continue assisting customers with all VWG service, repairs, and MOT needs. That means you can continue to benefit from the advantageous cost position in comparison to main dealers (up to 60% cheaper), with genuine VWG parts, fully VWG trained technicians, and all warranty compliant.
Although the physical showroom is currently closed for customer visits, Quattro Tech Cars remains virtually open 24/7 through the website www.qtcars.co.uk and the cars are available for contactless 'click and collect'. This has been the situation since November, and customers have expressed complete confidence in the detailed images, video and descriptions supplied by Chris and the team, so sales have continued throughout. Our aim is to continue to make it an informative, safe and enjoyable experience.
In summary, QT remains fully open (with QTC open but in a slightly different way), all sites have been made as safe as possible since March last year and the same QT customer experience has continued to be delivered, safely and with minimum disruption, as many of our reviews since March reflect.
We all hope to see an end to the restrictions, but we understand why they have been put in place, and we all look forward to when we can see loved ones and spend time with friends again. Until then we will continue to take our responsibility seriously to keep all QT people as safe as we can while continuing to deliver the QT customer experience.
Keep a check on our website for news and updates to our service.
Quattro Tech – Peterborough
Audi, Volkswagen and Skoda specialists
56 Papyrus Road,
Peterborough
Cambridgeshire
PE4 5BH
01733 902 592
Leave a Reply