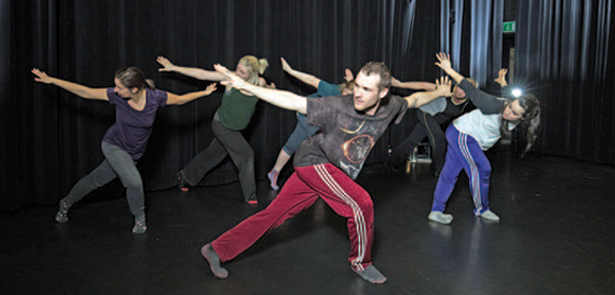 Whether as a means to express yourself or a way to improve your mobility, Vivacity's dance classes are brightening the lives of Peterborians. The Moment talks to Sheena Carmen about Vivacity's growing dance programme
Dancing frees the body and nourishes the soul. Our ability to enjoy music and move to its irresistible beat is what makes us human. It's good for us – and it makes us feel great! Vivacity holds dance workshops for two very different groups. A new programme of contemporary dance workshops offers dance enthusiasts the chance to hone their skills with some of the country's leading names in dance, while Parkinson's Dance offers those suffering with Parkinson's disease the opportunity to free up their body through gentle movement. The class goers may be different but the end result's the same: happy people, being themselves, and enjoying every moment of it.
Contemporary Dance
Contemporary dance has been part of city life for a few years, but it's only now that lovers of dance can enjoy it year round, as Sheena Carmen explains: 'Vivacity have been working on a contemporary dance programme as part of the Peterborough Arts Festival, now the Key Feste, for a few years, bringing dance companies such as Southpaw and TrashDollys to the city. We always wanted to embed that into Vivacity's yearround programme, and now we're doing it.'
The Contemporary Dance workshops are open to anyone over the age of 16 with an interest in dance. Go online for the full programme of workshops and dates. The classes are run by professional dancers from some of the country's best dance companies. Recent class leaders include Sam Amos of TrashDollys, dancers from Southpaw, and a dancer from Ely-based Base Dance. There are plans to link in with other dance schools in the region, including Dance 4 in Nottingham and Derby's Déda.
'There's been really strong uptake of the classes we've organised so far,' says Sheena. 'The feedback's been great and people want more of it, which is why we're making contemporary dance a regular programme at The Key theatre. It also means we can build up the audience for dance within the theatre itself.'
There are a lot of dance graduates and enthusiasts within the city and it's hoped that the new programme will give them the chance to develop their skills. The range of dance under the 'contemporary' umbrella is enormous – everything from ballet to breakdancing: 'It's a proper mixture! And that's the joy of it, there's something for everyone.'
A typical dance class consists of trying out different dance moves before putting a complete dance together. There's lots of sharing of ideas and some dance workshops will be run over two classes, giving attendees the opportunity to delve deeper into dance and really explore a particular style. Sheena has high hopes for the fledgling programme: 'As it evolves we expect to have regular dancers coming along. In time these dancers might be able to produce something for the festival themselves. And that's what Vivacity Arts is all about – skilling up people within the city. We have all these wonderful dancers here already, so we don't always need to be looking elsewhere. We just need to nurture the talent that already exists. And who knows, maybe we'll even set up our own Peterborough dance company so we can go out to other festivals.'
Parkinson's Dance
The Parkinson's Dance sessions are a somewhat more relaxed pace than the contemporary dance sessions. These classes are run by trained Parkinson's Dance teacher Hannah Clisset. The classes aim to help Parkinson's sufferers through gentle, controlled movement of the body. The benefits of dancing – action, movement, music and community – amount to a real sense of joy and an escape from the medicinal, as well as an entry into the imagination and the liberation which comes with it.
'There was a real need for classes like this,' explains Sheena. 'Vivacity is very keen to encourage movement for the benefit of health, and these classes perfectly fit the bill.' The classes have the support of the Parkinson's Society who confirmed a need for Parkinson's dance classes within the region. 'The classes have been incredibly successful. They are full every week, so we may look to start another session to cope with the demand,' adds Sheena.
Those attending can expect a series of exercises to free up the body in a no-pressure and definitely fun environment. There are chairs available for people wanting to sit down and no-one is forced to do anything they don't want to. 'It's a really friendly group, so there's that social benefit as well. I'd emphasise that anyone thinking about going should come along – you'll be very warmly welcomed.' The hour-long courses run on Wednesday mornings and are also open to family and friends of participants with Parkinson's.
WANT TO TAKE PART?
Contemporary Dance and Parkinson's Dance workshops take place at The Key Theatre and cost £4 for contemporary and £3 for Parkinson's sessions. ● The Key Theatre, Embankment Road, Peterborough PE1 1EF. To book call 01733 207239 ● For more information and dates visit www.vivacitypeterborough.com and look under the 'Arts & Heritage' tab.
Leave a Reply