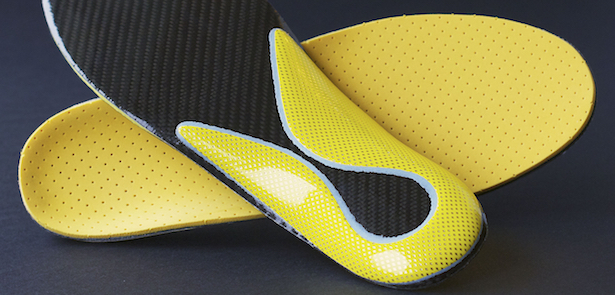 On an almost daily basis, Adrian Woolley – director of the Fane Clinic – sees patients suffering from foot pain, ankle pain, knee pain, hip pain, back pain and neck pain which can often be attributed to faulty foot and ankle posture. Often these issues can be remedied with orthotics – precision-made insoles designed specifically for the wearer – and now the Fane Clinic is taking things to the next level thanks to a new association with a forward-looking British company. The Moment talked to him.
Previously, as we've reported before, you were using a company based in Barcelona to supply your orthotics. Why the switch?
The Spanish company were good, but there has been uncertainty over Brexit and they kept telling me prices were going to go up, so rather than wait I took the bull by the horns and decided to look for a British company who could supply us. I found a company called Gaitworx and am now working hand-in-hand with them. For me it's all about trying to offer the best I can in terms of both product and service, and I didn't want an interruption in supply or a big jump in prices – and actually it's worked out better for me in terms of the new technology Gaitworx provide along with a better range of products. I really like working with the guys. They're very progressive in their approach, and I'm already their biggest customer in the UK.
So, what's new?
First of all, I have a new 3D CAD/CAM scanner – the only one of its kind in the UK. This is the piece of kit that produces an accurate model of the patient's foot, allowing the orthotic to be made to the patient's exact measurements, within 1/1000th of an inch tolerance. Gaitworx are also in the process of being able to offer an orthotic made out of kevlar – which because of its properties will really suit elite sportsmen and women. Working in tandem with Gaitworx we are in the process of designing specific orthotics for specific sports – golf, running, football, rugby and so on – and having a model for each of those, nailing down what's best for each sport in terms of the flexibility and strength ratio required. Watch this space for our launch! I am also pleased to say Stephanie one of our FHPs has recently qualified in Bio-mechanics and has started assisting me on that side of the business.
Orthotics aren't just for sportspeople of course; if you have a problem or pain that is effecting your everyday life what have you got to lose? We offer a free Bio-mechanical Assessment and a money back guarantee should they not work.
The Fane Clinic
The Old Farmhouse, Freston, Paston Ridings, Peterborough PE4 7XB.
01733 571555
www.thefaneclinic.co.uk
---
About Gaitworx
Gaitworx are a progressive Orthotic manufacturing company owned by Orthotists (HCPC) and Orthotic Technicians David Gardam and Shaun Riley. They specialise in the supply and manufacture of orthotics and accessories. They are a young company building a reputation for supplying premium quality products to the UK and International Markets. Their continuous product innovation and testing programme means their customers benefit from the most up-to-date manufacturing technologies available to their industry.
David has over 10 years of experience within the orthotic industry and has worked for private clinics and several orthotic manufacturing companies before founding Gaitworx in 2017 along with his Orthotist colleague Shaun Riley. David manages the business development side of Gaitworx and continues to work with professionals within various industries of the medical sector.
Shaun started his orthotic career in 2003 working as a technician for various medical companies throughout the UK and New Zealand. He then went on to study Prosthetics and Orthotics at the University of Strathclyde graduating in 2016 with a BSc (Hons). Alongside founding and managing the manufacturing side of Gaitworx, Shaun also works part time in a clinical environment as an Orthotist contracted within the NHS.
Leave a Reply