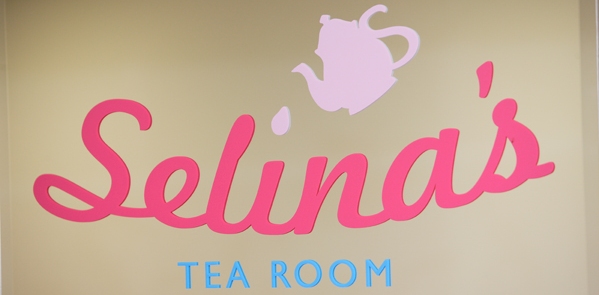 Everyone has a dream. Whether it's climbing Everest, becoming a concert pianist, or driving the full length of Route 66, we all have something we'd dearly love to do, though few of us are fortunate enough to realise our dreams
For Margaret Duff, that dream was running her own tea shop; a chance to be her own boss, to create a fun-filled environment to work in, and to have an outlet for the home baking she prides herself on. At 61 years of age, she has finally achieved her dream. It's called Selina's, after her late mother. And it's the realisation of a lifetime's ambition
Margaret Duff never had time to chase her dreams. She was too busy raising three children and holding down a series of part-time jobs in order to contribute to the household income. 'I worked part-time as a shop assistant at Dunelm Mill for about nine years and, before that, spent five years working part-time at Tescos' she says.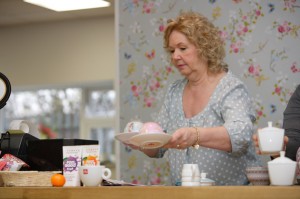 It's a familiar story; mums missing out on career opportunities to selflessly focus on providing for their young families as best they can. But even though Margaret's children are now all grown up, she has still put the well-being of others before her own personal needs in recent times. For the last five years, she has been a full-time carer for her mother. Sadly, her mother passed away in 2010 and, at 61, Margaret might have been forgiven for thinking that the window of opportunity in which to pursue her dream had finally closed and was not likely to be prised open again. But she would have been wrong.
It may have taken a little help from an extremely grateful daughter, but Margaret is now doing the very thing she has dreamed of doing for the last 40 years.
It goes back to when I was in my twenties' she explains. 'I always had this thing about having my own little cafe or maybe even a Bed and Breakfast. I used to always talk to my mother-in-law about it and she'd say "Do it, do it!" but I had three children and wasn't really in a position to do it.
But good things come to those who wait and Margaret's patience and selflessness have been rewarded in the best possible way: she's now the proud, and very happy, owner of her very own tea room and has discovered a new vitality and lust for life. 'I couldn't be sitting around in retirement with nothing to do' she says. 'I'm just not that kind of person. I don't know what I would have done if I didn't have the tea room to keep me busy – I've no idea what I would have done. Having the tea room gives me a reason to look forward to every new day.'
One of the main reasons Margaret longed to have a tea room or a B&B was to enable her to indulge one of her biggest passions – cooking.
I love to cook. I've cooked all my life – always cooked for all the family, just like my mum did. She always had lots of family around her and was always cooking something. I love baking too, so it's a nice challenge to cook and bake for other people, rather than just my family.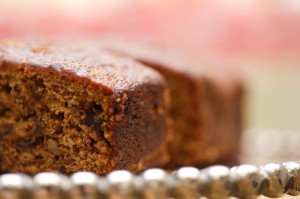 There are no shortage of bars, cafes, and restaurants that boast of home-cooked food, but too often it can simply mean that the meals are heated up on the premises. At Selina's, it's the real deal. And Margaret's cakes are proving to be so popular that she says the hardest part of her new job is producing enough of them to keep up with demand. 'I bake all the cakes myself' she says, 'apart from a couple of things that we buy in. So it's hard keeping up. I'll make a huge cake and look at it shortly afterwards and be amazed that it's nearly gone already.I bake them all on the premises and the recipes are just in my head – they're cakes that I've baked all my life so it really is home baking in the truest sense. There will be one or two where I've taken the recipes from books or magazines but most are the same as I've been baking since I was about 15.
There's a lot of my mum's influence in there too because she taught me how to bake in the first place. I excelled in baking even at school – I always loved it.Selina's tea room is the latest addition to the hugely successful Calm-a-Baby centre which was purpose-built built by Margaret's daughter, Alison, in October 2010. It offers a unique blend of swimming classes, baby massage, yoga, and pregnancy classes, which allow mothers to bond and spend quality time with their babies and toddlers in a calm, relaxing environment.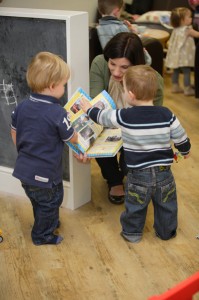 Alison has offered these services for the last 12 years but had hired out different venues until building her own in 2010. Alison thought it would be nice to offer the parents somewhere to go and be able to just chill out after they'd been at the classes so that's how the tea room came about' Margaret explains, though she's keen to point out that it's open to everyone, not just those using the Calm-a-Baby facilities.
Although being involved in the opening of a tea room was a completely new challenge for Margaret, there's been nothing in the process that phased her – not even the wearisome health and safety bureaucracy. 'I didn't really have to read up on anything prior to opening the tea room, it was more a case of just talking to people and finding out what they'd like to eat. Then I had to learn about all the health and safety and food hygiene stuff. It's not so simple to open a tea shop nowadays!'
But the rewards of realising her dream have easily justified all the hard work involved as Margaret admits.
The most rewarding part is making all the food and seeing all the mums and babies coming in and enjoying the cakes and hearing them say how lovely it is. A lot of them say they've never tasted such nice cakes! That would be the biggest reward for me – just the fact that everyone is relaxing and enjoying my food.
That food isn't just cakes. Selina's offers home-made pizzas, home-made soups, and a variety of freshly-made sandwiches. Margaret and her daughter are also putting the finishing touches to a special kids' menu. 'The fact that we hold a lot of kids' parties means we're going to have a kids' menu too' Margaret says. We've run pool parties since we opened so the kids would have a party in the pool and then there's a room upstairs so the parents would bring their own party food and the kids would eat up there. But now we're in a position to cater for the parties and supply all the food so we're working on a menu specifically for that – whether it's a pool party or just a normal party.'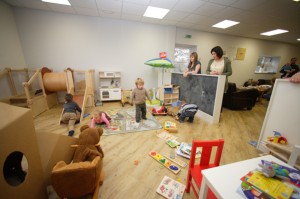 With Selina's being a tea room, tea is obviously very important too and there's plenty of varieties to choose from. 'People can have a strong builder's tea if they want but we also have all the posh teas too. We do nice loose-leaf teas, Darjeeling, Earl Grey, English Breakfast tea and even Chai tea but there's not really been any demand for herbal teas. No-one's asked for those yet. We do coffee too – the best Italian coffee – if you're not a tea person.'
And the secret to making the perfect cuppa? 'Well, it has to be loose leaf tea' Margaret insists. 'It makes a much nicer cuppa than a teabag – that's the main secret. Tea bags are often bleached so when you squeeze the bag to get the tea out, you can also get a nasty taste from the bag.'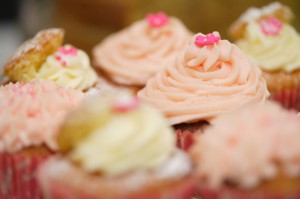 Margaret is understandably proud of the business that has allowed her to finally achieve what she's always wanted. And as much as she loves cooking and playing host, she's particularly proud of the atmosphere that has been created at Selina's. 'It's such a nice, friendly, relaxed atmosphere' she says. 'The food is great, the cakes are great, and it caters for families and children. One lady summed it up perfectly the other day. We have a little play area for the children but her child was running around all over the place and she said it's the only place she's ever been to where she's perfectly happy to let her child run around and not have to worry about it being frowned upon. Most places you go to with children you're constantly having to tell them to sit down and not run around and that can make it difficult to relax. Here they run around laughing and playing and having fun – just being children really.'
For Margaret Duff, life really is beginning at 60. 'It absolutely is' she says cheerfully, 'I've never worked so hard in my life! But I love it and I intend to be involved with the tea shop until I can no longer be involved – until I'm in my dotage!'
And the name of the tea room? It couldn't be more poignant. 'Selina was my mother's name' Margaret explains. 'She taught me how to cook all these wonderful cakes when I was just a little girl so, in a way, it's keeping her memory – and her recipes – alive.'
The Greatest Gift
When Alison Duff decided it was time to add a tea room to her successful Calm-a-Baby business, she knew there was only one woman for the job of running it. And she's thrilled to have been able to make her mother's dreams come true.
It's lovely to be able to see my mum achieving her dream because she's always been such an amazing cook – in fact, I'll go as far as to say that she makes the world's best cakes! She loves to entertain too so she's absolutely in her element with the tea room. Because of the sad loss of her mum, it's given her something to focus on and do – and it's something that she's always wanted to do. She spent so many years looking after us as children and making sure that we were okay that she didn't really have time to have a career of her own – she just did whatever little jobs she could to add to the household income. So now, later on in life, she's got the career she always wanted.
Visit www.calm-a-baby.com for further information.
Selina's Tea Room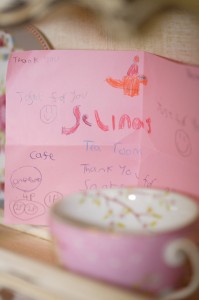 Unit 8
Botolph Bridge Estate
Oundle Road
Peterborough
PE2 9QP
Opening Hours:
Monday-Friday: 9-6pm
Saturday: 8.30-3pm
Sunday: 9-3.30pm
Tel: 01733 707808 Mobile: 07590 808040
Leave a Reply