How to make: warming porridge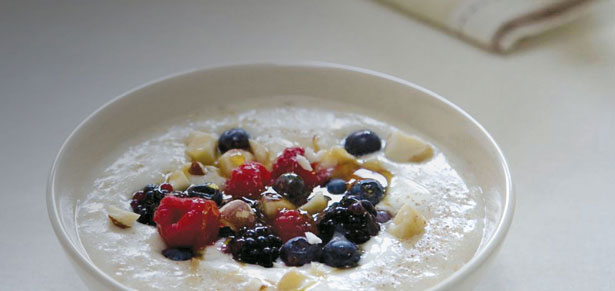 Oats are low GI, so will give you sustained energy throughout the morning. Topping with fresh fruit and chopped nuts gives an all-round nutritious breakfast.
Serves 2
Ingredients
100g rolled oats
500ml water
200ml soya milk
2 tbsp natural yoghurt
75g fresh berries (blueberries, blackberries, raspberries)
4 brazil nuts, roughly chopped
4 tsp manuka honey
pinch of ground cinnamon
Fresh berries are rich in antioxidants, which are needed to help support the immune system
Method
1. Place the oats, water and milk in a pan and slowly bring to the boil, stirring continuously.
2. Simmer, whilst stirring for 4-5 minutes, until thick and creamy.
3. Divide between 2 bowls and serve topped with a dollop of yoghurt, chopped Brazil nuts, a scattering of berries, a drizzle of honey and a pinch of ground cinnamon.
Leave a Reply