How to make: risotto with pears and pecorino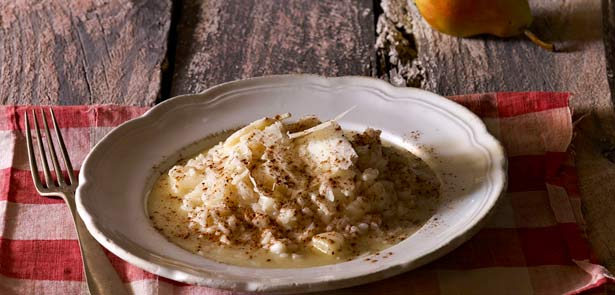 It may sound odd, but sweet, ripe fruit and a tasty cheese are a marriage made in heaven. Try it in the context of this creamy, sticky risotto and you'll see what we mean. A perfect early spring dish – not too heavy, but still with a touch of warming comfort, especially with the cinnamon to serve
Ingredients
4 tablespoons olive oil
1 bulb spring onion (scallion), chopped
320 g risotto rice (arborio or carnaroli)
125 ml white wine
2 lovely ripe pears
1.25 litres quick vegetable broth, hot
80 g fresh pecorino, chopped into cubes
40 g grated mature pecorino
80 g or so shaved mature pecorino
Ground cinnamon, to serve
Method
I use two types of pecorino here — a fresher one to turn through the risotto and melt a bit, and a good firmer mature one for grating in and shaving on top. You can use parmesan if you can't find a mature pecorino. I love this with a dusting of cinnamon, as I ate it in a restaurant — try it with and without to see which way you prefer.
Heat the olive oil in a large wide pot and sauté the spring onion until pale golden and softened. Add the rice and cook for a couple of minutes, stirring. Next, add the wine and let it sizzle and evaporate. Peel, core and chop 1 of the pears into cubes, then add to the pan.
Turn through to blend the flavours, then add about 500 ml (17 fl oz/2 cups) of the broth. When that has been absorbed, add another cup or so of broth. Depending on your broth you may need to add salt and pepper here. When this broth has been gently absorbed continue to add more, letting it simmer and absorb before adding the next cupful. The risotto is ready when the rice is creamy, yet still a little firm, and there is just a small amount of liquid in the pot, about 20 minutes. If you run out of broth, you can use hot water. Peel, core and chop up the second pear and add it to the risotto along with the fresh pecorino. Turn through to meld the flavours, then stir in the grated mature pecorino. Serve up immediately, dividing the shaved pecorino over the top, then adding a dusting of cinnamon for whoever wants it and a generous grind of black pepper over each.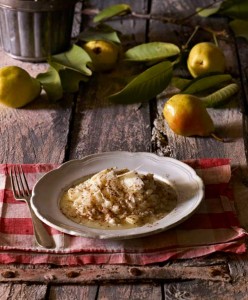 Leave a Reply