How to make: creamy pasta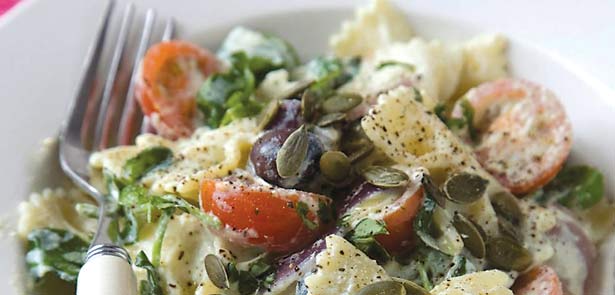 If you love all things creamy, it may seem harder without using dairy, but it certainly is not impossible!
SERVES 4

Ingredients
225g Fusilli pasta
100g Tofu
3 tbsp Soya or Oat Milk
Small handful Basil Leaves
Seasoning
1 tbsp Olive Oil
1 Red Onion, peeled and chopped
1 Garlic Clove, peeled and sliced
100g Cherry Tomatoes, halved
8-10 Olives
30g Watercress
Pumpkin Seeds to serve
Method
Cook the pasta in a pan of boiling water for 8-9 minutes, until al dente.
Meanwhile, in a small blender, blend together the tofu, milk, basil leaves and seasoning.
Heat the oil in a frying pan and sauté the onion and garlic for 3-4 minutes. Add the tomatoes, olive and watercress and cook until the watercress is wilted.
Pour in the creamy tofu mixture and cook for 1 minute.
Drain the pasta, reserving 3-4 tbsp of the cooking liquid. Add the pasta and cooking liquid to the frying pan and toss together.
Serve in warmed bowls, sprinkled with pumpkin seeds.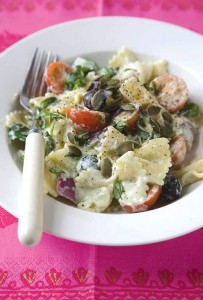 Leave a Reply