The First Rule of Clandestine Cake Club…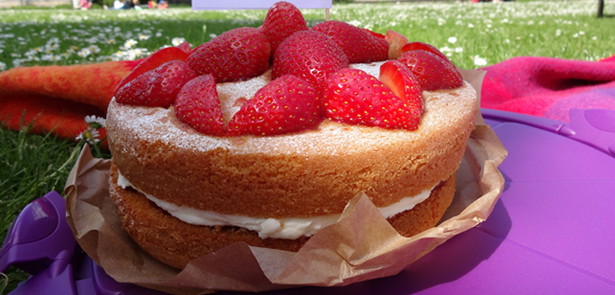 … is that you DO talk about Clandestine Cake Club. In fact, talking, socialising and making new friends is a very important part of this internationally successful baking club, which was started just three years ago in Leeds and has now spread like a scrummy jam filling around the country – and beyond. The Moment Magazine online spoke to Stamford club organiser Sophie Douglas to find out more…
Q: So, tell us more about the Clandestine Cake Club!
A: It all started for me when I was researching cake recipes, as I love to bake, and I stumbled upon the main website. I kept up-to-date with what was happening on the website for a couple of months and thought 'I could run a group, that would be good fun'. I used to live and work in Stamford, and I based my Clandestine Cake Club there as I thought that in terms of venues it would be a great place to find beautiful and interesting places to meet. Our first meeting had 12 people attending, and now I've got 45 people registered.
Q: Wow, that's a big cake club!
A: Luckily not everyone attends every meeting, as that would require pretty big venues all the time! It's once a month and so far we haven't had to pay for the venues, so meeting is effectively free. If you offer to fill a venue during a quiet period it means it's getting used when it might otherwise be standing empty, plus you're not getting in the way during busier times. Monday or Tuesday evenings are the best times, we've found.
Q: If people have other commitments, can the club fit round them?
A: Meetings are flexible, which is useful – we held a meeting in a church in Stamford, for example, and the best day for them was a Sunday – and this approach also helps members, most of whom have children or work full-time; there should always be a session they can attend. It ensures a good mix of members each month, and most months there are at least two or three people who are new to the group.
The Clandestine Cake Club has become rather famous: we've been featured in some Sunday supplements, and been on the One Show quite a few times!
Q: What level of skill do members need?
A: Each month we bake to a theme – the meeting in the church was Saints and Sinners! – and members interpret the theme however they like. In that instance we had angel cake, a chocolate and chilli cake, a cake decorated with devil's horns! It provides a challenge and members tell me they enjoy the research into what they bake. But if you're feeling you'd rather play it safe, that's fine: one new member last month simply made a Victoria sponge, which was lovely. As long as you bring a cake, that's the main thing. I think the success of the Great British Bake Off has brought baking back into the limelight, and I'm sure it does have something to do with the success of the group, but there's no judging within the club, it's not about that.
Q: What sort of people join the Clandestine Cake Club?
A: It's really diverse: it's not just women – we have five men! – and the ages range from 25 to a lady who is somewhere in her 70s. There are a huge number of backgrounds, too: we've got journalists, teachers, people who work in manufacturing, designers, a motorbike expert! The thing everyone's got in common is they wanted a group that enabled them to make new friends, to be sociable – and to indulge in their pastime of making cakes! The one rule is that you must make a whole cake, no muffins or cupcakes, and the reason is that when you have large cake, part of the enjoyment comes from sharing that cake with a friend. If you have a plate of cupcakes everyone just helps themselves, there's no ritual or interaction, but it's those things that are a really important part of it and what brings it all together.
Being part of the cake club means you've always got someone to share your cake with, you won't be sat at home trying to eat the whole thing yourself!
Q: Does all the cake get eaten up each session?
A: One thing we do warn new members, who are coming along to their first meeting, is: don't try and eat all of the cake! We slice up some of each cake, quite small slices, about an inch square, and the best thing is just to try slices from a few cakes. If you try and eat a whole slice of every cake you'll feel sick and never want to see cake ever again! Plus you just won't remember which cake you liked the best. But the cake isn't wasted, we have what we call 'the cake shop', where we mix and match and take bits home of other people's cakes. You can then get to try all of them, but not in one evening.
Q: What would you say to someone who's trying to decide whether or not to join?
A: It's the best social club going, I've made some very close friends through the Clandestine Cake Club, plus you get to challenge yourself each month with how good your baking can be. It's good cake and good conversation. What's not to love?
Visit Sophie's Stamford Clandestine Cake Club here or visit https://clandestinecakeclub.co.uk to find out how to set up a group of your own.
Leave a Reply