How to make: sweet French toast topped with plum compote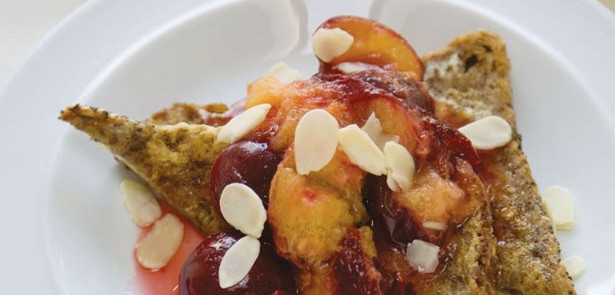 Use your favourite fruits and spices to make a warming compote. If you don't have bread serve the compote with natural yoghurt.
Serves 4
Ingredients
675g plums, halved and stoned
juice and grated rind of 1 orange
2 tsp honey
2 eggs
1 tbsp caster sugar
25g unsalted butter
4 slices wholemeal or granary bread
2 tbsp flaked almonds
Use seasonal fruits to make a wonderful warming compote
Method
1. Place the plums, juice and rind of the orange and the honey in a medium pan and slowly bring to a simmer. Cook for 10-12 minutes, until the fruit has softened and the juices are released.
2. Meanwhile, whisk together the eggs and sugar then place them into a shallow bowl.
3. Melt the butter in a large frying pan.
4. Lay a slice of bread in the sweetened egg for just a few seconds, then turn it over to enable it to soak up the egg on both sides then place it in the pan to cook for 4-5 minutes on either nside, until golden.
5. Repeat with the remaining slices of bread then place them onto warmed plates, spoon over the plum compote and top with a sprinkling of flaked almonds.
Leave a Reply