How to make: scrambled eggs with smoked mackerel and devilled tomatoes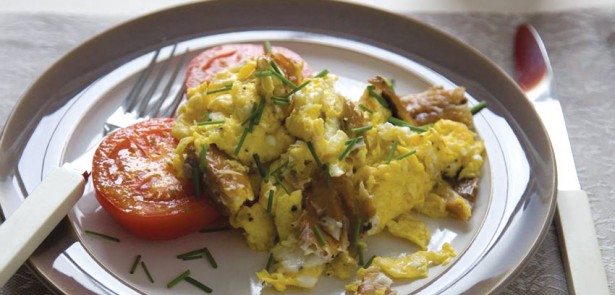 This weekend you DEFINITELY deserve a luxurious, lazy breakfast packed full of tasty, nutritious ingredients
Serves 2
Ingredients
1 tbsp olive oil
¼ tsp curry powder
2 medium sized tomatoes, cut in half
2 smoked mackerel fillets
15g butter
5 eggs, lightly beaten
freshly milled black pepper
freshly chopped chives to serve
Smoked salmon or other smoked fish works perfectly well in this great breakfast
Method
1. Stir together the olive oil and curry powder, then brush the tops of the tomatoes with the spicy oil.
2. Place the tomatoes and smoked mackerel under a preheated grill for 6-8 minutes.
3. Meanwhile, melt the butter in a small pan then add the beaten eggs and black pepper, stirring gently until the eggs are nearly cooked.
4. Remove the tomatoes and mackerel from the grill. Flake the mackerel into large chunks and stir into the scrambled eggs.
5. Serve the scrambled eggs with the devilled tomatoes, sprinkled with freshly chopped chives.
Leave a Reply