How to make: rosemary focaccia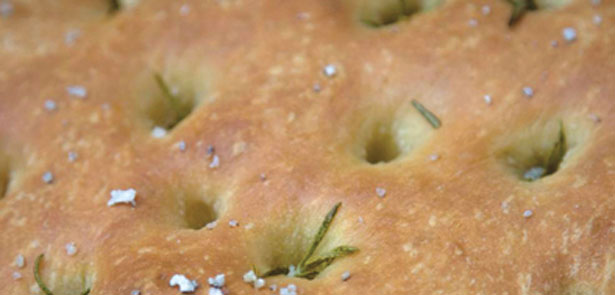 Makes one large loaf
Ingredients
500 g strong white bread flour
1 x 7g sachet dried yeast
1 ½ tsp sea salt
100 ml extra virgin olive oil
few sprigs rosemary
Method
Place the flour, yeast and ½ tsp salt in a large bowl and make a well in the centre.
Pour in 300ml warm water and 50 ml of the olive oil and mix to a dough.
Turn out onto a floured work surface and knead for 10 minutes, until smooth and elastic.
Return the dough to a greased bowl, cover with a damp cloth and leave to rise in a warm place until doubled in size (approx 1 hour).
Knock back the dough and either roll or press into shape to fit a roasting tin. Leave to rise for another 20-25 minutes. Preheat the oven to 200°C (400°F) Gas mark 6.
Make dimples in the dough using your fingertips. Press small sprigs of rosemary into the dimples, drizzle over the remaining olive oil and sprinkle over the remaining salt.
Bake for 25-30 minutes, until golden.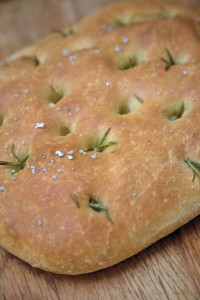 Leave a Reply