How to make: pane di Genzano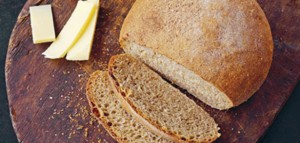 This is sensational bread. It originates from Genzano, a little town outside of Rome, and is made extra special because of the dusting of bran that surrounds the bread. It also wobbles like a jelly before it is baked and that is rather fun too. Crispy on the outside and soft on the inside, this is great either fresh or toasted.
Ingredients
400 g strong white (bread) flour
100 g strong wholemeal (bread) flour
2.5 g  instant yeast
5 g dry yeast, or 10 g fresh yeast
380g water
10g salt
bran, for dusting (either buy bran or simply sift some wholemeal flour and use the bran that collects in the sieve).
23-cm pie dish, greased and dusted with bran
Method
If you are using instant or fresh yeast, put all the ingredients in a big bowl and mix them together. Tip out onto the counter and knead well for 10 minutes. It will be liquid and sticky but persevere and do not add more flour. A scraper helps – push with your hands and scrape back with the scraper.
If you are using dry yeast, put the flour in a big bowl and make a well. Sprinkle the dry yeast in the well and add 100 g of the water. Cover and allow to rest for 15 minutes. You may or may not get a beige sludge on the top of the water, but don't worry – what is important is to dissolve the yeast. Add the rest of the ingredients and mix. Tip out onto the counter and knead well for 10 minutes.
Pop the kneaded dough back into the bowl and cover with a tea towel, shower hat or plastic bag. Allow to rest for 2 hours.
Lightly flour a board, your hands, and a dough scraper. Scrape the dough out onto the board. Shape the dough loosely into a round and pop it into the prepared pie dish/plate. Sprinkle the dough with bran. Cover and allow to rest for 1–2 hours until doubled in size. It will be wobbly when you jiggle it. Preheat the oven to 230˚C (450˚F) Gas 8.
Put the bread in the preheated oven and immediately lower the temperature to 200˚C (400˚F) Gas 6. Bake for 35 minutes. To check whether it is done, tap the bottom of the loaf. If it sounds hollow, it is done. If not, pop it back for another 5 minutes or so, until it does. Remove from the oven and transfer to a wire rack.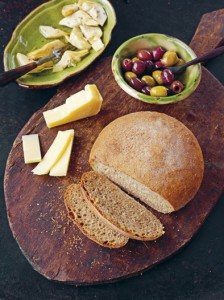 Leave a Reply