No Trouble at Mill | Oundle Mill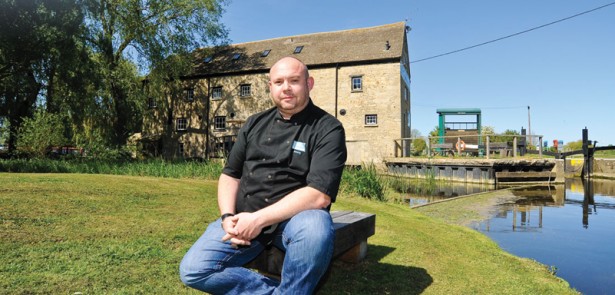 After only three years of opening, the award winning Oundle Mill has become synonymous with fabulous cuisine. We talk to the restaurant's Head Chef about his passion for food and the main ingredients for its success
Passion – we all have it.
Whether it's for a football team or a hobby everyone gets excited about something. Spend five minutes in Jeremy Medley's (Head Chef at one of the area's most exciting new restaurants) company and his are soon obvious. Food and the restaurant at Oundle Mill.
'I still get excited when I drive to work every morning and see this place' Medley told us when The Moment paid him a visit in his kitchen. 'Even in the rain it looks brilliant.'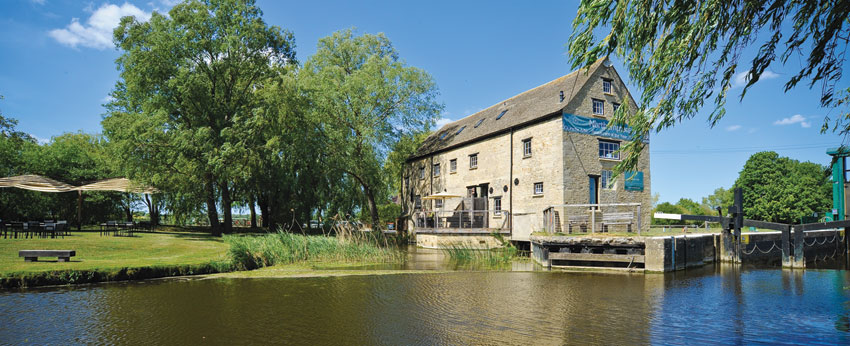 But this passion is understandable. Situated a mile outside the Northamptonshire town of Oundle and sat on the bank of the River Nene, the sandstone mill is a beautiful, imposing structure that rises out of the lush countryside. Although it's just over the Northamptonshire border, the Mill is only a short drive away for those in Peterborough and Stamford who want to sample its delights. According to the current owner and restaurant's Marketing Manager – Sarah Harrod – history is scarce. 'There was a mill here in the doomsday book' she told us 'but very little is known about this actual building.'
When Sarah and her husband Mark acquired the Mill in 2006 it had fallen into some disrepair and needed a great deal of work and investment. But the potential was obvious and so over two years they completely renovated it and turned the Mill into a small boutique hotel with an exceptional restaurant. The result is a sympathetic restoration. They've cleverly fused the original features – wooden beams and stone walls – with the new ones, including a huge staircase and the kitchen's glass wall. The stylish Italian furniture gives it a contemporary feel whilst remaining comfortable and welcoming. The first floor restaurant is simple and rustic with a soft seating area and polished concrete bar while the one upstairs is more elegant and perfect for special occasion dining.
Jeremy was employed even before the building work was finished, giving him the rare opportunity to design his own kitchen. It was his idea to have the glass wall between the kitchen and the upstairs dining area. 'This makes the intimacy between the kitchen and the diners more obvious than just the occasional glimpse through a swing door. And not just for the guests either as it gives my guys a chance to see the impact their food is having.'
It's this eye for detail that's been a driving force in the young establishment's success and yet his love of cooking is personal and began at an early age.
'I used to cook with my Grandmother when I was small' he told us 'and around the age of nine after baking some fairy cakes I announced to her and to my Mother that cooking was the game for me.' He was as good as his word and at 17 went to France on a scholarship to finish his education at a couple of three-star Michelin restaurants. 'After that I moved to London and worked in five-star hotels. I then got into country houses and at 25 became Head Chef at a top hotel in Leamington Spa (Mallory Court) and it's gone from there.'
So why Oundle Mill?
'I've always picked projects and restaurants that have suited my ethos – good honest nosh with a touch of alchemy. You can't reinvent the wheel. All we can do is brushstroke our own art onto the plate.'

Look down Jeremy's simple yet appetising menu and you soon understand what he means. They're all recognisable dishes but with a couple of twists. 'I want people to be surprised. I want them to be entertained.' His chicken, leek and bacon pie is a good example. Open topped and exquisitely presented, it's not what you'd make yourself. But that's the point.
'People can eat at home' he explains. 'They come here for something a bit different, for an experience.'
So what inspires Jeremy? 'I come from the Black Country and a working class background' he tells us 'and that's still core to everything I do. I like simple food such as pie and mash.'
Then on the opposite side of the scale, Scandinavia plays a part in his cooking. 'My wife is from there and I've been visiting for 20 years and it is a massive influence on me. How we use purees and raw vegetables.'
And there's the countryside in which the restaurant is based. 'We are really blessed with where we're located since we have some really good growing and produce counties around us.'
Being in the middle of so much farmland, it's important to him that the kitchen uses locally sourced ingredients. 'We want them to be in their prime' says Jeremy. 'One for sustainability and two because they're the best you can buy. So we use a local butcher – Seven Wells of Oundle – and most of our veg comes from East Anglia. A couple of local growers then provide more diverse salads and cresses.'
Recognition of Jeremy and his team's hard work came when Oundle Mill won Northamptonshire's 2010 Restaurant of the Year Award. 'Offering a variety of dining options in stylish and sophisticated surroundings' said the panel about the restaurant. Three unannounced "mystery shoppers" formed part of the judging process. 'We didn't know who they were or when they were coming so they saw a real snapshot of what we deliver day in, day out.' The restaurant was also assessed on how local and sustainable it is in its own county. The award panel again; 'Great ingredients are ethically sourced, locally where possible and blended with classic techniques and modern technology'. So how did Jeremy feel about his triumph? 'After coming runner up in 2009 it felt good to win. It was only our second year of opening.'

One of the many aspects that impressed the award panel was the restaurant's affordable pricing. 'Sublime value for money' it said at the time. And sure enough despite the premium surroundings, none of the menu's prices look scary and £16.50 for the aforementioned chicken, leek and bacon pie is good value.
What's more, on Mondays in June and July, Oundle Mill will be offering 50% off food at lunch or dinner.
Despite the restaurant's success, Mark and Sarah aren't resting on their laurels and have some big plans for the Mill, including a new building that will have 13 additional guest rooms to complement the two in the main building itself. And when that happens, Jeremy will push the fine dining side more. 'When we get the rooms onboard we'll get the chance to do pure fine dining upstairs and then the downstairs restaurant can be a more simplified, casual menu.'
It's clear that Jeremy could produce some amazing food in even the most humble of settings. But by being based in this incredible building it is encouraging his passion for food further and inspiring him to greater heights than that nine-year boy in the Black Country could ever have imagined.
Oundle Mill
Barnwell Road, Oundle, Northamptonshire, PE8 5PB
01832 272621

www.oundlemill.co.uk
Leave a Reply