Find the best food – literally!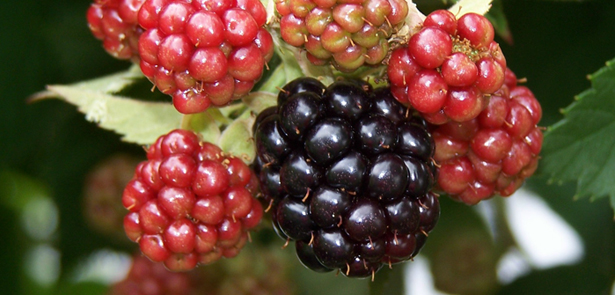 We had a cold winter, a wet spring, then a glorious hot summer. The result? The trees and hedgerows are groaning with the most abundant harvest for years – and you can pick it and enjoy it for free! The Moment magazine online chatted to ace forager Ben Middleton, of local environmental/community charity Greeniversity, and asked for his top tips for the best foraging in Peterborough – and beyond.
What's the best thing about foraging your own wild ingredients?
You can get fruit, especially at this time of year, which you can't find in the shops: cherry plums, mulberries, medlar, sloes. I've mapped many apple trees that are around the city – if you pick from those you can save a lot of money and this is another great benefit.
And of course, they'll be so fresh!
Absolutely. If you buy apples from a supermarket you might be eating fruit that's been stored for anything up to a year. You'll also have many more varieties to choose from if you forage, types that aren't available in the shops. Foraging these days is even more rewarding as we have freezers: you can go out and pick a load of stuff, then freeze it for use throughout the year.
What's the best way to identify stuff that's edible – and stuff that isn't?
The first rule of foraging is: if you don't know what it is, don't eat it! The best way to start is to go on a foraging course, and organisations such as Nene Park Trust do foraging walks, as does the charity I work for, through Greeniversity. There's also a group called Peterborough in Transition, and they have run foraging bike rides. Course leaders tend to pick out the food that's easiest to spot, things such as elderberries and cherry plums that once you've seen them, you'll always recognise them and won't mistake them for anything else. There are also some great books about foraging which will help you identify what to pick: perhaps the best-known is one called Food For Free by Richard Mabey, it's the forager's bible. It's available in a pocket edition so you can take it round with you, and I would definitely recommend it as it's been a staple for about 30 years now.
What are we allowed to pick by law?
The law is that if it's overhanging a public highway, if it's in a public-facing hedgerow, anything like that, it's fine for you to pick it. It becomes a problem if you reach over into someone's garden or go into someone's field or orchard. But it's no problem if you're rambling around in the wild, and something like the sloe grows absolutely everywhere.
Do you need any special equipment?
At this time of year, I forage on the hoof as there is so much that's available, I never know what I'm going to find. I always have a stash of freezer bags in my pocket, and gloves are quite good to have on you as, for example, sloe hedges can be spiky, as can cherry plum trees. Fruit can then go into the freezer and, as long as it's fresh fruit, it will store for as long as any fresh frozen fruit you'd buy in the shops.
What's good to forage now?
Elderberries, apples, blackberries, cherry plums, sloes, rosehips, cherries, and chestnuts are in abundance. Buy a foraging book to get the most from each season.
Ben has created a wild forager's map of Peterborough to help foragers both new and established. Visit it at https://peterboroughintransition.org.uk/?page_id=62
And visit the global version at fallingfruit.org
Get foraging! Visit…
peterboroughintransition.org.uk
www.neneparktrust.org.uk
www.greeniversity.org.uk
Leave a Reply