Eating out this Christmas | Dog in a Doublet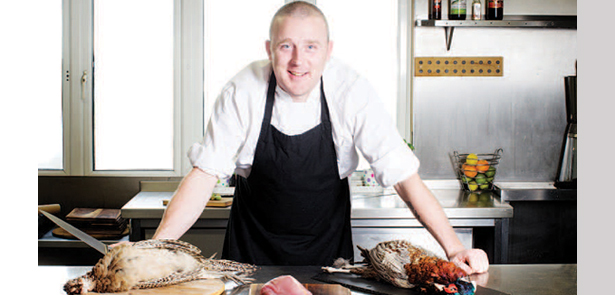 Tuck into The Moment magazine's guide to the best restaurants and eateries in Peterborough this season, this time featuring Dog in a Doublet, Thorney
We talked to: John McGinn, owner and head chef
What style(s) of food do you offer?
The underlying trend of our food is British pub food. However, we pride ourselves on surpassing peoples expectations. For example, the sausage and mash consists of a selection of sausages that is constantly changing. At the moment it is one of our own, from our rare breed stock in the petting zoo (sorry kids), a smoked Rutland from Grasmere farms and a Toulouse style garlic sausage, served on bonfire mash (baked on coals in their skins before mashing with farmhouse butter and seasalt) with a madeira chicken jus, balsamic red onion marmalade (from our deli counter) and spring onion peas. Phew! That's our sausage and mash…
How would you sum up the experience of eating in your restaurant?
It's a very relaxed affair. A country open-plan kitchen in a 16th century pub with a shabby chic décor. Staff wear jeans, tweed waistcoats and flat caps and we allow dogs into the bar area but not the restaurant. The main menu is small with all the best-known pub favourites, and there is a specials board for the more adventurous. There are a few surprises given out during your meal also!
Choice from the menu?
I always love eating the meat we have raised ourselves, out of respect for the beast. However, the kitchen team put so much effort into the vegan and vegetarian menu… At this moment in time I would choose the home-made goats cheese with chilli and cocoa nibs, served with butternut and peanut butter soup. The very English garlic bread with wild garlic, sage and vintage cheddar is our biggest seller, though.
What's special for Christmas?
We always go a little OTT with a big tree outside and lots of lights. Inside the real fires and mince pies on the deli give a real festive feel. The carvery from the open kitchen predominates this time of year, with the specials board offering goose, venison and the like, all accompanied by duck-fat roasties, giant Yorkshires, maple parsnips, crackling and much, much more from the carvery.
What will you be asking Father Christmas for this year?
A variety of Brussels sprouts that peel themselves?
Northside, Thorney PE6 0RW
01733 202256
www.doginad.co.uk
Leave a Reply