Carve your own pumpkin at your local organic farm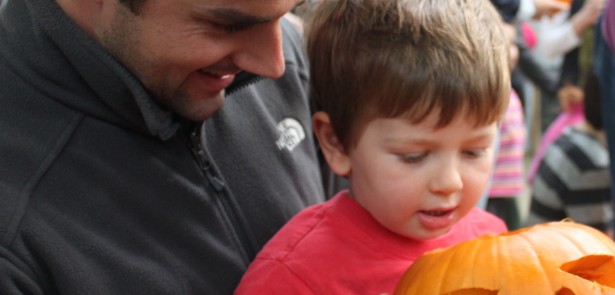 A free Pumpkin Day is being held at Riverford's organic farm at Sacrewell on Saturday, 26 October between 11 am and 4 pm.
The event is open to all, and as well as picking your pumpkin from the fields you'll be able to carve it ready for Halloween.
There will also be tractor rides and the opportunity for a stroll around the farm for some wildlife spotting. Plus, plenty of indoor activities in one of Riverford's barns including cooking demonstrations, live music, face painting, apple pressing, spooky science, and storytelling.
Snacks and light bites made using fresh, seasonal ingredients from the fields will be available.
Jon Day helps to run Riverford's farm at Sacrewell, and he said, 'We look forward to Pumpkin Day each year; it's a great opportunity to welcome everyone to the farm and enjoy picking and carving pumpkins. We'll also be unveiling our new Christmas food and giving people a sneaky first taste. This years' crop of pumpkins is fantastic and we've got plenty of indoor and outdoor activities taking place so whatever the weather it'll be a fun day.'
There is no need to book in advance for Riverford's Pumpkin Day, just turn up. Entry is free and free parking is provided. All the details can be found at www.riverford.co.uk/sacrewell or by calling 01780 789700.
To get to the Riverford farm, head to: Sacrewell Lodge Farm, Thornhaugh, Peterborough, PE8 6HJ. For sat-navs the best postcode to use may be for the garage opposite the entrance: PE8 6LB. The entrance is the same one you would use to visit Sacrewell Farm and Country Centre. Once on the driveway follow the signs for Riverford.
Did you know?
1. A world record breaking pumpkin was grown in 1999 by Gerry Checkon of Pennsylvania, US. The monster vegetable weighed in at 513kg. That's the equivalent of around 75 average size pumpkins!
2. The fastest time to carve a face into a pumpkin is 20.1 seconds, by David Finkle of Colchester in 2010.
3. Pumpkins are low in calories, fat and sodium, and rich in vitamin A, potassium and fibre.
4. When carving your pumpkin, save the seeds – roast them in a moderate oven (about 180°C/Gas Mark 4) in a shallow layer with a little oil and soy sauce to eat as a snack.
5. Unusual pumpkin recipes include spiced pumpkin and coconut soup served in a pumpkin bowl, pumpkin marmalade, pumpkin pancakes, and pumpkin and pecan loaf. All the recipes are available at www.riverford.co.uk/sacrewell
Leave a Reply