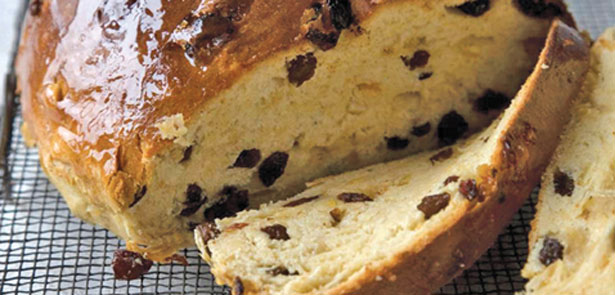 Ingredients 
475 g strong white flour
1 x 7 g sachet dried yeast (or 15 g fresh yeast)
275 ml milk, warmed
50 g caster sugar
1 egg, beaten
50 g butter, softened
140 g raisins
75 g mixed chopped peel
1 tbsp honey
Method
Place the flour in a large bowl and make a well in the centre.
Re-activate the yeast by mixing it with the luke warm milk and sugar. Pour into the well of the flour and leave to stand for 15 minutes.
Add the beaten egg, softened butter, raisins and mixed peel.
Gradually mix the dough together, then turn out onto a lightly floured board and knead for 10 minutes, until soft and smooth.
Return to a greased bowl, cover with a damp cloth and leave to rise for about 1 hour, until doubled in size.
Knock back the dough and shape into an oval loaf. Place on a floured baking sheet and leave to rise for another hour.
Preheat the oven to 200°C (400°F) Gas mark 6.
Cook the loaf for 20 minutes before reducing the oven temperature to 190°C (375°F) Gas Mark 5 and cook for a further 15-20 minutes. The loaf is cooked when it sounds hollow when tapped underneath.
Leave to cool for a few minutes before gently heating the honey and brushing the loaf with it. Leave to cool before eating (this will take a lot of willpower!).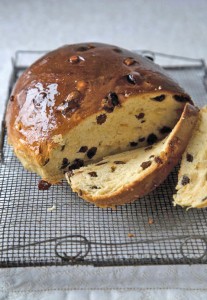 Leave a Reply