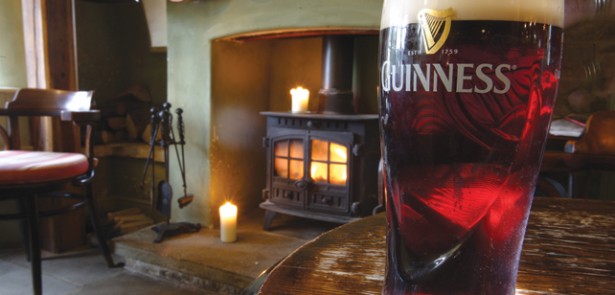 With three very different properties all under the same umbrella, the All Saints Hotels group offers a range of drinking, dining, and accommodation experiences in the Stamford area. Join us for a guided tour of The Crown Hotel, The Exeter Arms, and The White Hart
You get the impression that Sally Rouse could run a hotel single-handedly if she really had to.
I went to The Savoy in London when I was 18 and did a five-year management and hospitality course. During that time I worked at The Savoy, Claridges, and at the Berkeley Hotel, and you literally have to do everything: from cheffing to housekeeping, back-of-house work, reception, banqueting, waitressing – the lot. So you really get a good knowledge of how the whole industry works.
After successfully completing the course, Stamford-born Rouse went on to work at a succession of luxury hotels, from The Lanesborough, Hyde Park, to St David's Hotel and Spa in Cardiff, and also worked for Rocco Forte Hotels for a three-year stint before deciding it was time to return to the Georgian splendour of her home town.
That was three years ago, and Sally is now well established in her new role as hotel director at The Crown in Stamford as well as overseeing The White Hart country pub in Ufford, and The Exeter Arms restaurant and pub at Easton-on-the-Hill. All three properties now come under the All Saints Hotels (Ltd) umbrella and are owned by brother and sister team, Michael Thurlby and Sue Olver.
The siblings were brought up on a farm in nearby Tallington but found the transition to becoming hoteliers a very natural one as Sally explains.
Michael wanted to branch out from the farm and got interested in running a pub. Sue was running a bed and breakfast from her house on the farm so she was sort of involved in the hospitality business anyway. Michael eventually bought The Periwig which was next door to The Crown Hotel in Stamford and when The Crown came up for sale they just thought they'd give it a try. That was 13 years ago.
Michael has also owned The White Hart in Ufford (a small village some five miles outside Stamford on the back roads to Peterborough) for eight years and when he and his sister added The Exeter Arms to their portfolio in 2010, it was decided to bring all the establishments under one roof, largely because, by that time, all three were offering accommodation. 'During the refurbishment of The Exeter we added six bedrooms which was the same number as The White Hart' Sally says. 'So we felt it made sense to put them under the same umbrella as The Crown as all properties had rooms.'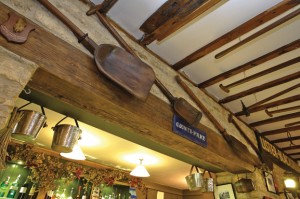 The All Saints name is taken from the majestic 13th century church directly in front of The Crown Hotel but Rouse is keen to point out that, even though the Thurlby's three properties come under the same umbrella, they all very much have their own character and purpose. 'Certainly from a food point of view we have three chefs who are very individual but who still use the same fresh local produce. You'll see Tallington lamb and Red Lincoln beef on all three menus, for example. But we try to let them express their own flair in their individual menus.
You'll also see similarities in the wine lists and the same levels of service and general standards in all three establishments, but we do try to let them be relatively individual so that people want to go to all three and not just feel they're getting the same thing. So they might want to go to The White Hart because it's a real country pub, or they might want to go to The Crown because it's in the town centre and has a lively bar, or maybe go to the restaurant at The Exeter Arms for a special occasion.
The serving of locally-reared lamb and beef across all three venues is no coincidence: it all comes from the family farm. 'Michael's always very busy on the farm in Tallington and he ensures that all three premises have things like Tallington lamb and Red Lincoln beef on the menus. There's another brother who looks after all the asparagus crop on the farm so we have our own Tallington asparagus too when it comes into season. So there's a lot of local produce that we can put on all three menus which is something that's really important to us.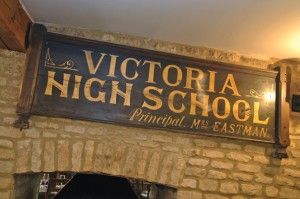 'The new asparagus season is quite a big thing and that'll be starting in April. We'll have a range of asparagus dishes on the menu and I know that people are waiting for it to begin – fresh, local asparagus has to be tasted to be believed! You can buy fresh bunches of it from The Crown once it arrives – we always have it available in reception and on the bar. The season only lasts about six weeks so people should make the most of it while they can.'
While Michael and Sue remain very active in the running of the All Saints properties, Sally Rouse is also a very busy woman. 'I'm very hands-on at The Crown and I'm in more of an overseeing, advising, marketing, and cost-control role for the other two establishments' she says. 'We do have managers who look after those premises on a day-to-day basis but Sue, Michael and I take all of their back-office facilities away from them and we do that all for them at The Crown.'
All those years of experience Sally gained while working in some of the finest hotels in London and elsewhere have been put to good use in the All Saints businesses.
It's making sure that what we serve is served well. For example, wines should be served in a polished glass and at the correct temperature; it's those little things that make the difference. We take great pride in getting it right with the service side of things and find that people will return because of that – it makes it more of an experience, rather than just nipping out for a pint of beer or a bite to eat.
'I think at this stage of my career it's all just instilled in me now. I've been learning these skills since I was 18 so you take them with you to every new job. You learn new things as you go along too; you might go to a different restaurant and see something you like and decide that, with a few personal tweaks, you could make it work in your own business.' But does Sally miss the hubbub and buzz of the city that taught her all her hospitality skills? Not a bit of it. 'No, I'm quite happy to be home, thank you very much!' London's great for a day trip but it's so nice to get back home again.'
We asked Sally Rouse to guide us around the three properties that make up All Saints Hotels:
The Crown Hotel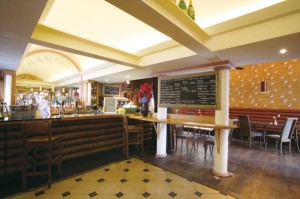 The Crown is located in the very centre of historic Stamford, looking onto All Saints' church. It has a bar, lounge, restaurant, courtyard, and 28 bedrooms.
'The original building dates back to 1796 and it was a coaching inn but The Crown as we know it now is about 100 or 120 years old. It wasn't a complete rebuild back then but it's certainly been modernised through the years. On the original plans you can see that there were different drawing rooms, so if you were travelling back to London you sat and waited in the London Room or if you were going north it would be the York Room.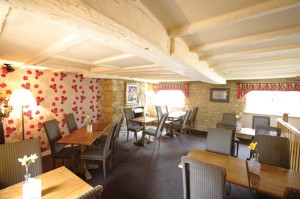 I'd say that about about 70% of our guests are corporate and 30% are here for leisure purposes. We do have some quite large corporate businesses close to Stamford that used to be locally-owned but have now been bought out by international companies so we do get some overseas travellers as well as UK-based corporate visitors. Leisure-wise, Stamford is a big wedding venue and so many people travel here for weddings, see the place, and say "Gosh, we didn't even know this existed – we'll definitely come back."
The filming of Middlemarch back in the 1990s didn't do us any harm either. I think that attracted a lot of visitors, even if it inconvenienced the local residents quite a bit during filming!
The Crown serves very much as a pub for locals as well as being a hotel. It's got quite a stylish modern bar, even though it's contained in an older building. It's definitely somewhere that you'd come to have a drink in the evening – it's not just a residents' bar.
I think that, at The Crown, we try to be exactly what we claim to be; we're friendly and we offer attentive service but it's not over the top – it's not intrusive. And we offer good local food that's not overly-complicated. The Crown is quite well renowned for that style of food. What we offer, we want to offer well, but we also want to let our guests see that we enjoy being here so we want them to enjoy their time here as well.
The Crown Hotel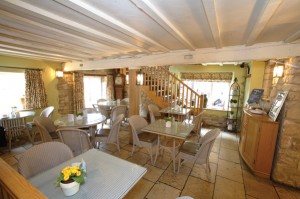 All Saints' Place 
Stamford
Lincolnshire
PE9 2AG
Tel: 01780-763136
Email:
 www.thecrownhotelstamford.co.uk
The Exeter Arms
The Exeter Arms sits just off the A43, two miles south of Stamford. It has a bar, a restaurant, an orangery, and six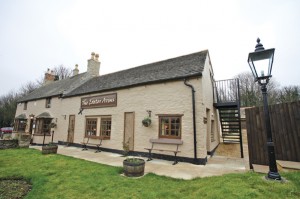 bedrooms.
'The Exeter Arms was was closed for about four or five years. We kept the name because it was always very well known in Stamford as a village pub that you didn't mind travelling to because you always got a good pint! It was always known as a good watering hole but I think it was just a victim of the recession. But that gave us a great opportunity to buy the property and refurbish it. It required a huge amount of work and investment though – it would have been cheaper to knock it down and start from scratch. It took about 14 months but Sue and Michael have got great vision for what they want to do to a property. We knew we could fit six bedrooms in, which was something the pub didn't have before, and that extra source of revenue is always handy. We extended the property by building an orangery at the rear so we can offer another 25 or 30 seats in the restaurant. We put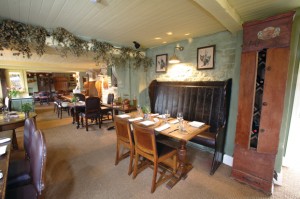 another extension on for the toilets so we could have the space to create a semi-private dining room, and we also created a lovely terrace outside for casual summer dining. We wanted to offer a wider range of services too so we now do everything from a cup of coffee in the morning to sandwiches or home comfort food, and we even installed a pizza oven so we do a whole range of home-made pizzas as well as what we call Simon's Signature Dishes which are a la carte and all created by our head chef, Simon Pollendine.
People still travel from Stamford and the surrounding areas to go to The Exeter Arms. We do get some passing trade but it's still very much a "destination pub."
It's in the 2012 Good Food Guide and, in February, we were highly commended in the newcomers' category for the Gastro Pub of the Year Award in the Publican Morning Advertiser. It also gained an AA rosette six months after opening so there's been some nice accolades and that really helps because people can see that we've been rewarded for the hard work we've put in and I think that means quite a lot.
The Exeter Arms, 21 Stamford Road
Easton-on-the-Hill,
Stamford, Lincolnshire, PE9 3NS
Tel: 01780-756321
Email:
The White Hart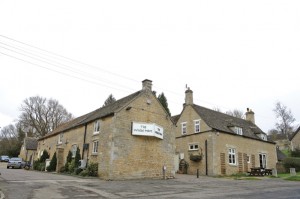 Situated five miles from Stamford and ten miles from Peterborough, The White Hart is a traditional country pub with a bar, a restaurant, and six bedrooms.
'It's a beautiful old building dating back to the 17th century and it's always been an inn. Unfortunately the brewery that was linked to the pub has now been closed down. It was just Michael and the brewers working on their own and it became a bit of a supply-and-demand issue. The demand was quite great so they couldn't meet it with the small brewery they had, but to expand it just didn't make sense so they decided to close it.
The village itself isn't very big. The pub is on the main street and that's about the only street! It's a destination pub but there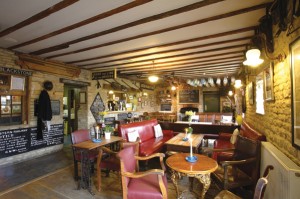 are a couple of villages nearby so there are quite a few locals who drink there too. It's a proper country pub with quite a big bar area. We get a lot of weddings in the area so people might stay at The White Hart for those, but we also get family celebrations and people will stay the night so that they can have a few drinks. Then there's people with business in Peterborough or Stamford who use it during the week.
Last year The White Hart won the Best Retailer of the Year award in the Peterborough Evening Telegraph and that was the first time that any leisure business had been included in that category so that was fantastic.
The White Hart, Main Street, Ufford,
Stamford, PE9 3BH
Tel: 01780-740250
Email:
Leave a Reply