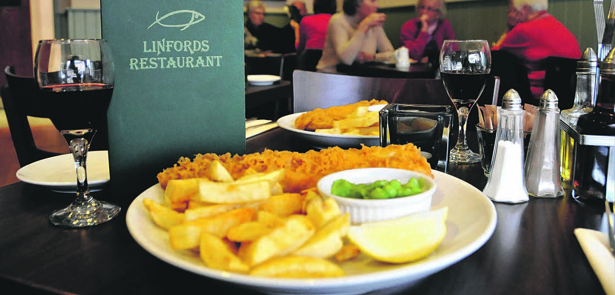 Friday is the traditional day to tuck into a fish supper, but with Linford's gluten-free Mondays, the start of the week is when everyone can enjoy the nation's favourite meal 
Linford's Traditional Fish and Chips in Market Deeping has been serving up the finest fish and chips in the area for more than 25 years. The multi award-winning takeaway and restaurant is a firm favourite among 'fishcionados', who are guaranteed a consistency of quality that can only come with owners Paul and Pat Linford's years of experience; the venue holds a National Federation of Fish Friers' Fish and Chip Quality Award The couple has always aimed to satisfy all tastes, offering cod, haddock, plaice and rock salmon (also called huss) cooked to your liking: in a traditional crispy batter, dusted in flour, or simply steamed. It is cod that continues to reign supreme among most visitors, however.
Gluten-free
In 2011 the Linfords added a restaurant to their takeaway. It was an immediate a hit, with people coming from afar to enjoy a relaxed, sit-down meal. 'It was when we opened the restaurant that we became much more aware of people's dietary needs – their allergens and intolerances,' says Paul, 'which is why we launched our gluten-free Mondays.' The start of the week sees a fresh change of oil, guaranteeing an environment that's completely free of gluten. Separate utensils avoid the risk of cross-contamination between the gluten-free batter and traditional batter offered alongside it on Monday nights. 'We've learnt a lot about gluten-free cooking by reading up on it, and from what our customers say,' explains Paul. 'So we even go as far as offering special gluten-free vinegar.' For many glutenintolerant fish and chip lovers this is an epiphany – having had to abstain for many years they can once again indulge in that crunchy golden batter so beloved by the rest of us.
Healthy option
The restaurant has also allowed Paul and his team to offer a healthy alternative to chips, with diners able to opt for a salad instead. 'Combine this with a steamed or floured fish, and you have a very healthy, low fat option,' adds Paul. Dusting in flour produces a lighter batter. 'It gives a really thin coating that just seals the fish enough so we can fry it – you can't fry an open piece of fish because it just dries out. Most people don't realise that you don't fry the fish, you steam it. It's the batter that fries, locking in the moisture of the fish so it steams inside the batter. That's why the fish is so succulent.'
Sustainably sourced
Incredibly, all of Linford's fish is sourced from just two fishing vessels. This means the fish is completely traceable and fished to standards that contribute to the long-term viability of stocks. 'A lot of technology has gone into the nets so that they stay open once they're in the water. This means the smaller fish – which will provide the fish of tomorrow – can swim out and escape through the sides of the nets,' explains Paul. Unlike many larger operations, the captains of these vessels haul in the nets once they hit a certain capacity. 'If they are too full the fish can't be processed quick enough, while any smaller fish towards the middle of the net become trapped.'
Filling and refreshing
At Linford's the best-selling accompaniment to any fish supper remains a warming mug of tea, but for Paul and Pat it has to be a glass of white wine. 'Pat and I love to dine in the restaurant where we enjoy our signature dish, the all-day special: cod and chips served with mushy peas and French bread. And with that you simply can't beat a nice, crisp glass of chilled Chardonnay.' Fish, chips and wine – we'll raise a glass to that!
Readers of The Moment can enjoy a complimentary glass of Chardonnay with every all-day special until the end of December 2015. To claim your glass, simply quote The Moment magazine when ordering.
Linfords Traditional Fish and Chips
6 Market Place, Market Deeping, PE6 8EA.
01778 347970
Leave a Reply