FIA/FIM European drag racing championships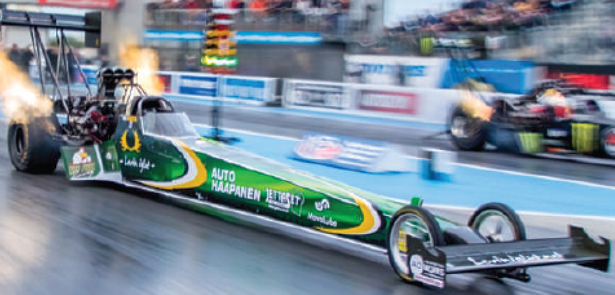 Drag racing is the world's fastest – and loudest – sport, and a uniquely sensory spectator experience
Top Fuel Dragsters really do kick out 10,000 horsepower – you feel it in your bones as they explode into action – and they can hit 300mph in less than four seconds. Top Fuelers are just the pinnacle of a 250-strong entry list of cars and motorcycles when the battle for the FIA/ FIM European Drag Racing Championships – known as the European Finals – brings top teams from across the continent to the north Bedfordshire venue.
Yet this is far more than mere 'petrolhead heaven'. It's a full entertainment weekend for all the family. Alongside the serious competitive activity on the track, there are flame-throwing Jet Cars and a Live Action Arena featuring stunt and Monster Truck shows; historic aero engine displays and a Sunday fly-past; funfair rides and sideshows; helicopter rides, fireworks and even a circus skills workshop.
And it is family-affordable too, with free admission for under-16s – up to three per paying adult – and free overnight camping. Access to the pits is free as well, for a closeup view of the eye-popping machinery being prepared for action. A range of VIP/ Hospitality programmes awaits those who enjoy a little extra comfort in their lives.
Don't imagine drag racing is a men-only affair. Female racers have achieved more success in drag racing than in all other motorsports combined, and Finland's multiple Top Fuel champion Anita Mäkelä is the star of the show. Europe's fastest-ever woman driver will bid to seal another championship at the European Finals. ● To learn more and to book tickets online, visit www.santapod.co.uk/ eurofinals.php.
● FIA/FIM European Drag Racing Championship – Round 6 Santa Pod Raceway 5-8 September 2019
Leave a Reply