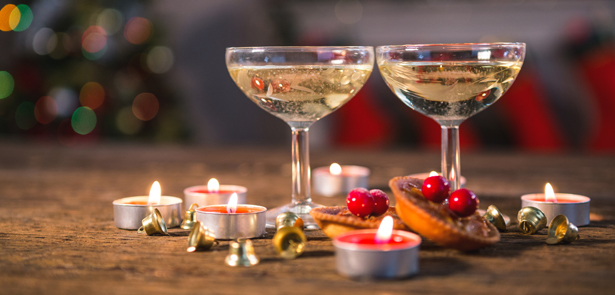 It's party season and Charters and The Brewery Tap are gearing up for an onslaught of good old-fashioned festive fun!
You can't help but feel good at this time of year. The decorations are up, we're winding down for Christmas and it's time to party! Two Peterborough venues are preparing for a busy party season, with plenty of good music and good times ahead.
Charters
The city's real ale barge Charters is serving up generous portions of musical magnificence. Soak up the ambiance of this very special venue every Friday and Saturday night, with live music from 10.30pm. Then on Sundays head down for a 3pm start to Charters' Sunday Sessions – a great way to let the Sunday roast digest as you take in the music. And if you fancy being the other side of the mic, join one of Charters' Open Mic Nights from 8pm on Monday 21 November and Monday 19 December.
New Year's Eve will be something special as Groove Cartell performs their original funk sounds and hand-picked gems from the archives. Their dance-inducing vibes will have you up and grooving along! Tickets for the evening cost £10 in advance or £15 on the door, subject to availability.
The Brewery Tap
If you love your dancing, then The Brewery Tap is certainly the place to be this festive season, with live DJs every Saturday night and, throughout November and December, every Friday night too. The exception is on Friday 25th November, when the High Rollers roll into town with their mix of popular music – everything from Lady Ga Ga to the Kinks!
The Brewery Tap is a great venue for Christmas parties, with a private function room available for parties of 40 to 70 revellers. Weekend slots are fully booked, but there are still some midweek dates available, so if you're yet to plan your party, there's still time to make a lastminute booking. The Tap's Christmas menu runs right up until Christmas Eve. If you're fed up with the traditional turkey roast, try some authentic Thai dishes instead, including dishes such as orange and ginger pork or, for those still hankering after their festive fowl, you'll love the sesame-fried turkey. It's Christmas dining with a twist!
Between Christmas and New Year The Brewery Tap welcomes all previous and current students of The King's School for their annual reunion. Always a big night, this year's reunion on 27th December promises to be no exception. But it's New Year's Eve that gets the prize for the biggest night of the year. As 2016 gives way to 2017, partygoers can revel in the melodies of sixties cover band The Nuggets before guest DJ Eddie Nash wows the crowds with his upbeat set.
Tickets cost £8 in advance, with any left on the night sold for £10. With so much live music and good fun ahead, you won't have to head far to let your hair down and step into the Christmas spirit!
Charters: 01733 3157000, www.charters-bar.com
The Brewery Tap: 01733 358500, www.thebrewery-tap.com
Image: www.freepik.com/free-photo/glasses-of-champagne-with-red-candles-burning
Leave a Reply