Festive fuel from Linfords traditional fish and chips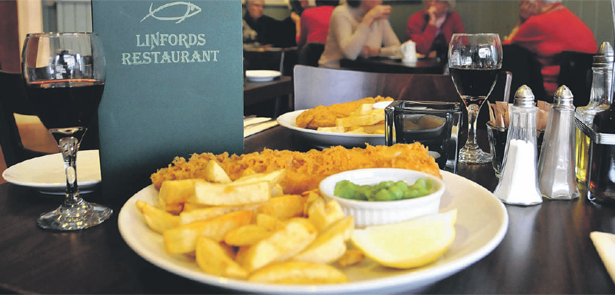 It's a busy time of year. The perfect excuse, then, for a freshly prepared fish and chip supper! For the very best look no further than Linford's Traditional Fish and Chips in Market Deeping
When Paul and Pat Linford brought their quality fish and chips to Market Deeping in 1989, a local legend was born. The couple sought to serve up the finest possible version of our national dish. They achieved it, and continue to place exceptional taste above all else. Fishes on offer include the perennial favourites of cod, haddock and plaice, which are joined by rock salmon (also called huss). Fish can be cooked one of three ways: in a traditional crispy batter, dusted in flour for a lighter alternative or, for the purist, simply steamed. As well as their takeaway service, fish connoisseurs can also dine. Restaurant goers will enjoy a relaxed environment, matching their meal with a choice of wines or beer before finishing off with a range of deserts. Puddings include old-school favourites such as jam sponge and the ever-popular sticky toffee pudding, served up with cream, ice cream or custard. Children aren't forgotten either, with meals designed for younger palates featuring the likes of fish cake, a smaller cod fillet, sausage or nuggets.
Fish for all
A big hit is the gluten-free Mondays, when Linfords caters for those an intolerance. Fresh oil and separate utensils guarantee a completely gluten-free dinner, while a special gluten-free batter means no-one has to miss out on the bliss of that moreish, golden crunch! 'We've learnt a lot about gluten-free cooking by reading up on it, and from what our customers say,' says Paul. 'We even go as far as offering gluten-free vinegar.' The restaurant also means that Paul and his team can offer diners a lighter salad rather than chips. 'Combined with a steamed or floured fish, this would make for a very healthy, low fat option,' adds Paul. Floured fish produces a lighter batter by giving the fish a really thin coating – just enough to seal the fish so that it can be fried. 'Many people don't realise that you can't fry an open piece of fish because it quickly dries out. Sealing the fish in flour or batter allows the fish to steam as the flour or batter fries. That's why the fish is so succulent.'
Excellent provenance
All of Linfords fish comes from just two fishing vessels so the fish, like all the food that's served, is completely traceable. The fish is sourced in a way that contributes to the long-term viability of fish stocks. 'The captains of the vessels haul in the nets once they hit a certain capacity. If they are too full the fish can't be processed quickly enough. Nets that aren't packed also allow smaller fish in the middle of the net to escape – these will grow on to produce the next generation of fish,' explains Paul. It means that unlike many other fish and chip shops, the Linfords team only works with larger fish, which are filleted and cut to size on site. Linfords enjoys the highest food hygiene rating (five stars). It has also been awarded a prestigious five stars by the National Federation of Fish Friers for its commitment to quality and provenance. It is the only fish and chip establishment in the area to have achieved this. It's a clear endorsement of Paul and Pat's ongoing mission to serve the best fish and chips in the area. If you haven't yet tried it, you're in for a treat!
Linford's Traditional Fish and Chips 6 Market Place, Market Deeping, PE6 8EA. 01778 347970, www.linfordsfishandchips.co.uk
Enjoy a free pudding with every meal!
Readers of The Moment can enjoy a complimentary pudding with every meal until the end of December. To claim your pudding, simply mention The Moment magazine when ordering. The pudding must be enjoyed during the same sitting as the meal.
Leave a Reply