Your wardrobe MUST have… the shearling biker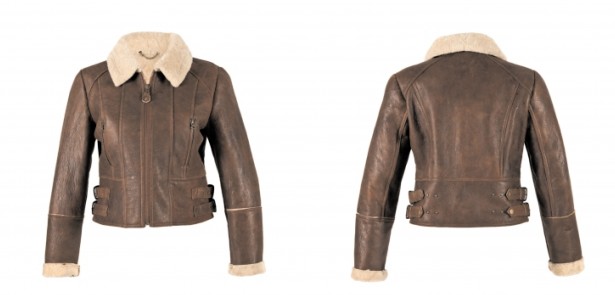 DAVINA ST CLAIR discovers this most lusted-after fashion piece – down a quiet country Cambridgeshire lane…
After divorcing husband number four, I decided that at least part of the proceeds should go towards something frivolous, something darling, something luxurious (I'd been entirely sensible the first three times, gaining, respectively, a flat in Stuttgart, a fleet of minivans and shares in British Gas).
It just had to be a shearling biker jacket: the most coveted fashion item du jour – the classic biker – with the added luxury of sheepskin. I rapidly found, swooned over and decided on a Veronica Beard model with a price tag of £2.5k… and then a friend tipped me off about something rather remarkable.
Tucked away down a quiet country lane in Cambridgeshire is a sheep farmer by the name of Farmer Lamb (real name James), who deals mainly in sheepskin rugs and car covers, harvested from animals born and raised in Britain. But nestled among these items – so far, so sensible – are a couple of truly scrumptious ladies' biker jackets that could easily be from top-end brands such as Chloe or Acne, and cost ten times as much.
As we've discussed on these pages before, the biker is top of every fashion-lover's essentials list and looks set to remain there; the shearling biker is its deluxe older sister: more sophisticated, more expensive-looking and more versatile. It will see you from spring to chilly summer evenings, into autumn and through all but the cruellest winter days. Snap up one of Farmer Lamb's via his website, and make your wardrobe at least 100% more glamorous, your bank manager at least 100% happier – and support local British business and farming into the bargain.
Leave a Reply